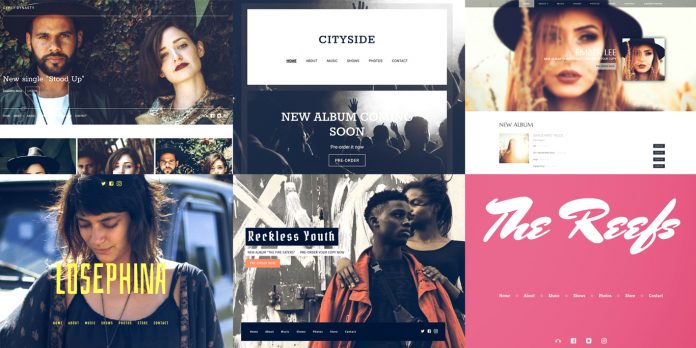 Getting a website up and running is easy, but it can be overwhelming to get the design just right. We've helped tens of thousands of musicians and bands get a custom look for their music website. The first step is choosing the best website template to suit your style.
We have dozens of music website templates which are all mobile responsive, and look great on all devices. Our templates are fully customizable, so you can choose your colors, fonts, buttons, and more.
Plus, you can change your template and design in just a few clicks without losing your content, any time you like. So rebranding your website just in time to launch that new album is easy and seamless.
Although we have many more to choose from, here are 16 of our most popular website templates for bands and musicians.
1. Ghost Note
A music website is an incredibly important way to have a professional presence online.
The Ghost Note website template features trendy color palettes, and fresh font choices. If you're looking to select a simple template and get going back to your music, it's a great choice.
As the ideal template for bands, it features a wide landscape header space to show off all band members. In addition to a prominent menu, Ghost Note gives room for your content to breathe.
With space on the sides and the option to add content in sections, this template focuses the eye to the center where all the important stuff sits. This is a great template to highlight your music, latest news, or videos.
Most of our templates come with four variations, each of which come with a color palette and fonts curated by our design team. The versions of Ghost Note range from minimal black plus red to make your buttons pop, to a trendy pink and cream color scheme.
2. Filter
There's something familiar and comfortable about the Filter template. With a square image that plays up your profile, simplicity is the key to success here.
Your main band image takes on a modern, blurred look, sitting stylishly behind a call-to-action created to direct your fans attention to your new single, video, or to sign up for your mailing list.
There are four versions to choose from with Filter, most of which feature whitespace in the content area, flanked by sections.
The mint green featured in the elegant variation would work nicely with for a jazz artist's website. Pops of red in the playful version would suit a songwriter or pop band well. The sombre version comes with olive and white hues.
Finally, for a classic look, you can choose the black and white template version – perfect to capture the energy of a band with great live shots.
3. Frontier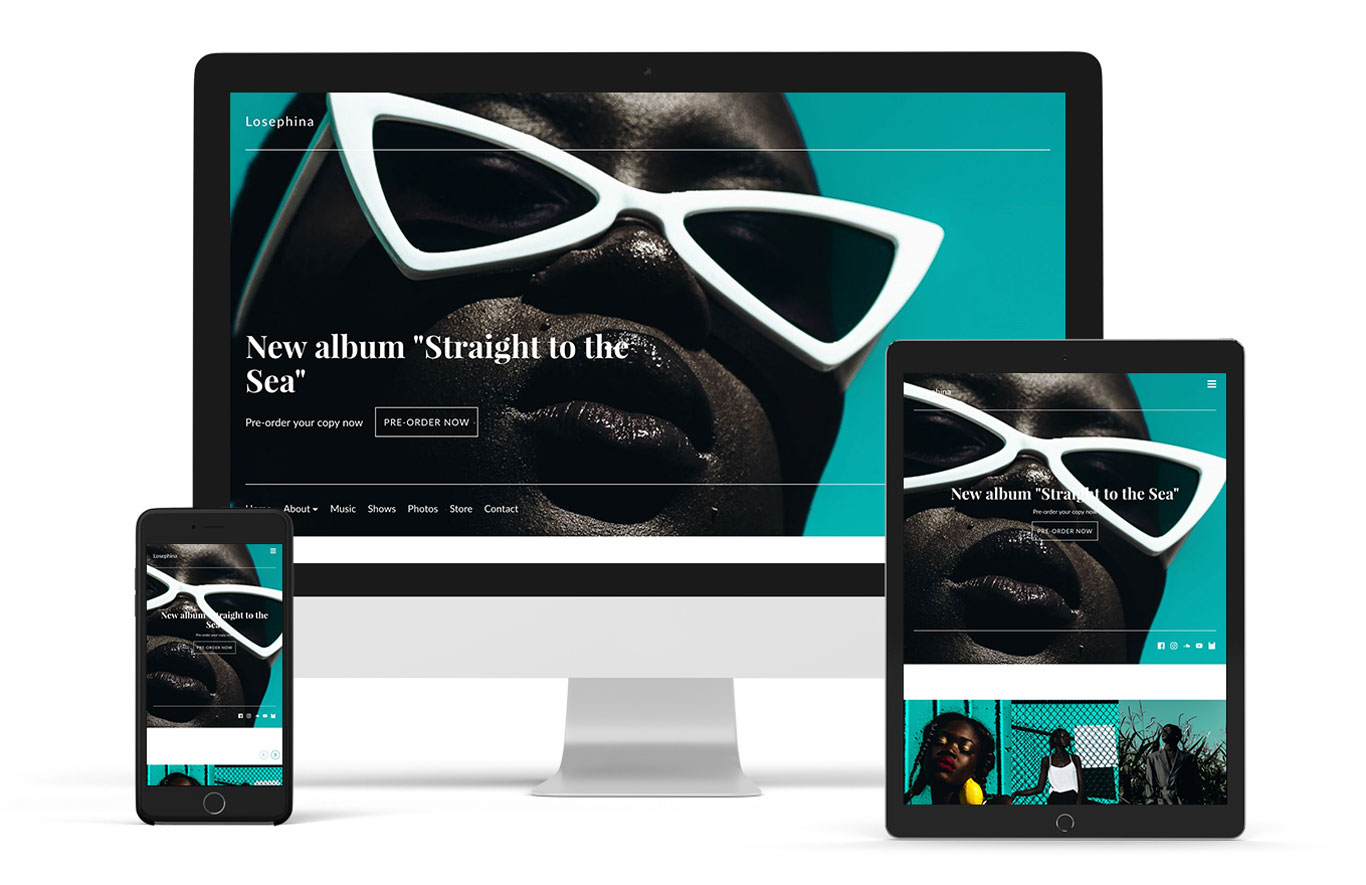 Visual content and branding are arguably as important as your music when it comes to a first impression. Your website is no exception, and the Frontier template places this at the forefront.
In addition to a huge area for a striking image on the Homepage, your content area can be as wide as you want, making lots of room for images within text, photos, and more media.
With smooth animation drawing lines along the page, it's easy to see why Frontier is a favorite among the templates for musicians. Featuring four variations, this template shows off section styles ranging from subtle to star power. Think teal and white for some pizazz, or earthy browns for an authentic folky vibe.
4. Tonic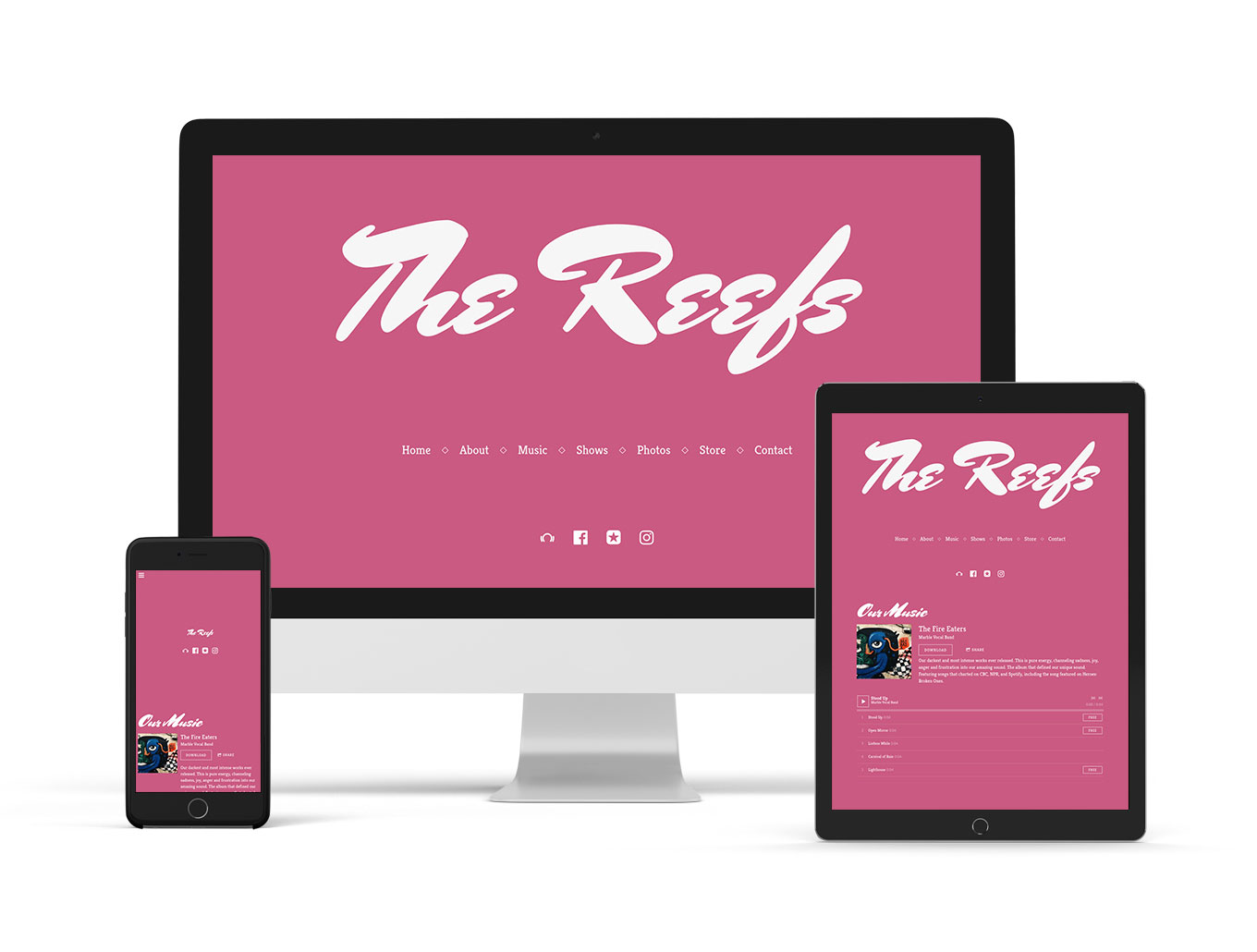 The music website template Tonic is a branding dream. Playing up on modern design trends of whitespace and a big menu, this template gives you lots of room to work with.
No header image on hand just yet? No problem. Your name in the center of the white space at the top makes it a focal point instead. If you'd like to feature your name in text, you can choose from tons of bold font options, or add your band's logo.
This template also comes in four variations, with each one a bit different and fun in its own way. Choose either a large title, or a bigger than normal menu; give your website a sentence at the top, or leave everything in sleek black and white.
5. Marquee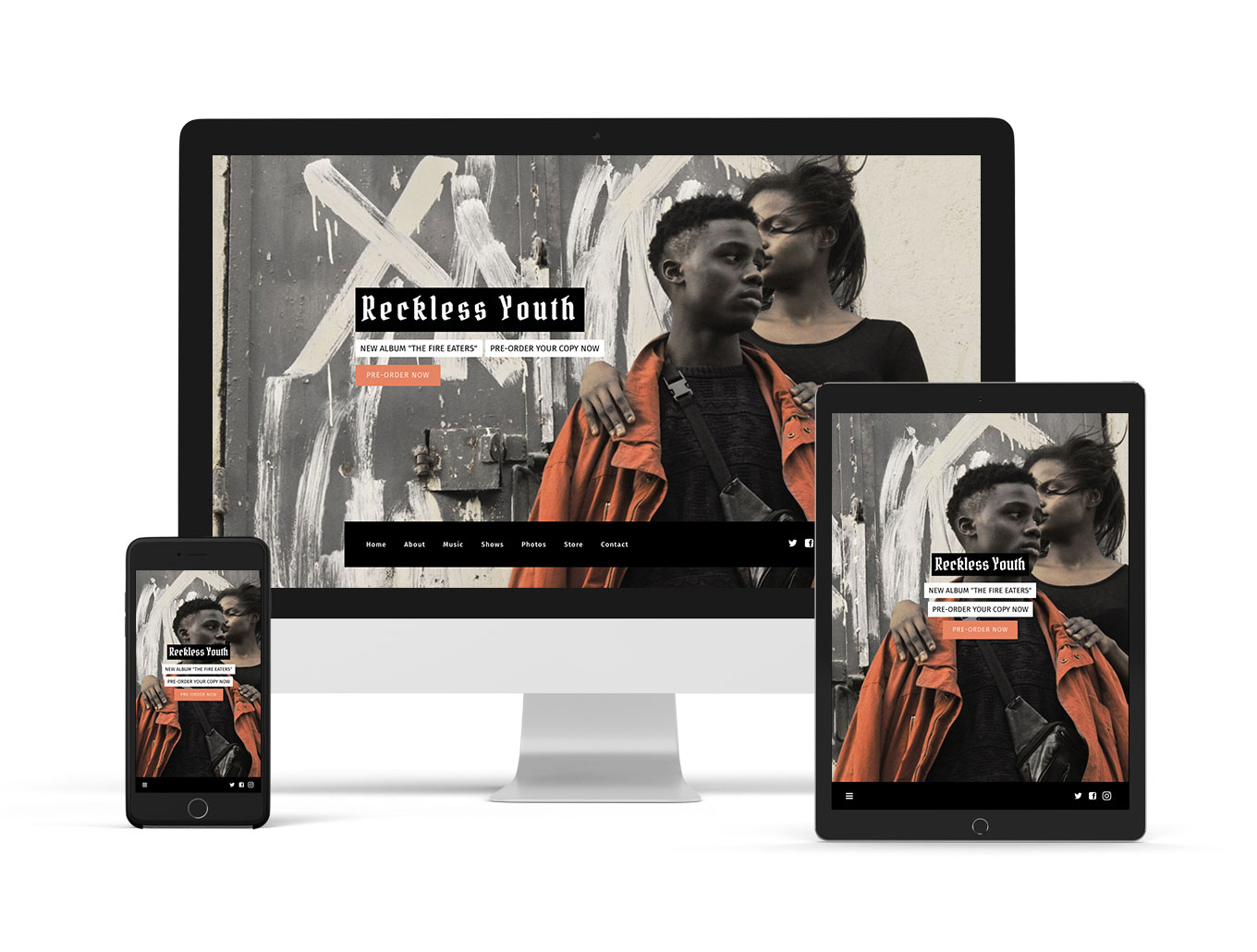 Stacking sections under a standout menu is the name of the game with the Marquee template. Take advantage of this stylish web design trend by choosing from one of the four variations.
The Sombre version features strong muted tones in its sections, perfect for a pared down duo. Choose the classic yet striking black and white neutral palette for a rock band.
To get more intense, check out the Elegant version which features an orange background set off by crisp white text. Or, try the Playful variation features with its contrasting yellow and blue tones.
The call-to-action takes on a distinct look in each variation, making your text and button stand out. You can set it to the left, right, top or bottom to be sure it flows well over your image.
6. Mezzo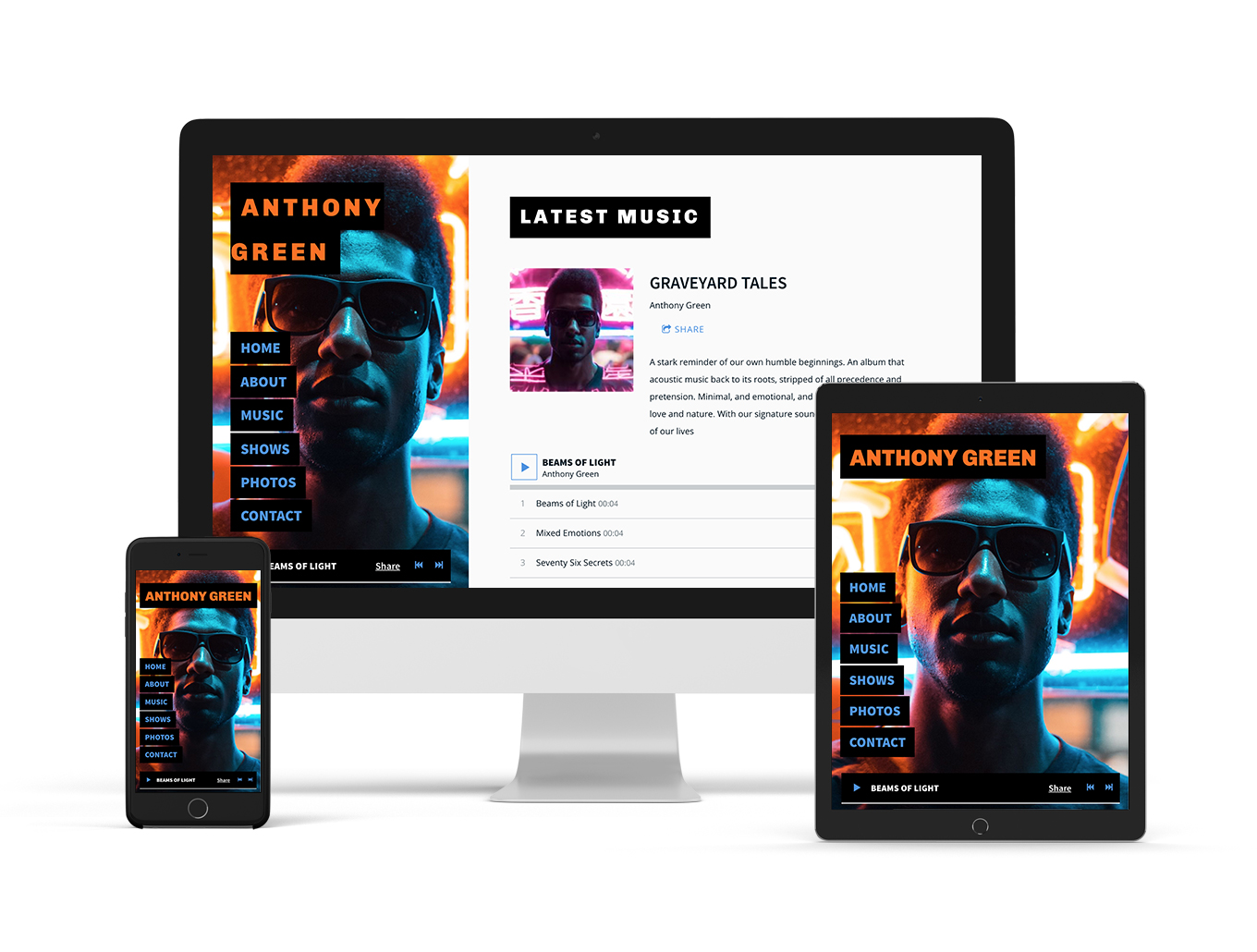 If you like designs with clean lines and boxy sections, the Mezzo template is a good choice for you. It features a vertical menu and four color variations: Playful, Elegant, Neutral, and Sombre.
All of our templates are mobile friendly, but Mezzo turns it up a notch. It mimics a mobile display with a hamburger menu on your desktop site, if you'd like. This removes the navigation text so it doesn't cover up your image – it'll slide out stylishly when the menu icon is clicked.
Mezzo is best suited for solo artists who want to display a portrait header image that runs the length of the page.
7. Pulse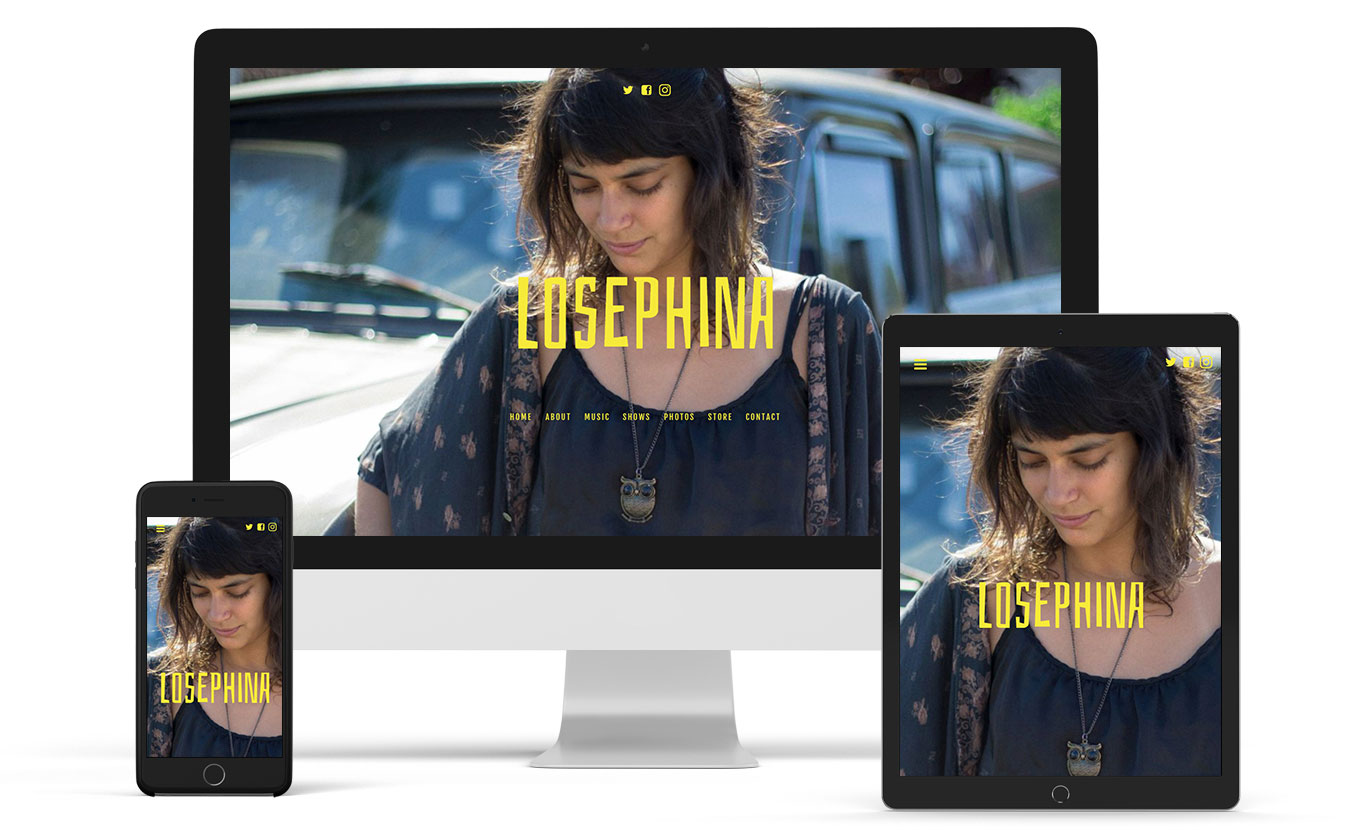 You've got your fans' pulse when it comes to your music; now get your website up to scratch with this striking template. The loading animation alone that sails in as the Pulse template brings up your artist name sets this one apart.
Follow that up with streamlined sections in coordinated colors, and you've got a winner on your hands with this music website template.
It comes in four different versions, each one featuring a full-width header image and unconventional font. Got lots of content? The inner pages have an adjustable header area height to allow for more space.
Build a music website that's mobile-friendly and easy to customize! Make your music website with Bandzoogle today.
8. Duet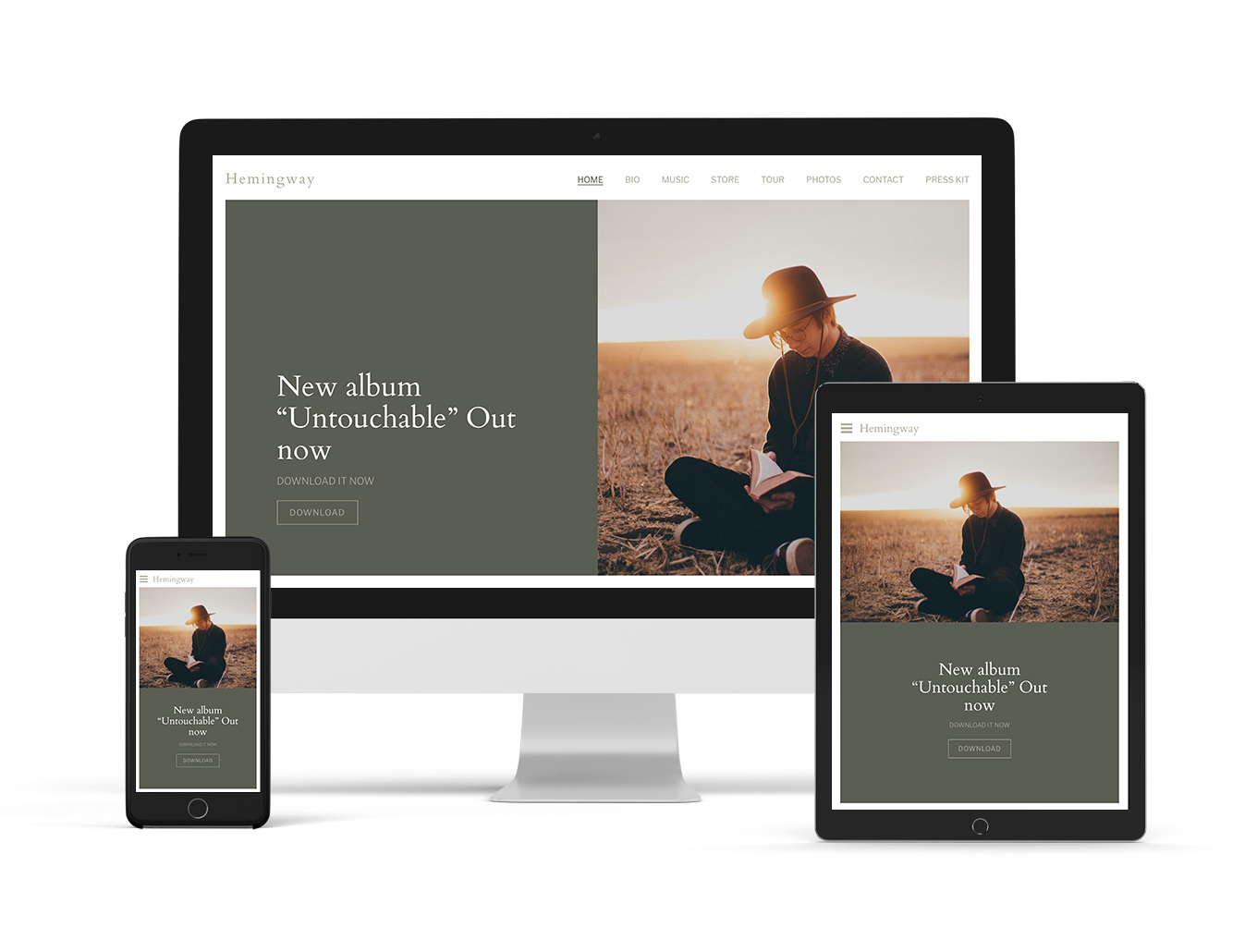 The Duet template is for musicians who give equal weight to image and text. Most of our band website templates look best with landscape images (horizontal), but Duet celebrates the portrait style (vertical). The header image sits on one side with text on the other. And don't worry, you can flip them left or right.
Duet doubles your pleasure in a few other ways. Menu inside or outside of the header image? Either is fine. Border or no border? No problem. Call-to-action at the top, center or bottom? You choose.
Duet offers four unique variations: An elegant variation, a darker sombre version, neutral grayscale, plus a colorful playful variation.
9. Forte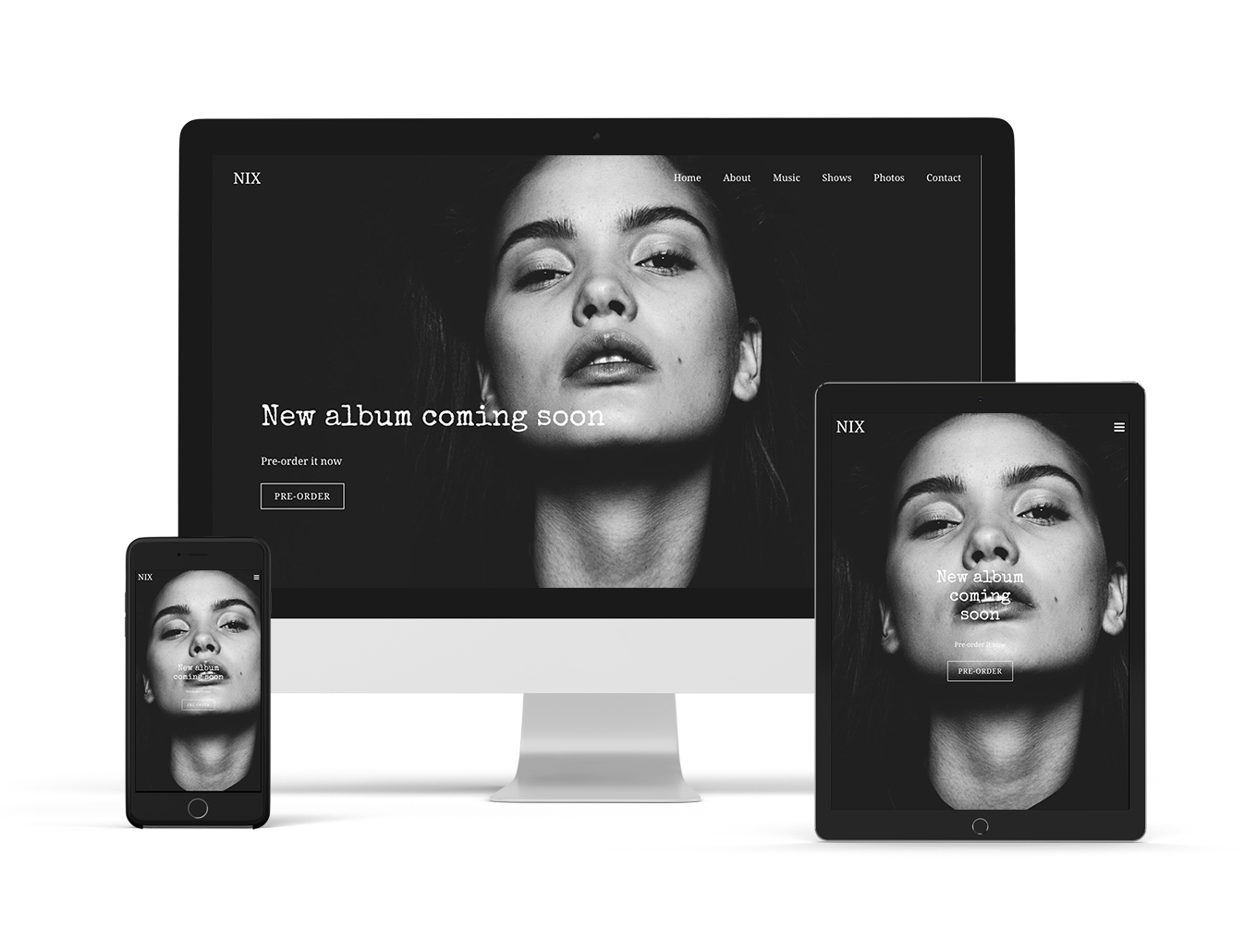 Two things make the Forte template stand out: the built-in animated scroll effects, and the full-width content area option.
When scrolling down, the header image fades into the background with a subtle color overlay applied on top, giving your website a modern look.
Once your visitor has scrolled down, they will also see your content stretching from side to side. This means extra room for your photo galleries, blog posts in columns, or site-wide footer.
All four versions of Forte include a clean design aesthetic, sans serif fonts, and room to play with the margins.
10. Anthem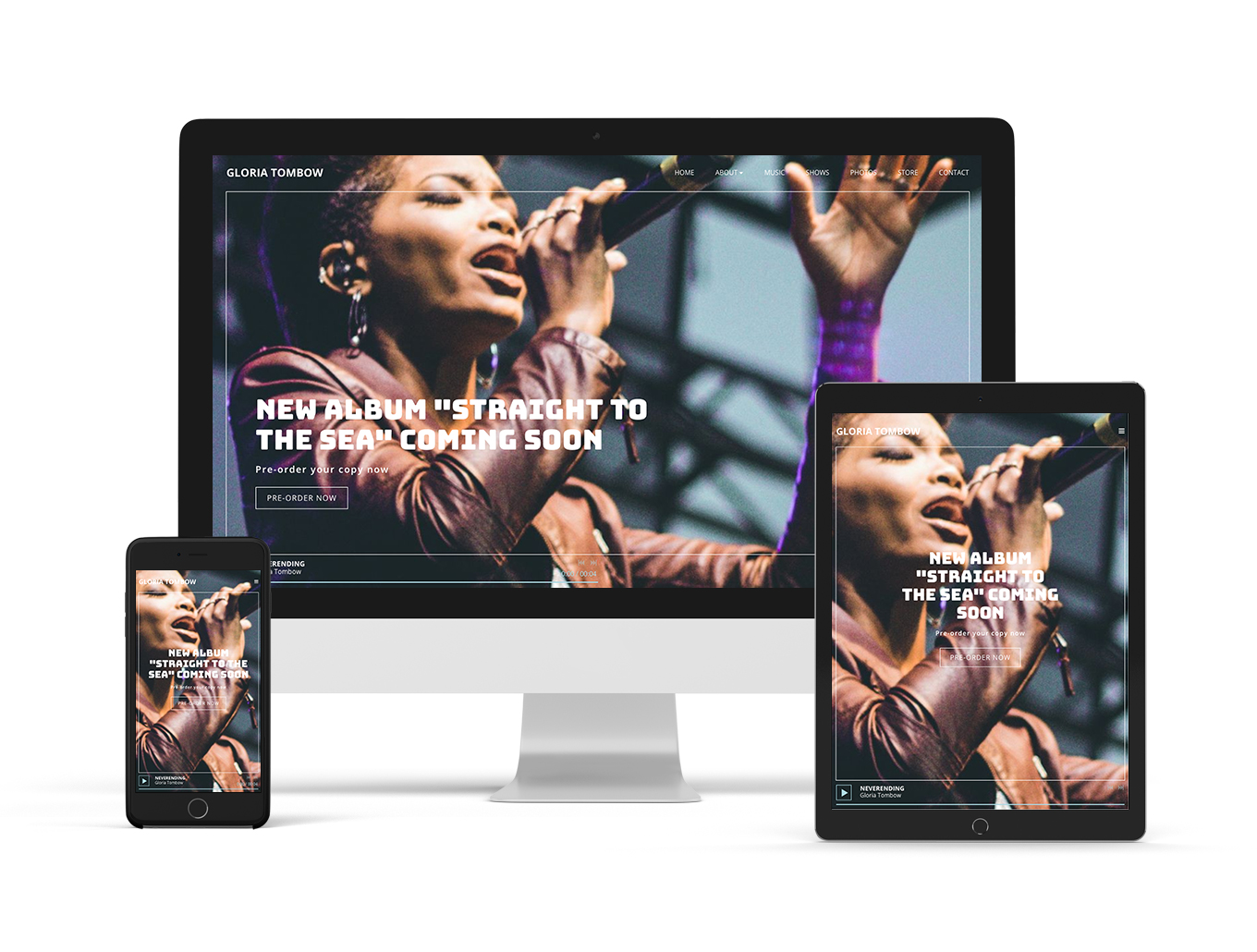 If center stage feels like home, then Anthem is a great choice for you. It features a wide open space up front, drawing attention to your band's image.
This website template has a built-in frame that stays in place as you scroll. You can select different start and end colors so that as your visitor navigates down the page, the frame color changes. This animation adds movement to the site, making the content pop even while on the same page.
Just outside the frame there's a spot for your band name or logo, menu, social media icons, and sitewide music player. You can customize the look with either a thin line around your image or a thick solid border that goes to the edge.
The Anthem template has four variations: Playful, Elegant, Neutral, and Sombre.
11. Limelight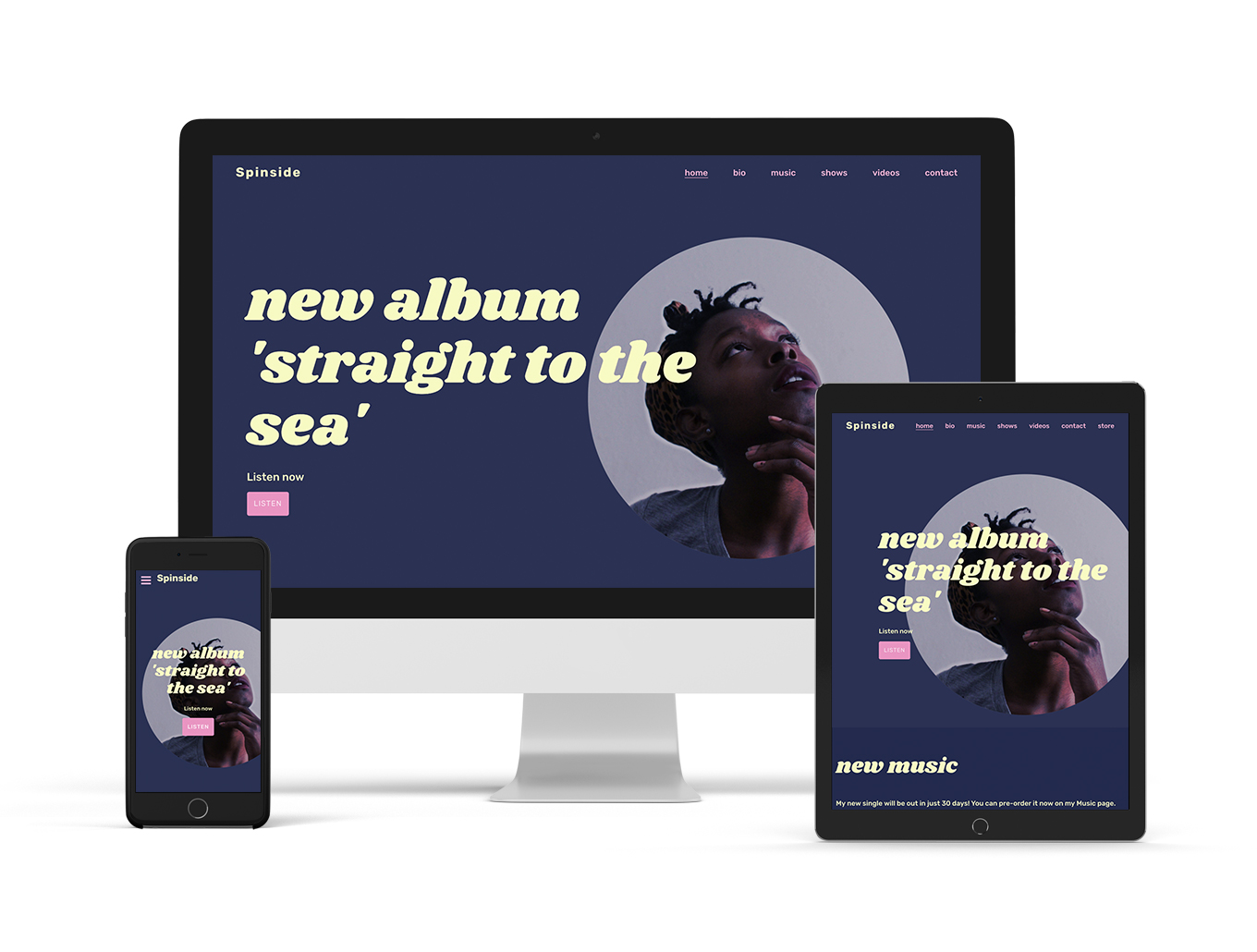 Focus all eyes on your image with the Limelight template. It features a unique shape plus a commanding call-to-action at the top. Since your website visitors will notice the circle, square, or triangle at the top, a video header is especially compelling with this template.
The four variations of this template will dictate the style of your website right off the bat. Go for a super colorful, party vibe for a cover band. Or try a clear, crisp look featuring a grayscale image combined with plenty of whitespace. You've also got the option to try a cream and brown version to give your website a retro vibe.
12. Echo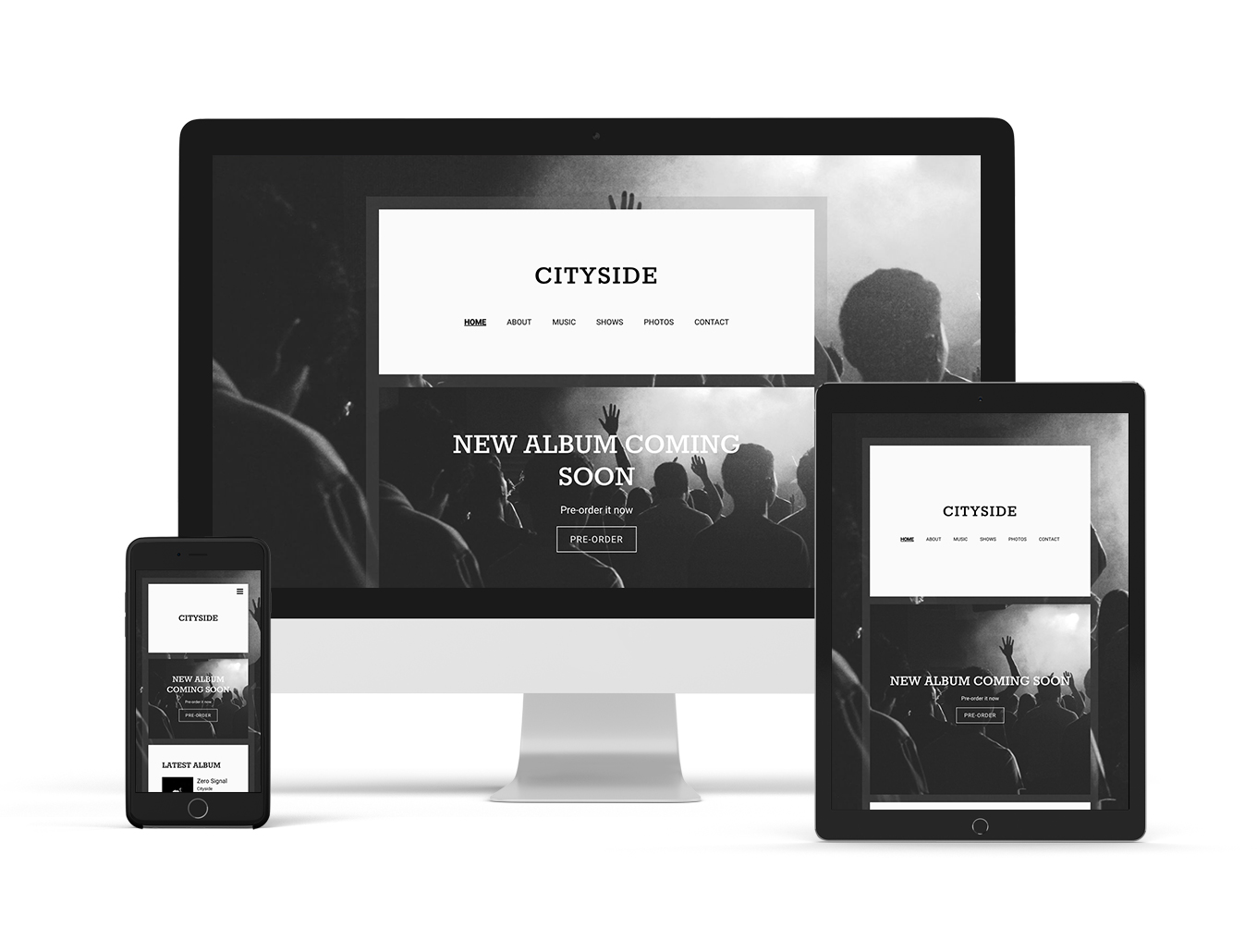 For a double feature that incorporates the look of clean lines, our website template Echo is a popular choice. With 4 preset palettes, ranging from colorful (think: EDM or a DJ website) to neutral (perfect for a rock band), Echo gives your website a unique look based on your main image.
This template adapts well to mobile, and features clean fonts that are easy to read over your imagery. Use a call-to-action to mirror your band name at the top, then fill the content area with text and images.
This template also includes a pop-up site-wide music player that displays your entire tracklist as visitors navigate all of your pages.
13. Spotlight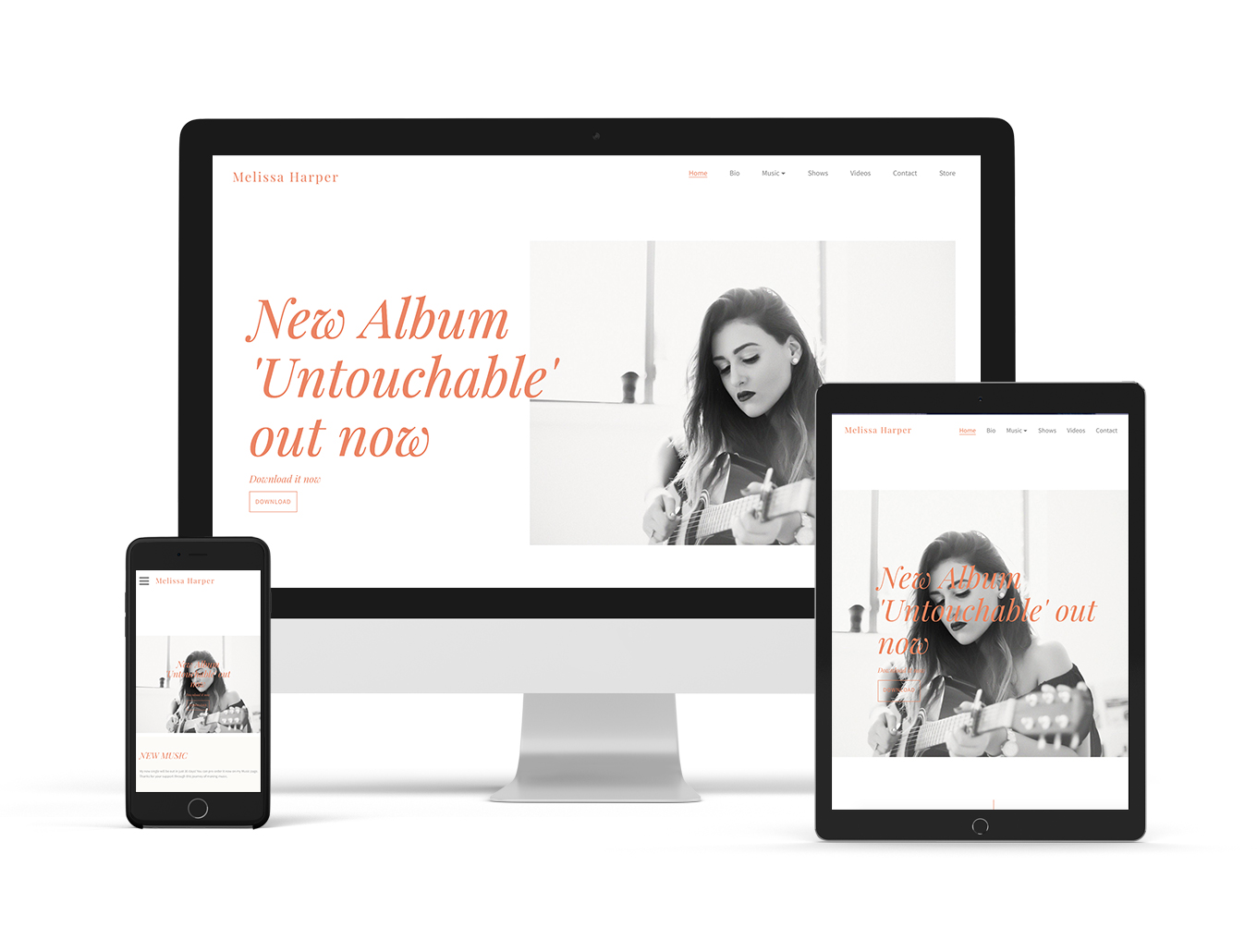 The Spotlight template puts you at center stage. This template works well for solo artists and single projects. Whether you're releasing a book, podcast, or announcing a tour, Spotlight will make sure you're in focus.
You can use the traditional round spotlight at the top, or choose a square, rectangle, or triangle to frame your main image instead.
After adding your image, you can set it on the left, center, or right side. You can also give the text a shake up with underline, strikethrough, or lowercase options.
The Spotlight template has four sleek variations: simple grayscale, an elegant white version, a more neutral blue, and a darker variation.
14. Resonance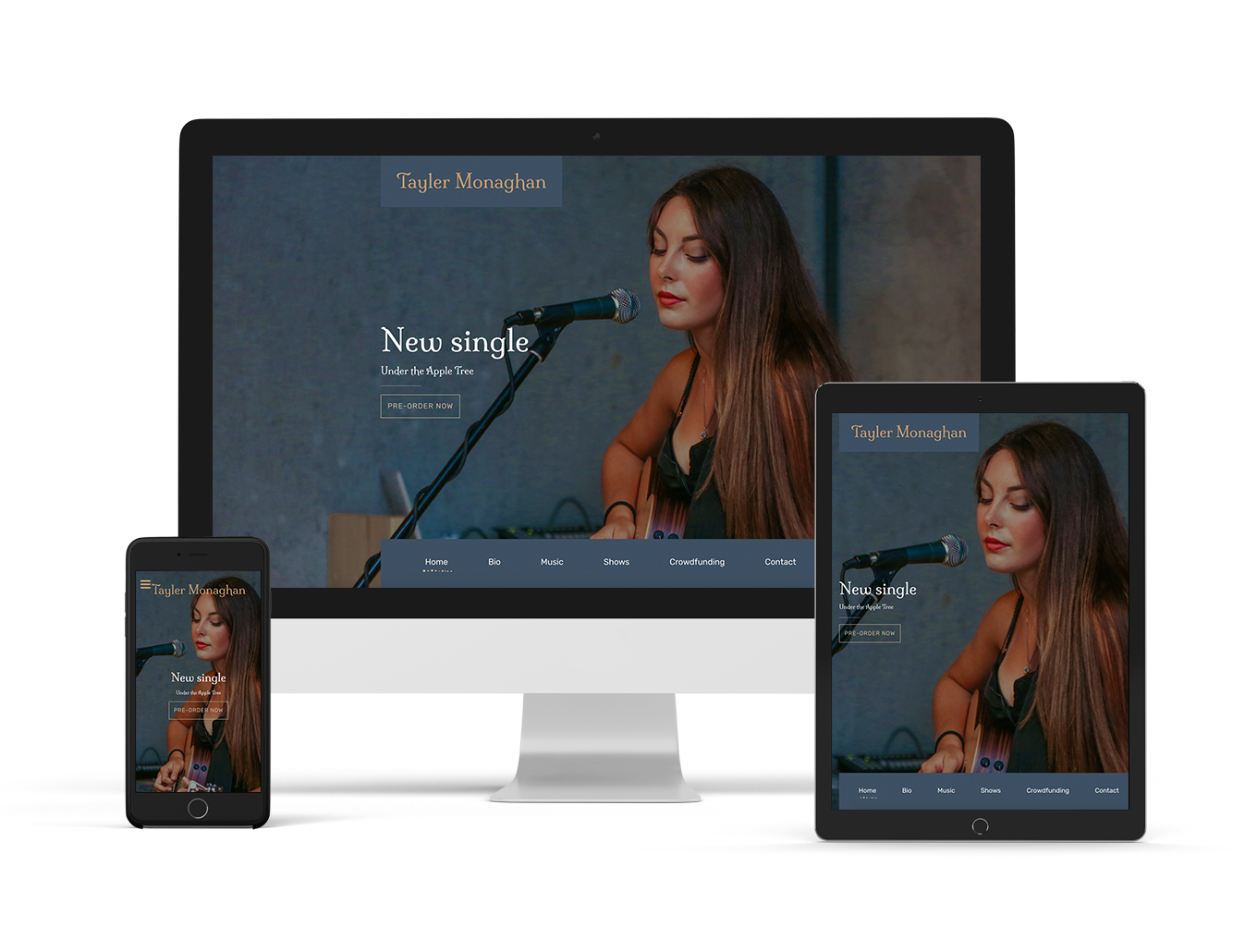 This striking music website template caters to a couple of different genres, adding unique graphic touches along the way.
The template variations of Resonance include a large space for a wide image, plus a clear menu underneath. From there they diverge – the first version pops off the page with a wash of yellow and hot pink. With a clean white content area and a trendy thick content border, it's perfect for a pop band, DJ, or beats producer.
The second variation is subdued and tranquil. It features cream and medium blue tones, with title flourishes. It's the perfect singer-songwriter template.
Then to round things out, we have a neutral version, just right for rock bands, in black and white.
All of the versions include loading animation. Your image will fade in, then your band name and menu will load. It's a subtle yet smooth effect that will wow your website visitors on first glance.
15. Surround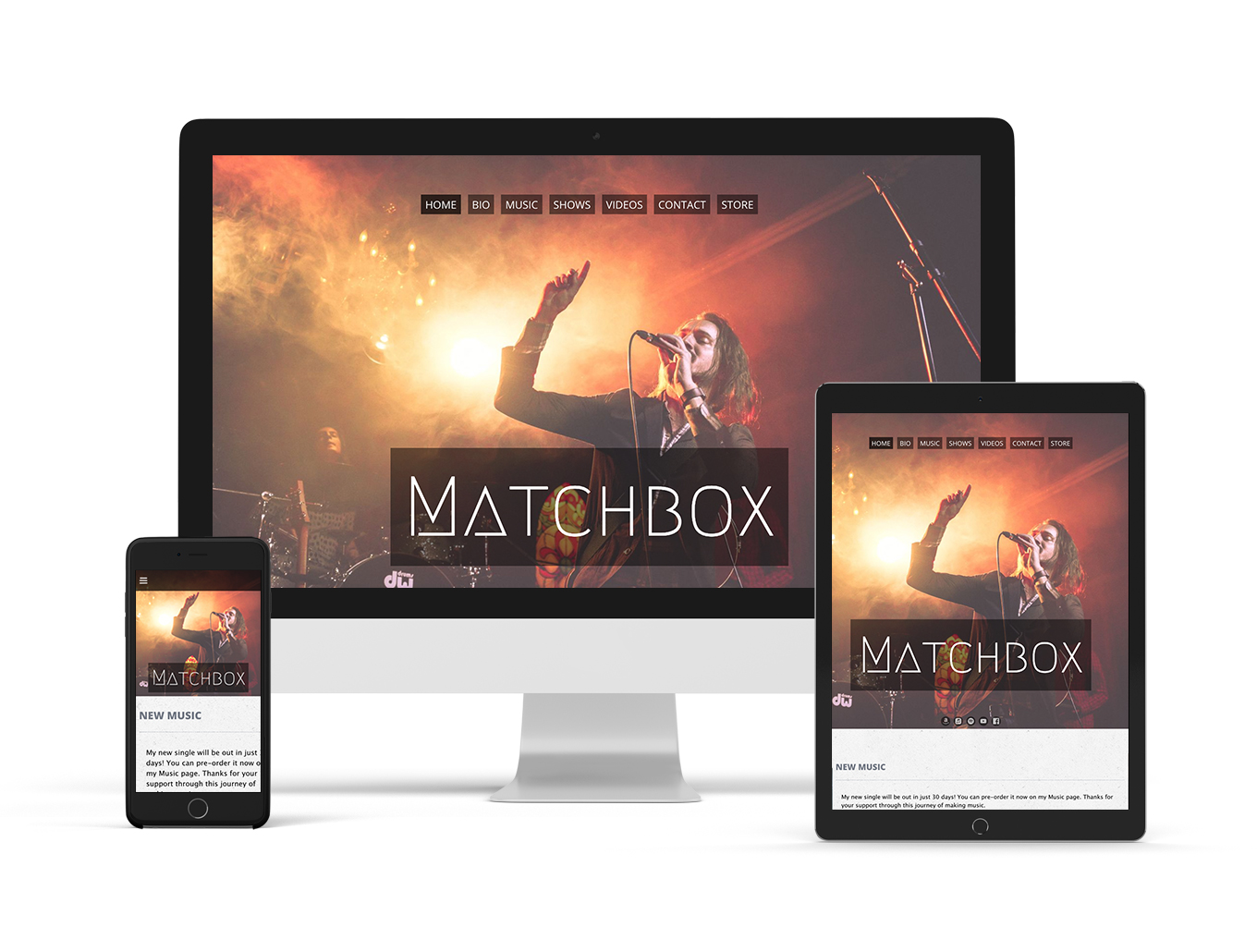 Surround is the template to use when you want to make a big impression. It features a full screen header image that gives fans some eye candy before they start navigating your site. And navigate they will, because the menu is laid out in a way to give each page name its own semi-transparent background.
With so much power in the header, you may think the content area will pale in comparison, but not to worry. You have the option to adjust the header image to display as much or as little of the image as you'd like.
16. Encore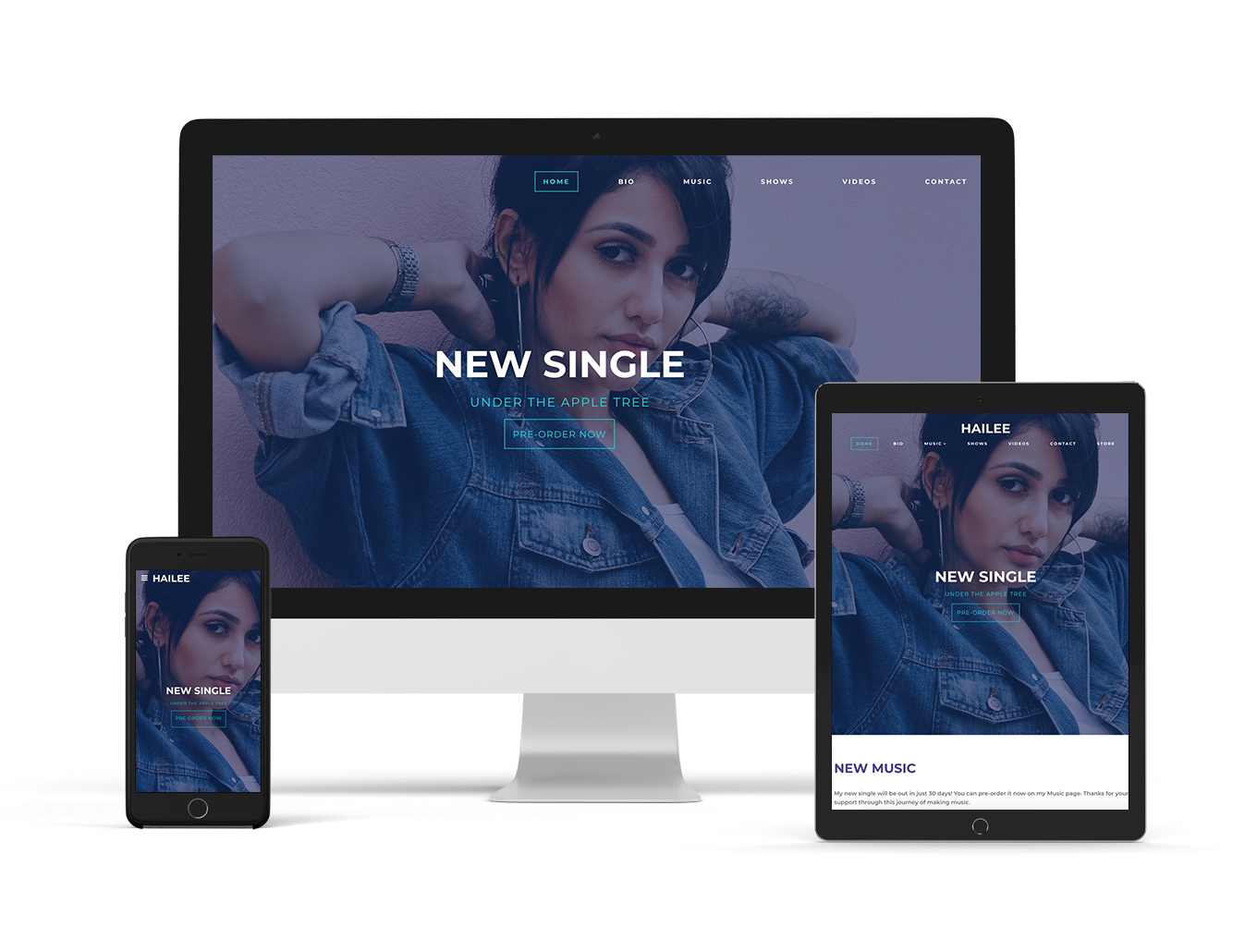 With so many templates and variations, to choose from, picking one that's just right might be tricky. If you're not sure which template to use, try Encore. This template features a large header image. Add a photo filter to make your image pop, then place a call-to-action to direct your visitors' attention.
The menu has a nice clean border around the page name you're on. As a nice touch, you can change the border and hover color to match your website color palette. The menu bar is customizable with color and opacity as well.
Encore offers four template variations as well, and each one is a great start to launch your design. Choose from Playful, Neutral, Elegant, or Sombre.
Bonus: Blank website templates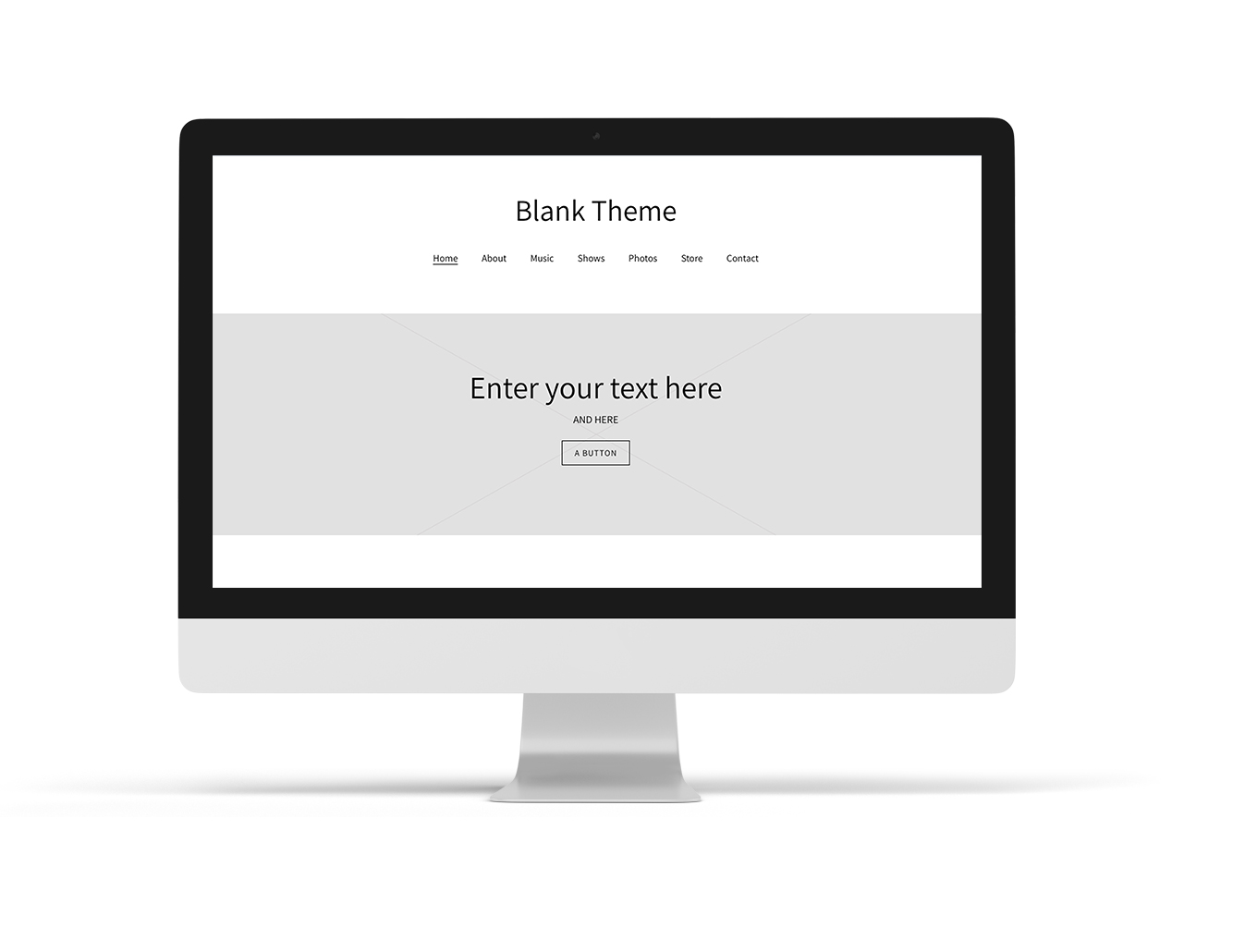 If you don't want to be distracted with stock images or preset colors when choosing a template, we've got you covered. With our blank website templates, the template is a fresh canvas waiting for you to add your artistic touch. We've taken most of our popular website templates and minimized them. They're each set up with a grayscale palette and no stock imagery. The fonts are clean and modern without any extra frills.
With the blank templates, you'll still get all of the design customization options that you would with its fully styled sibling. You can add and move features, modify colors, fonts, and images, as well as add image filters, styled sections with backgrounds, social media icons, and more.
Your music website
Once you choose a template for your music website, that's just the beginning. From there you can customize it to fit your personality, and the mood of your music.
Read our guide How to make a website for your music to help you build out your pages, and add features to create a Music page, About page, EPK, and more.
For more design inspiration, check out some of the most stunning band website designs on Bandzoogle.
These 16 templates are our most popular at the moment, but we add new templates consistently, so there's something for everyone.
You can quickly choose a template variation with a palette created by our designers, add your content, and head on back to rehearsing your music. When you have some time, you can also craft and customize your website to as much as you'd like.
As your online home for your music, your website template should reflect who you are, and we hope these options give you lots of choices to start from.