The particular lineup for this year's FORM Arcosanti music plus arts festival has been introduced! The festival returns towards the urban laboratory of Arcosanti, Arizona for the weekend associated with May 10-12, 2019.
FORM reimagines what a festival can be. Breathtakingly intimate performances with no overlapping sets. An inspiring local community of 2000 participants. Simply no VIP sections. Immersive artwork & activities. Cliffside swimming pool parties & rooftop yoga exercises. All backdropped by Arcosanti' s otherworldly architecture & landscapes.
Headlining this year' s event will be Florence + the Machine , Anderson. Paak , Skrillex and Kaytranada. They'll all be joined by several LIVE faves like Bonobo doing a DJ set, Khruangbin , American Football and even that insane crew behind Pussy Riot . Here' s the poster: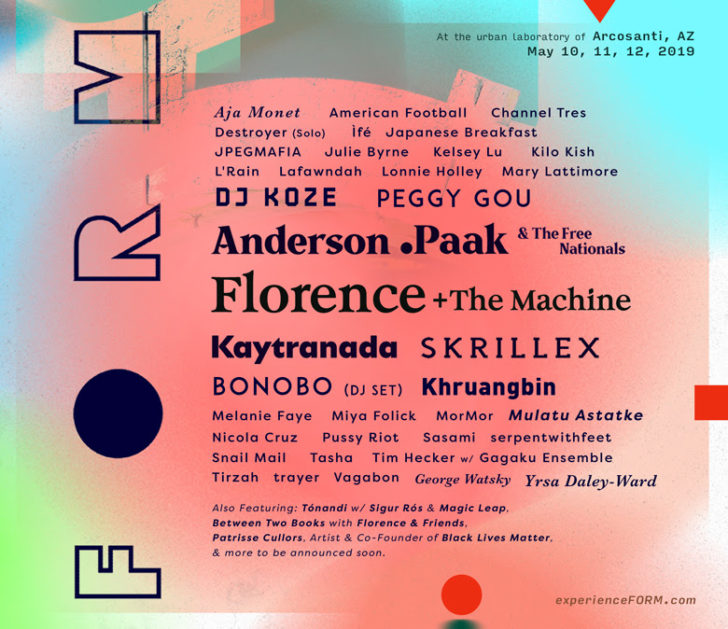 Here' s various other stuff that will be happening right now there:
In addition , FORM' s engaging plus inspired cultural program includes talks, panels, workshops, immersive art, poetry, new systems, and outdoor/wellness activities along with topics ranging from environmentalism in order to social justice, architecture, style, and more. FORM' s 2019 cultural programming will include Between Two Textbooks , a conversation among Florence Welch (of Florencia + The Machine) plus authors Nadya Tolokonnikova associated with Pussy Riot, Ysra Daley-Ward and more; a Poetry Collection with poets hand-selected simply by slam poetry champ plus spoken word artist George Watsky, including Yrsa Daley-Ward, Aja Monet, and others; demonstrations of Tó nandi, Sigur Ró s' s mixed-reality project with tech innovators Magic Leap; a functionality and conversation with Patrisse Cullors, artist & co-founder of Black Lives Issue; art workshops with Famous African-American artist and 2019 performer Lonnie Holley; and many more to be announced.
FORM ARCOSANTI 2019 INITIAL LINEUP
FLORENCE + THE MACHINE
ANDERSON PAAK & THE FREE NATIONALS
KAYTRANADA
SKRILLEX
~in alphabetical order~
AJA MONET (poetry set)
AMERICAN FOOTBALL
BONOBO
APPROACH TRES
DESTROYER (solo)
DISC JOCKEY KOZE
Ì FÉ
WESTERN BREAKFAST
JPEGMAFIA
JULIE BYRNE
KELSEY LU
KHRUANGBIN
KILO KISH
L' RAIN
LAFAWNDAH
LONNIE HOLLEY
MARY LATTIMORE
MELANIE FAYE
MIYA FOLICK
MORMOR
MULATU ASTATKE
NICOLA CRUZ
PEGGY GOU
CUNT RIOT
SASAMI
SERPENTWITHFEET
SNAIL MAIL
TASHA
TIM HECKER w/ Gagaku ensemble
TIRZAH
TRAYER (of hundred waters)
VAGABON
WATSKY(poetry set)
YRSA DALEY-WARD (poetry set)