On Jan. 26th, G-Eazy returns back to the Bay for special charity performance at The New Parish, Oakland to celebrate its 10 year anniversary. All earnings will go to the Nova Phoenix's Leukemia Recovery Fund and the Endless Summer Fund.
Earlier this year, G-Eazy launched the Endless Summer Fund to benefit underserved Bay Area youth in reaching their full potential and provide support to the Bay Area community through helping LGBTQ youth, homelessness, education, and mental illness. Last month, he also stopped by 106.1 KMEL station to encourage listeners to donate to iHeartMedia's "Santa Claus Food and Toy Drive", where he shared his thoughts on the importance of giving back to the community:
"As artists and as people in the industry, you got this platform. If you decide to do something good with it, it's a beautiful thing at all times because we got this reach. It's one thing to reach people with their music, it's another thing to reach people with a positive message and help families out."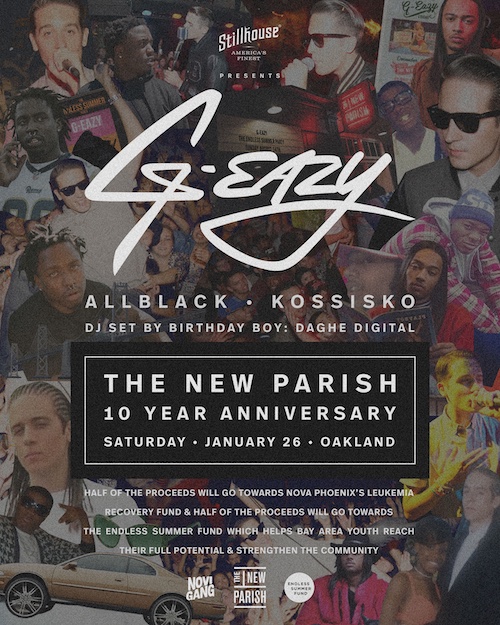 The New Parish, Oakland is G-Eazy's first and most performed venue to date. The show will also feature Kossisko and ALLBLACK, Bay Area artists who returned from opening for P-Lo's tour.