In the wake of COVID-19, Earth continues to rotate, but the world is on lock-down. At time of any global crisis, industries begin to look to its verticals and horizontals to see how other companies are responding. 
With Hollywood temporarily shut down and the events side of the music industry laying low, talent has taken to the digital world to continue writing, producing, and distributing content. But how are industry leaders like Universal Music Group (UMG), the world's biggest music rights-holder responding to such an epidemic?
On Monday, UMG stated in a note to its employees and partners, clarifying a number of steps it's taken in response to COVID-19 and what it means for a company to be "globally committed" to helping its artists.
Specifically, UMG explained that its labels and other entities, across publishing and independent distribution, are now offering interest-free royalty advances and waived fees to eligible artists, songwriters, and independent labels in need. 
Never thought we'd see the day…
"Our companies – including our labels, Universal Music Publishing Group, Universal Music Enterprises, Bravado as well as our independent distribution services – are offering various forms of assistance (such as interest-free royalty advances and fee waivers, among others) to help qualifying artists, songwriters and independent labels affected by COVID-19 weather these challenging times. We are also providing our artists with tools and platforms to reach fans and generate income when touring and other live appearances are not possible."
Earlier this month, UMG launched the All Together Now: Stay Connected initiative to help "support those in the music community most deeply impacted by the virus" in two ways–direct financial support from UMG to organizations and matching contributions that its U.S. employees donate to qualifying charities.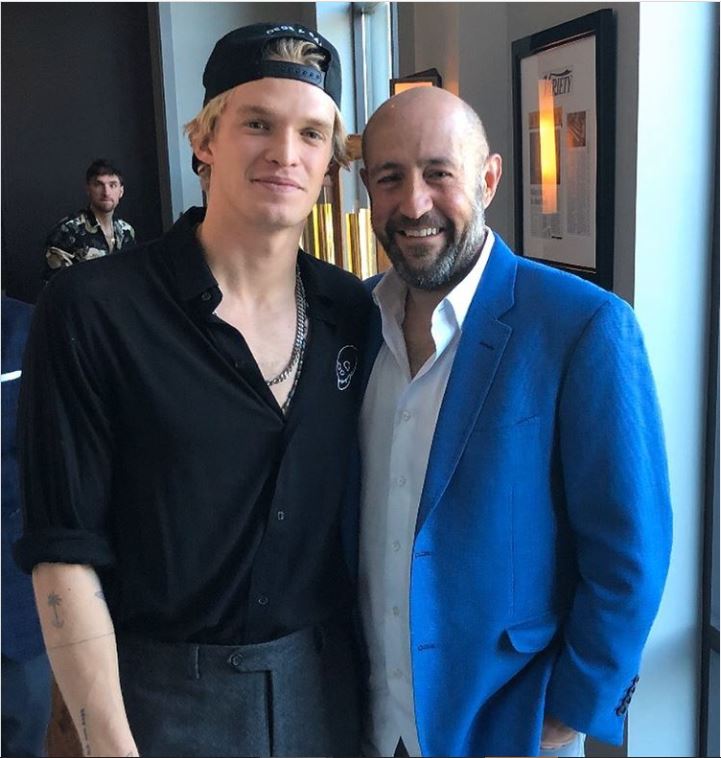 Many artists including, OneRepublic and Selena Gomez have already joined the initiative. Thus far, UMG's MusiCares' COVID-19 Relief Fund has raised a multi-million dollar figure to help artists and industry figures, with contributions from Warner Music Group, Amazon Music, Pandora/SiriusXM, Spotify, TIDAL, and YouTube Music.
Now, turning to the Canadian music industry, with powerhouse figures such as Drake, The Weeknd, Shawn Mendes, and Justin Bieber, we wanted to know more. So, we spoke with Jay Rosenzweig, founder of Rosenzweig and Company.
For the last 15 years, Rosenzweig & Company has published its annual report (The Rosenzweig Report) tracking the number of women occupying C-Suite leadership roles. 
The Report looks at the top 100 largest publicly-traded corporations in Canada, based on revenue, and examines how many of the top leadership roles are held by women, primarily C-Suite organizations. These C-suite leaders of industry – CEOs, CFOs and others – play a key role in hanging corporate culture and enhancing diversity.
What Have We Learned So Far?
The pace of change has been glacial. The number of women in top jobs has not yet surpassed 10 per cent and that is unacceptable.
Having taken a look at the recently released 15th Annual Report, the results, while growing in a positive direction, were still somewhat disappointing.
In the company's first year of operations, only 23-women were discovered and identified at the top echelon of Canada's largest public corporations. So, in 2020, it would make sense for the number to have grown, right? 
Fifteen Years Later…
Standing in 2020 with Rosezweig's 15th Annual Report, where are we now? Sadly today, that number is now at 43…out of 538 named executive officers (NEOs). But why?
It's no secret that women in Canada continue to face serious obstacles to advancement in business, including in the music industry. Having reviewed the Rosenzweig Reports each year, there has been a year-over-year decline in the number of named female executives at Canada's 100-largest public companies, dropping from 9.6% to 7.99%. 
In this year's Report, many notable individuals contributed to the report, including Canadian Prime Minister Justin Trudeau. 
"We cannot afford to backslide on the progress we have made on hiring, promoting, and retaining women at the highest levels in our workforce," said Trudeau. "That's one of the reasons why tracking numbers around diversity is so important. Canada will always lead by example. After all, diversity is our strength. But to ensure the advancement of diverse women in positions of senior corporate leadership, we all need to work together. Not only because it is the right thing to do, but because it is also the smart thing to do."
Game of Thrones composer A.R. Rahman and actress Alyssa Milano also contributed: 
Obtaining dignity, respect and advancement for women is not just a woman's issue, it's a human rights issue," Milano stated. "It requires including men and welcoming their help to change behaviour and perceptions. Jay Rosenzweig, through The Rosenzweig Report and his support for the #MeToo movement shows that men can be important and effective allies and advocates for real change."
As a musician and as one who travels the world practicing my art form, I have observed that collaboration and inclusion makes for better music and for better societies," says Grammy and Academy Award winner, A.R. Rahman. "The Rosenzweig Report plays an important role in that regard because it tells us how far we have come, while also reminding us of how much further we have to go."
But what Rosenzweig and Company weren't expecting as it put together its report and preparing for next year's 16th Annual Report was COVID-19.
The COVID-19 Outbreak
Since December 2019, the coronavirus which has developed into COVID-19, is first and foremost a human tragedy, which has affected billions of people across the world. We've begun to see the rapid decline and ultimate failure of industries as a direct result of the outbreak, as the world has been forced to self-quarantine and abide by federal rules and guidelines surrounding "social distancing".
In an interview with Jay Rosenzweig, we wanted to get a better understanding of how COVID-19 has and will continue to impact the Canadian music industry moving through 2020 and into 2021.
Music Industry Weekly: Thank you for taking the time to speak with us in such challenging times, Jay. Taking last year's and this year's report into consideration, how do you think the music industry in Canada fits into your study? (On an female artist empowerment level and production level)
Jay Rosenzweig: My impression is that opportunities continue to open up for women. Canada of course has a strong track record in terms of female artists – names like Joni Mitchell, Alanis Morrisette, Shania Twain and Alessia Cara come quickly to mind – but we lagged in terms of female producers and industry executives. But this is begging to change. 
MIW: What do you mean?
JR: A great example is Annalie Bonda, Executive Director of The Remix Project, whose Recording Artist Development Program is specifically focused on recruiting and promoting those, including women, who are underrepresented. Across the Board, founded by Keeley Kemp and Joanne Setterington, advocates for gender parity on the boards of Canadian music industry organizations. Artists like Serena Ryder and Iskwe are getting into the production side and are mentoring others to do so. 
MIW: How would you assess the role that male industry leaders are playing in the Canadian market?
JR: Male industry leaders are also playing an important role in developing and promoting female artists. I would give a big shout out to my friend Director X and his partner Taj for believing in Karena Evans and putting her in front of Drake. She definitely delivered — with outstanding and iconic videos like "God's Plan", "Nice For What" and "In My Feelings". And Drake has been influential in so many ways – his support and public praise for Canadian singer songwriter Jesse Reyez gave her a great boost she so richly deserves. These are exciting times on the Canadian music scene, but there is definitely much more to be done.              
MIW: If you could change one thing about the Canadian music industry with respect to music production and artist empowerment, what would it be and why?
JR: In some ways the music industry is like the tech sector – it has been something of a boy's club. So that needs to continue to change. But another issue is funding. In Canada there is significant support for the traditional musical genres, like the symphony and the opera, in the form of government grants and the like. And I think that these things are important.
But I think there should be more support and funding across a broader musical spectrum. It should include some of the more popular art forms, such as R & B and hip hop, which attract large and diverse audiences. I also think the idea of gender parity in music industry boards is important, because it could well lead to more females serving in senior industry executive roles.
MIW: Taking into consideration this year's escalated drama with Taylor Swift and Big Machine Label Group, how do you see this affecting numbers, if at all, with respect to Canada's industry?
JR: I think  that's very hard to say. There is no question that the whole Taylor Swift – Big Machine crossfire was big news in Canada. I do think there is heightened attention regarding who controls the rights to music and certainly Taylor has a dedicated fan base in Canada. 
But I think these types of controversies, while perhaps important, have been overtaken by events, most specifically the COVID-19 crisis. It has squeezed out attention from pretty much anything else — and rightly so.  
MIW: With COVID-19 globally impacting our industries, what do you predict will happen next year as you begin to compile the 16th Annual Rosenzweig Report? What will you take into consideration?
JR: On the one hand, COVID-19 has been a disaster for artists in Canada, just in terms of cancelled tour dates and live performances. But I think it has also highlighted how much we need music as an expression of our humanity. Much as music helped people get through World War II or the Great Depression, it is helping right now to reduce isolation, provide hope and even provide comic relief where possible. These are tense, anxious times.
MIW: Now, you yourself are a producer on an upcoming project and song to help save the world. Can you share details about the project?
JR: As you said, I'm a producer on what we believe is an important project to save the planet with my great friend Ken Kragen, who organized both We Are The World and Hands Across America. It is called Hands Around The World. The first piece of this game-changing effort is a 'We Are the World' type anthem that is being written and composed by India's Academy Award and Grammy winner, A.R. Rahman (Slumdog Millionaire).
We had our first recording session in January with a number of amazing and influential artists, and it is coming out great.  We are now completing the recording remotely and hope to release it relatively soon. We feel the song, which we are all really proud of, will provide solace and a much needed distraction, while at the same time bringing attention and raising funds to combat climate change.    
Thank goodness we have people like Chris Martin and John Legend entertaining us remotely by playing piano and singing in their living rooms, Yo-Yo Ma providing cello recitals from his Boston home, Chris Mann performing his hilarious version of Adele's "Hello" while quarantined at his home in LA , to whole neighborhoods in Italy and Spain breaking out in collective song from their balconies.
To me it demonstrates the vital importance of music and the industry to people's lives. I am sure the streaming of audio and video is zooming upwards. And I fully expect that when we get through this, there will be pent up demand to see these artists live at festivals and concerts. The big question of course is timing – not just for the music industry, but for us all.
With to the 16th edition of the Rosenzweig Report, so much has been put on hold in the corporate world given the pandemic, that my guess is the numbers are unfortunately likely to be flat in terms of progress of women in business.