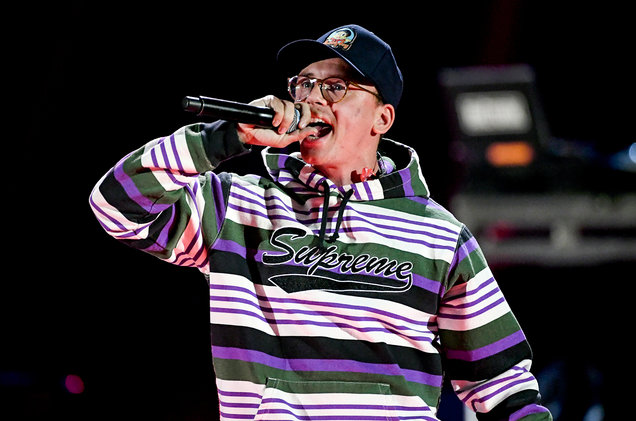 Logic kicked off his weekend with some freestyle. His latest episode of Freestyle Friday has him releasing a one-minute clip where he raps and dance in front of a car and he then rolls a joint on a couch in his living room. In the background of the video, there is a neon sign that says 'Bobby Boy.'
The freestyle focuses on cocaine and Logic asks readers about how hard drugs has affected them and their community. The first bar goes 'Think about kids, think about bills, Think about how to maintain these mills, Think about youth on drugs and pills, Tryna' remember just how that shit feel.' Then the second bar goes, 'Cocaine, cocaine, cocaine, cocaine, molly, Percocet, my rent move up like a dolly, If I talk about this shit more often, prolyl.' He says, 'I ain't never fuckin' with no sneak diss/Best get off my dick, boy, you better not repeat this/Cocaine what I flip, jump in the whip, cannot compete with/A real G like me, know I get that dough like deep dish,' He also raps, 'Got the party jumping in Atlanta like I'm Donald Glover/I don't want no good girl, I'm thinkin' I need a freak bitch/ I don't want no good girl 'cause ya boy ain't no lover.'
The rapper from Maryland has never being one to shy away from the issue of drugs. He has always been outspoken about the misuse of drugs and he has warned against it and its potential harm. But of course, Logic does enjoy the occasional marijuana joint.
The weekend freestyles are something to look forwards to and who knows, Logic might combine these freestyles into bigger release for his audience. It's less than 2 months since Logic released YSIV which was his fourth studio album. The album featured members of the Wu-Tang Clan, Ryan Tedder, Jaden Smith and other musicians. After releasing the album, Logic and Joseph Gordon-Levitt announced that they were working on a special project which will be released on YouTube in 2019. Both of them has called for songwriters, vocalists and other musicians to upload and contribute what they can towards their unfinished song. All contributions will be merged together during the special release.
Logic and Joseph Gordon-Levitt explained that they were aiming to make something truly unique and special for fans. They explained that too many collaborations were done just to make sales, top charts, get more popular and make more money. But their collaboration will be for the production of something special that the fans deserve.
Joseph Gordon-Levitt said that he loved working with Logic and he enjoyed his inclusive style. Joseph Gordon-Levitt said his album is called 'Everybody' and he has agreed to create something special from the works of several people that work on music. Fans hope that the YouTube Special will turn out as well as Logic's last two albums which were released in 2018. Bobby Tarantino II and Young Sinatra IV sold well and Logic is still dishing out more with the Freestyle Fridays.