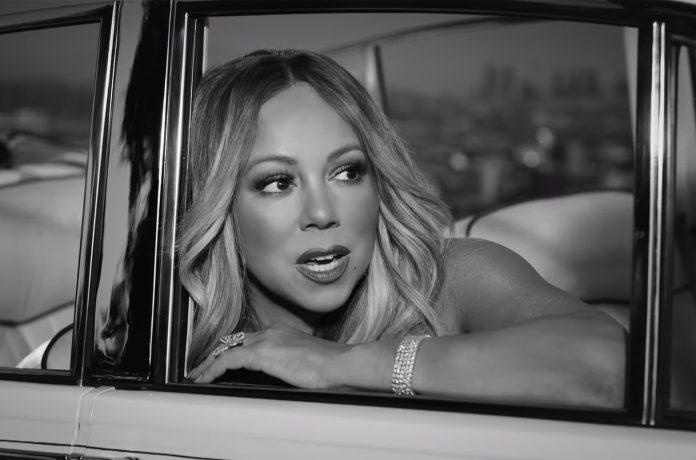 Mariah Carey returns to the top 10 on Billboard's Adult Contemporary radio airplay chart, as "With You" rises 11-10 on the survey dated Feb. 9.
The song is Carey's first AC top 10 since Justin Bieber's "All I Want for Christmas Is You (SuperFestive!)" with Carey hit No. 3 in December 2011. (Carey's original version of the carol jingled to No. 6 in the 1994-95 holiday season.)
"With You" is Carey's first AC top 10 as a lead artist since another holiday hit, "Oh Santa!," became her seventh No. 1, reigning for four weeks in 2010-11.
Plus, "With You" is Carey's first non-holiday, original song to reach the AC top 10 since "We Belong Together," which hit No. 3 in 2005. In between, she notched one other non-holiday top 10: a remake of Foreigner's "I Want to Know What Love Is" (No. 10, November 2009).
The AC chart measures total weekly plays, as tabulated by Nielsen Music, among its reporting panel of 84 adult contemporary stations.
Carey ups her career count to 23 AC top 10s. Having first reached the region with her debut hit, and first No. 1, "Vision of Love," on July 7, 1990, she extends her mark for the most top 10s by any artist since then. Celine Dion is next with 21 top 10s in that span, followed by Elton John (19) and Michael Bublé and Rod Stewart (18 each).
"With You" is from Carey's album Caution, which debuted as her 18th top 10 (at No. 5) on the Billboard 200 chart and eighth No. 1 on Top R&B/Hip-Hop Albums in December.
On the Adult R&B Songs airplay chart, "With You" holds at its No. 3 high. It's Carey's highest rank on the survey since 2006, when "Fly Like a Bird" spent six weeks at No. 1.
While "With You" continues to be promoted to AC and adult R&B, "A No No" will be the next radio single released from Caution. The latter goes to mainstream R&B/hip-hop and rhythmic radio March 4.
All charts will update Tuesday (Feb. 5) on Billboard.com.