Phish at Madison Square Garden, NYC 12.31.18 © Brian Ferguson/BUT I WAS THERE
Phish has announced their summer 2019 tour dates! The band had announced a three-set (two-night) appearance at Bonnaroo Music & Arts Festival yesterday, and today's announcement showing us the full set of tour dates is very welcome to help fans make plans.
The band will kick off in St. Louis on June 11th and 12th. They will also be making an appearance again at Boston's Fenway Park on the Fourth of July weekend. See the full dates below, and as always, a ticket request period is immediately underway at tickets.phish.com (ending Monday, January 21 at 10am ET). Tickets go on sale to the public beginning January 25.
And this is huge as well:
In an effort to get tickets into the hands of fans and not bots, Phish is using Ticketmaster Verified Fan® for public on-sales sold via Ticketmaster. For the first two hours of each on-sale, a selection of the best tickets will be available for those who have received codes via Verified Fan®. Registration closes Wednesday, January 23 at 11:59pm ET. For more info, please visit verifiedfan.ticketmaster.com/phish.
Once again CID is in the mix and offering travel packages for the following dates: Saratoga Springs, Boston, Columbia, Camden, East Troy and Commerce City. Travel Packages go on sale Wednesday, January 16th at 1PM ET. Details available at bit.ly/PhishTP19.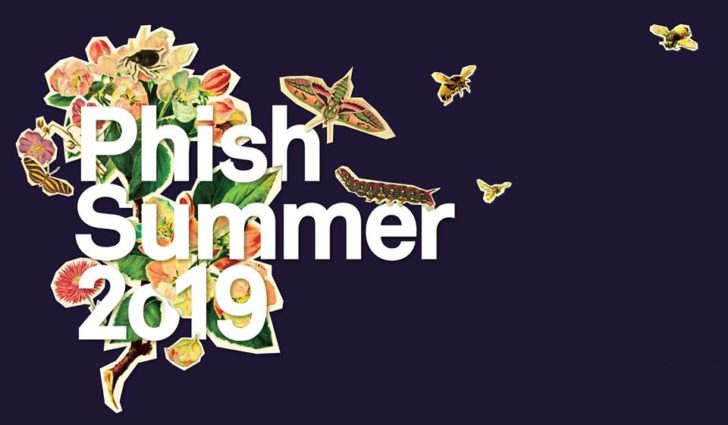 Phish 2019 Tour Dates
6/11 Chaifetz Arena, St. Louis, MO
6/12 Chaifetz Arena, St. Louis, MO
6/14 Bonnaroo Music & Arts Festival, Manchester, TN
6/16 Bonnaroo Music & Arts Festival, Manchester, TN
6/18 Budweiser Stage, Toronto, ON
6/19 Blossom Music Center, Cuyahoga Falls, OH
6/21 PNC Music Pavilion, Charlotte, NC
6/22 Merriweather Post Pavilion, Columbia, MD
6/23 Merriweather Post Pavilion, Columbia, MD
6/25 Darling's Waterfront Pavilion, Bangor, ME
6/26 Darling's Waterfront Pavilion, Bangor, ME
6/28 BB&T Pavilion, Camden, NJ
6/29 BB&T Pavilion, Camden, NJ
6/30 BB&T Pavilion, Camden, NJ
7/02 SPAC, Saratoga Springs, NY
7/03 SPAC, Saratoga Springs, NY
7/05 Fenway Park, Boston, MA
7/06 Fenway Park, Boston, MA
7/09 Mohegan Sun Arena , Uncasville, CT
7/10 Mohegan Sun Arena , Uncasville, CT
7/12 Alpine Valley Music Theatre, East Troy, WI
7/13 Alpine Valley Music Theatre, East Troy, WI
7/14 Alpine Valley Music Theatre, East Troy, WI
8/30 Dick's Sporting Goods Park, Commerce City, CO
8/31 Dick's Sporting Goods Park, Commerce City, CO
9/01 Dick's Sporting Goods Park, Commerce City, CO