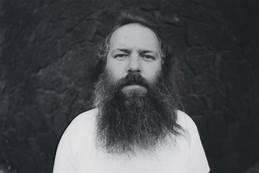 An upcoming Showtime docuseries about legendary producer and label boss Rick Rubin will debut at the SXSW festival in March. The work-in-progress series, directed by Oscar-winning director Morgan Neville (20 Feet From Stardom) and tentatively titled SHANGRI-LA, is slated to debut on the cable network later this year, according to a release announcing the project.
Filmed at Rubin's legendary California studio of the same name, the docuseries "pulls back the veil on Rubin and his work with musicians across every genre. The series is an all-access pass into Rubin's creative process, giving viewers a taste of what it's like to be produced by the music world's most singular voice." Rubin's legendary career spans more than three decades, from the time he co-founded the pioneering rap label Def Jam Records in his his New York University dorm room in 1984, to his signature production work with everyone from LL Cool J, Run-DMC and JAY-Z to his time behind the boards for AC/DC, Slayer, Red Hot Chili Peppers, Neil Diamond, Tom Petty and the Heartbreakers, the Dixie Chicks, Adele, Weezer and many, many more.
With his long, flowing beard and buddha-like posture, Rubin, 55, has become a kind of musical guru, sought out for advice and his one-of-a-kind ear and bare-bones style, which has garnered eight Grammy Awards over his career. Neville is an Emmy- and Oscar-winning director whose 2013 exploration of backup singers, 20 Feet From Stardom, won an Academy Award for best documentary and Grammy for best music film; his more recent effort was the critically acclaimed 2018 Mr. Rogers documentary Won't You Be My Neighbor.
SHANGRI-LA is a Tremolo production, with Neville, Rubin, Jeff Malmberg, Danny Breen, Michael Goldberg, Eric Lynn, Isaac Heymann, Dianna Schmedeman and Jason Schrift listed as executive producers. Jeff Malmberg will direct two episodes of the series, whose release date has not yet been announced.
---