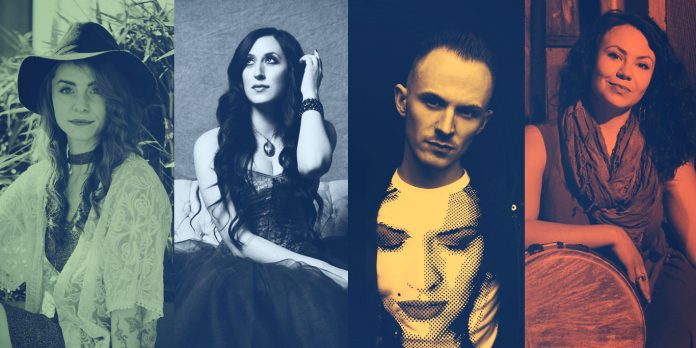 As a singer-songwriter, your time is valuable. It would be great to focus on the stories and just write songs all day, but it's not that simple. Writing is just one part of a singer-songwriter's career. You still have to find time to record, perform, and promote. This doesn't even factor in writing for others, collaboration projects, and basic daily tasks.
With limited hours in a day, building a website may seem like a good idea, but one that keeps getting pushed to the back burner. So we've made it as easy and painless as possible to build a singer-songwriter website quickly. Not only is the initial set-up a breeze, but adding updates on the go is a piece of cake as well.
As a start, let's look at what makes a good singer-songwriter website design. The following page examples include the most common elements needed for a successful website.
Homepage
Your homepage is the most visited page on your website, so you'll want to spend a bit more time making it just right.
[How to Build the Perfect Homepage for Your Band Website]
The first step is choosing the right template and header image. The featured image on your page can really make or break the site style, so choose wisely.
Bandzoogle member Nat Jay has done an excellent job of this by using a spotlight performance image of her on stage. The image is inviting and lets visitors know she's a professional.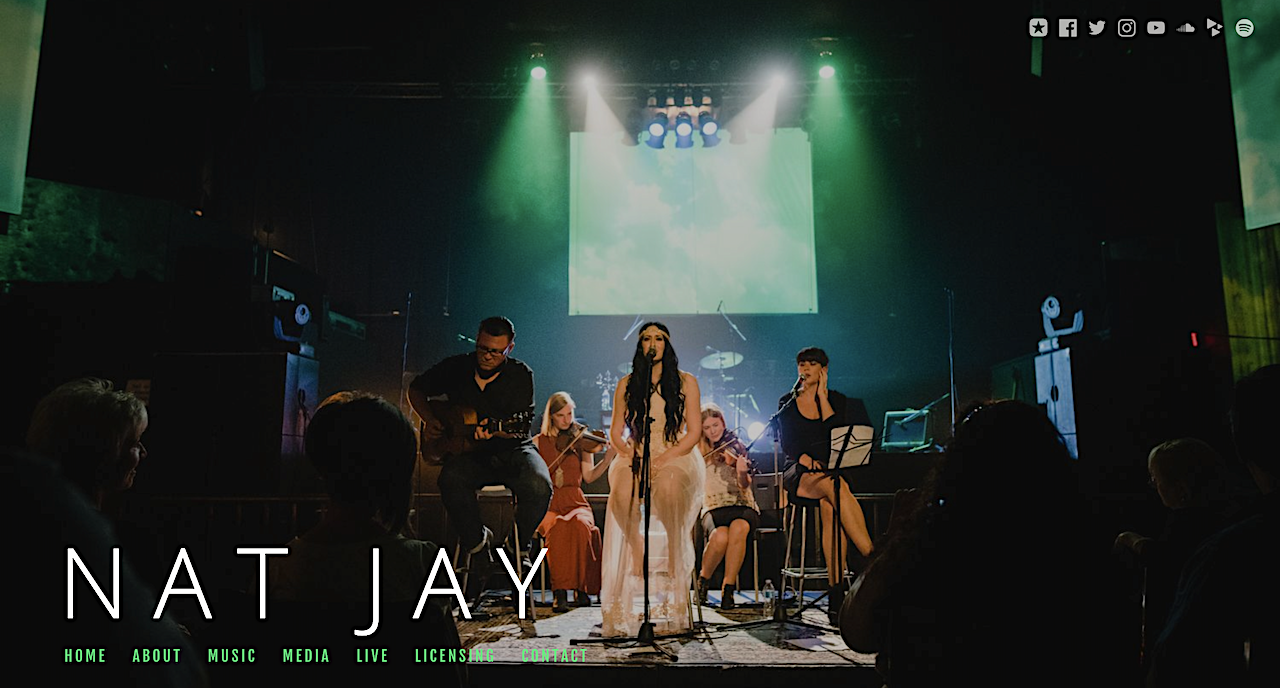 Although the header image is the star of the page, content is the opening act, so you want it to pave the way for the rest of your pages. This is the place to add any accomplishments, features, and awards you've received.
Add enough content on the Homepage to make visitors want to explore more, but not too much to make the page look cluttered. You'll want to add a few samples of your latest work, some images, and links to your social media pages so fans can find you.
One of the most important items to add is a CTA, or call-to-action. A call-to-action is the one thing you want the visitor to do while they are on your page. It's usually a mailing list sign up form or a link to buy your album.
Bio
A biography is important to any musician's website, but it's imperative for the singer-songwriter. Because you're competing with so many others in the singer-songwriter space, you'll want to share your story in a way that…. tells a story! Your story. Your experiences are what separates you from everyone else.
[How To Write an Effective Musician Bio with Examples]
A great example of a thorough Bio page is Emily Shirley. She keeps it relatable, yet provides the content needed for fans and media pros to get to know her.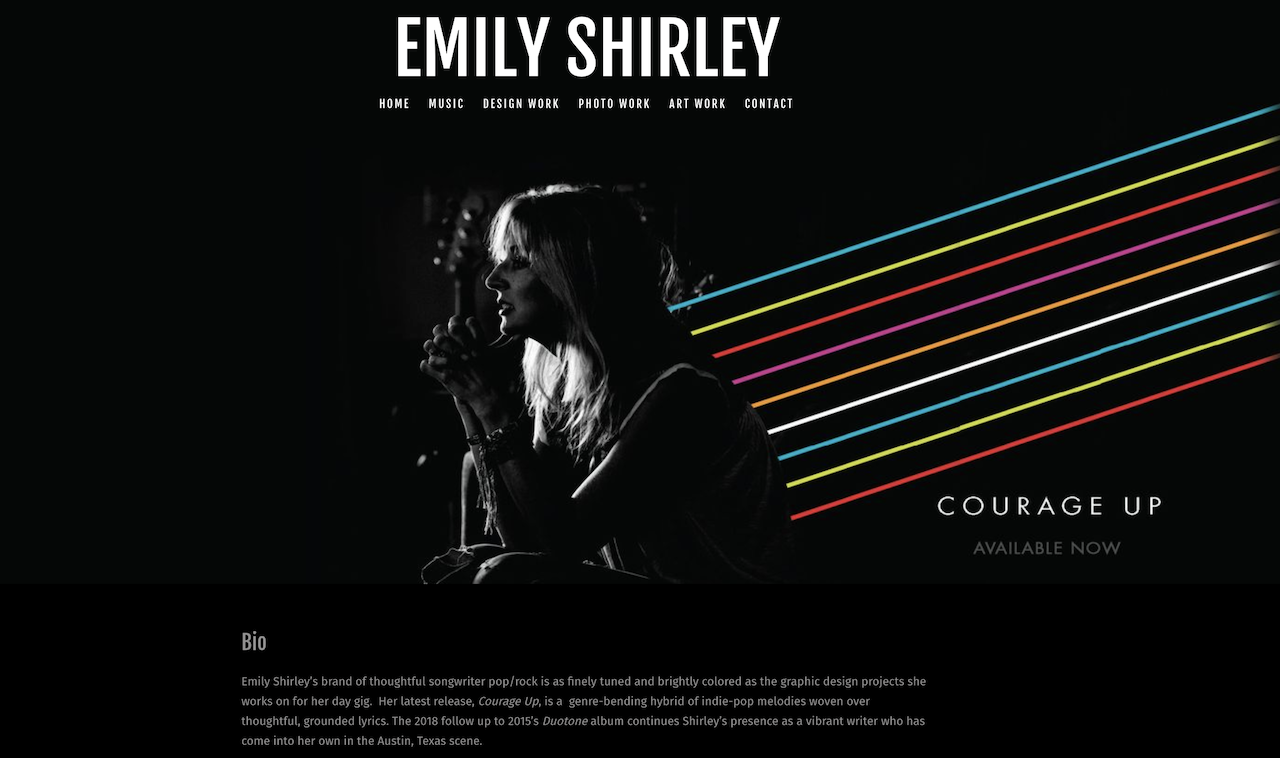 Along with the bio text, you'll want to include a few images to keep the page visually interesting. If you've worked on several writing projects, it's also a great idea to add a link to a 'Discography' or 'Featured On' page in the sidebar as well.
Music
When it comes to your music, don't keep it a mystery. Use every opportunity to get your music in the ears of everyone you can. This may seem obvious, but you'd be surprised how many musician websites don't include any songs! Having a dedicated music page allows you to show off all your own tracks as well as tracks you've written on.
[How To Create a Perfect Page to Sell Music on Your Website]
Seasoned songwriter, Sydney Wright, maximises her music page using several built-in tools. She adds movement by using a video in the header. Our Forte template presents the header as a full page background, giving the website a full style design.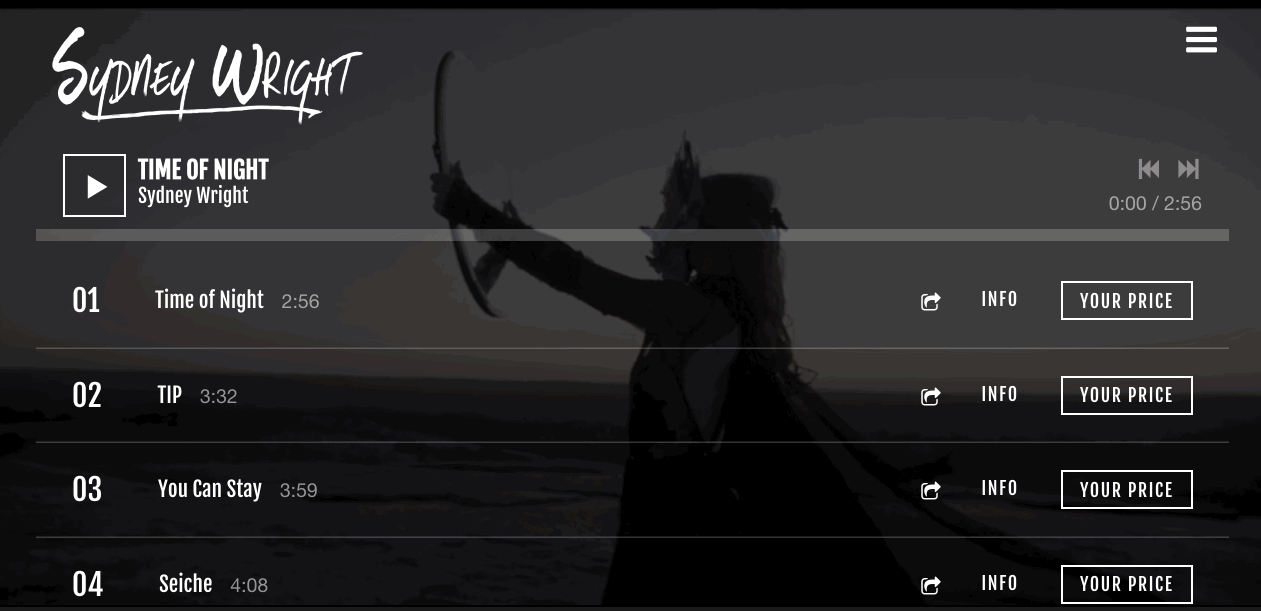 Next, she uses the list view of our music feature to keep the page layout simple. This keeps the focus on the most important element, her songs.
To make it more enticing, she's opted for the option to allow fans to choose the price they'd like to pay for each track. Fans love this because it gives them the freedom to show support that doesn't limit them to paying $0.99 per track.
Build your singer-songwriter website in minutes with all of these features and more. Try Bandzoogle now.
Store
In addition to selling digital downloads of your music, you can also sell physical CD's and merch with our built-in Store feature (commission-free!). If you also create sheet music or video lessons, you can sell those as well.
As you get your music out there you'll begin to build a strong fan following. Superfans are those who love everything you do. They want to represent you and share you with their friends.
A great way to help fans spread the word is through branded merch. Think about selling stickers, hats and t-shirts. You can also sell autographed photo cards and CD bundles like Adam Clarke has done on his site. Fans truly appreciate personalized merch, as it makes them feel valued.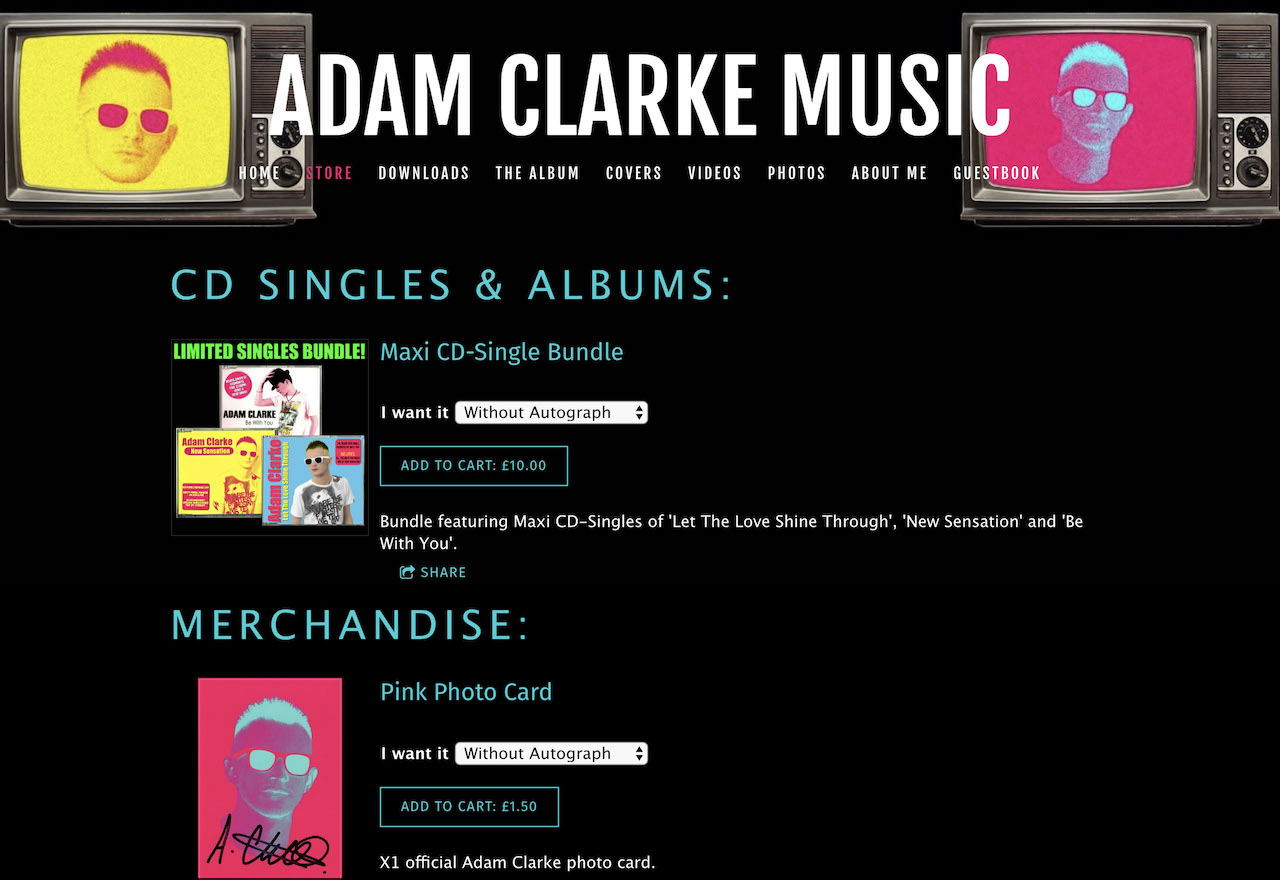 [The Ultimate Guide to Selling Band Merch Online]
Shows
For a singer-songwriter, performing live gets your name out to fans and collaborators alike. Having a shows page gives fans all the info they need to come see you perform.
Singer-songwriter Nikia Yung incorporates violin into her music which makes for a fun show. Her tour page gives fans a detailed view of where she's going to be performing, over a beautiful background image. Adding social media links in a second column is a nice touch and provides fans a way to interact with Nikia before and after the show.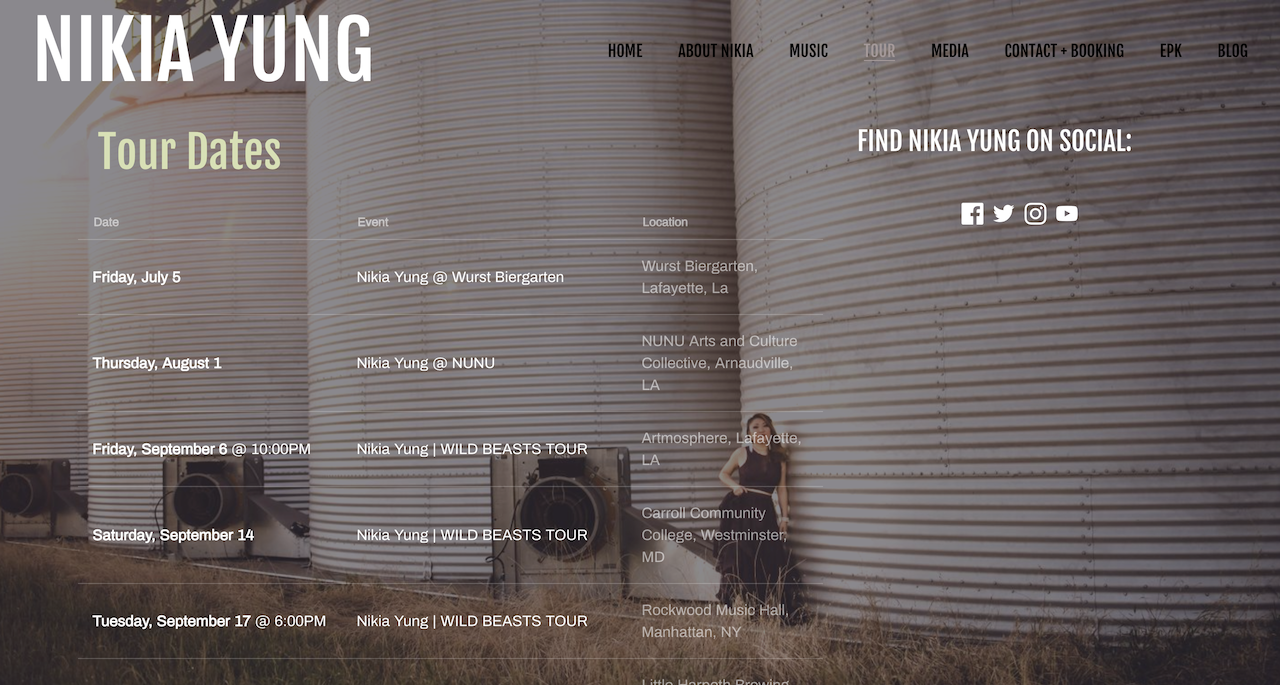 Photo and Video
Fans that can't come see you live will need to get to know you thorough photo and video. Your personality can shine through on dedicated Photo and Video pages.
Take Danielle Taylor for example. Her Photos page is stacked with many different image styles. From promotional photos to performance shots, she displays all sorts of visuals to look at. Beyond just the looks, it's a good idea to have various styles available for media professionals.
If you take a look at her press page, you'll see she's been featured many times by many media outlets. Having a variety of photos gives each of those outlets a fresh photo to highlight for their blog, magazine or podcast.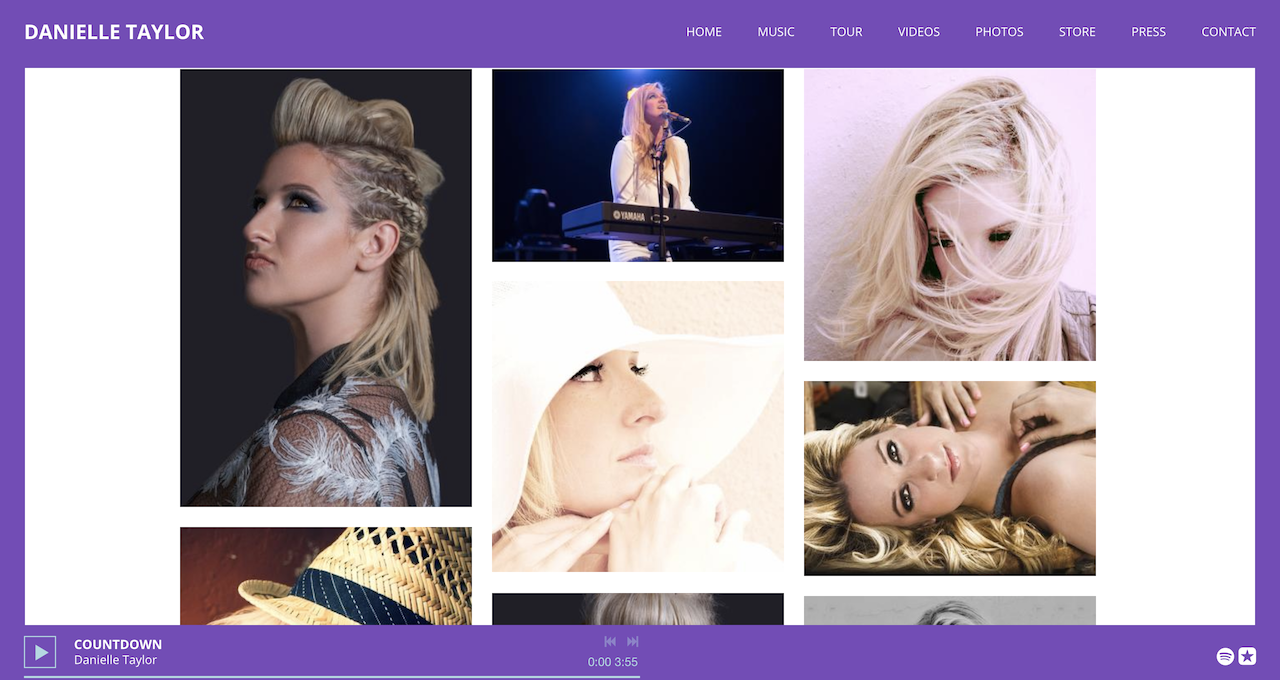 Press Kit
Speaking of press, having an electronic press kit (EPK) within your website shows industry pros that you are serious about your craft.
As you know, media professionals are inundated with singer-songwriters trying to get their attention. You need to roll up your sleeves and put in the work for them to notice you. Once they do, you need to make it as easy as possible to discover and feature your work.
Having a dedicated press kit page will do the trick, and Heather Aubrey Lloyd does a nice job showing us how it's done. An EPK is simply a few small pieces of content on one page that highlights you and your music. It will generally include a bio, upcoming shows, hi-res press images, a couple of tracks, and a video.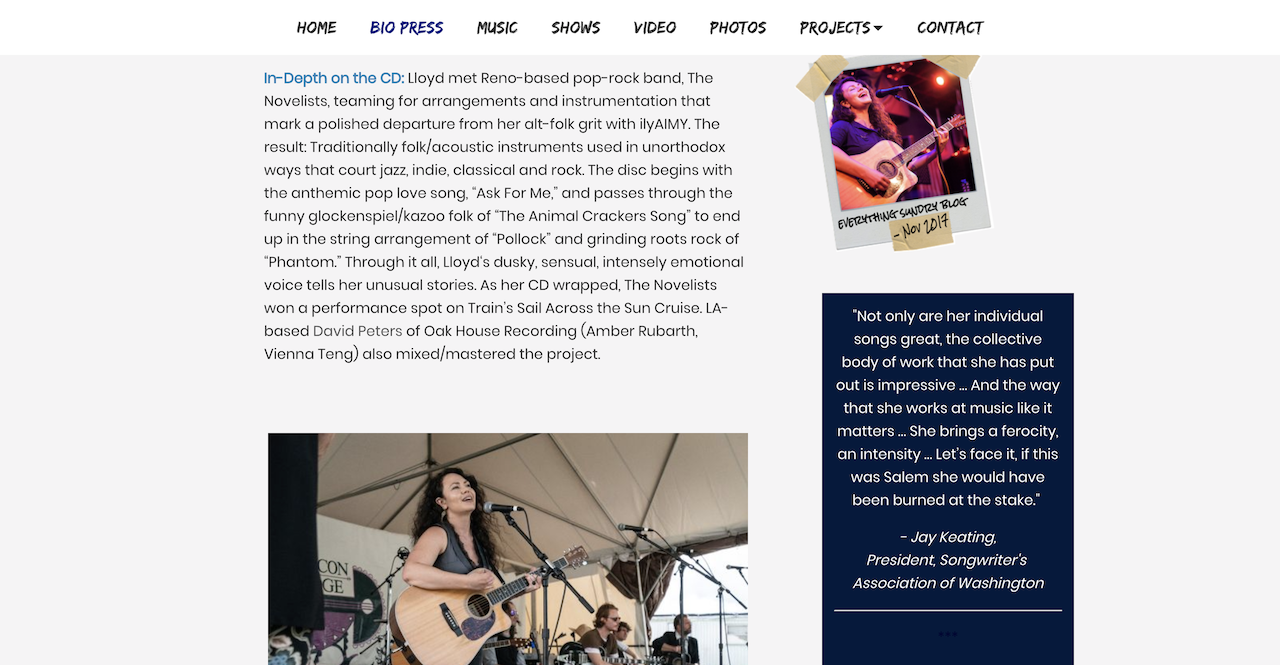 [The 8 Things That Should Be in Every Band's Digital Press Kit]
By taking bits and pieces from the best singer-songwriter websites above, you'll have your website up and running in no time! If you need even more inspiration, check out some of the most stunning website designs on Bandzoogle, and our most popular website templates.
Ready to build your website? Check out our free online guide How to make a website for your music