Adding a new member to the #TeamGavin squad, YouTube star, Gavin Magnus teamed up with his new duo partner and YouTube star, Coco Quinn, for their brand-new cover of Shawn Mendes' and Camila Cabello's 'Seniorita.'
In just 24-hours, the YouTube video has grown to over 1 million views, adding Magnus and Quinn's own take to the song. You can't help but feel a tug at the heart as these two kids redefine the meaning of young love and magic.
Magnus, 12, recently signed with Capitol Records, taking his portfolio to the next level. Back in June, the young YouTube star teased a new project with rapper, Ludacris, with little known details about the project at this time.
Over the past few months, Magnus has had a round of support from fans, with his campaign of spreading love and positivity throughout the community.
In an interview with Pop Culture, Magnus has experienced the dark side of social media, sharing his firsthand account with bullying, and has taken the high road in ensuring that he continues to do what he loves with the people he cares about by his side.
He recently participated in my anti-cyberbullying movement, #CYBERBYTE, which has attracted national attention by many of Hollywood's stars, most recently Jason Faunt of Power Rangers: Time Force.
Quinn, 11, is also a fan-favorite on YouTube and Instagram, having been a member of the mini-elite competition team, Molly's Monsters. Just last year, Quinn began appearing in the web series, Mani.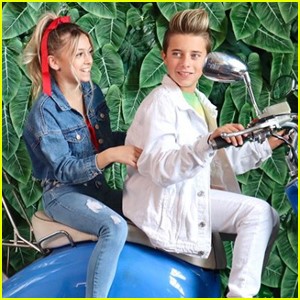 With over 400,000 followers on her Instagram, Quinn has been seen in recent collaborative projects with Magnus.
We can only hope that this duo continues to bend the bounds of pre-teen music and the fandom surrounding today's child star arena.
If you haven't heard the duo's new cover of 'Seniorita,' definitely check it out—it's not your average video and vocal performance.