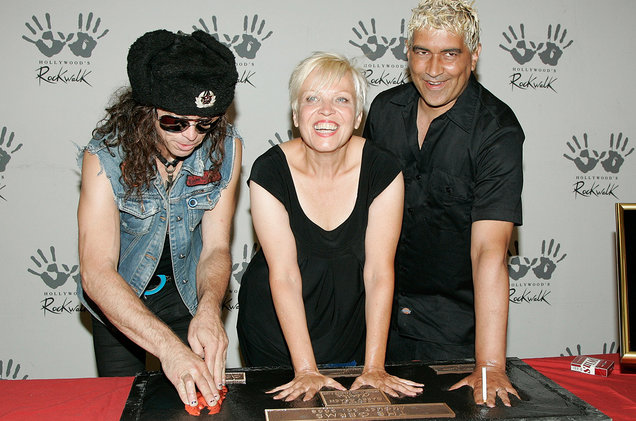 Jason LaVeris/FilmMagic
Don Bolles, Lorna Doom and Pat Smear of The Germs are inducted into Hollywood's "Rockwalk" on August 20, 2008, in Los Angeles, California.
Lorna Doom, bassist for seminal Los Angeles punk band the Germs, has died. The news was confirmed on Facebook by onetime Germs drummer Don Bolles.
The musician, born Teresa Ryan, joined singer Darby Crash and guitarist Pat Smear in the Germs in 1977. The band released just one album — 1979's (GI) — before Crash committed suicide in 1980, though their legacy had already been cemented in the punk scene. The surviving members of the band played together here and there until 1990 (with Smear of course joining Nirvana as a touring guitarist and then an original member of Foo Fighters in '90s), but they wouldn't team up again until 2005 , when a Crash biopic called What We Do Is Silent spurred reunion shows with the film's star, Shane West, taking over on lead vocals.
Smear has yet to comment on the news, though he is set to play with the Foo Fighters on Wednesday night (Jan. 16) at LA's The Forum in a tribute concert to late Soundgarden and Audioslave frontman Chris Cornell .
There's no word on Doom's cause of death. Some outlets are reporting she was 50 years old, but Billboard has yet to confirm.
The Germs were featured in the 1981 documentary The Decline of Western Civilization, which was released after Crash's death. Watch a clip of the Germs performing in the film below.