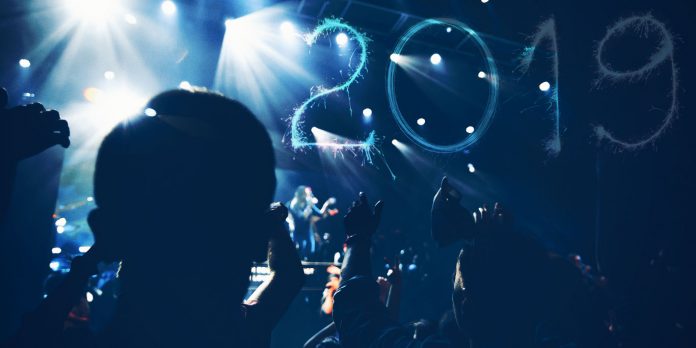 It's an interesting time to be a musician, and this was reflected in the updates and features we released in 2019. Many of our new options included ways to support your music career by diversifying your revenue streams. This includes crowdfunding, subscriptions, and selling singles.
We also added a few updates to save you time, like sitewide features. And of course, we released several new modern, mobile-ready website templates..
Let's take a look back at all of the new feature releases from this past year!
Subscriptions
As a highly requested option, in 2019 we built a way to sell subscriptions directly to fans through your Bandzoogle website, commission-free!
Selling fan subscriptions is a great way to offer exclusive access to your biggest fans while also giving you a steady revenue stream. Many of you started adding subscriber pages and populating those with rewards to sell on multiple tiers.
Crowdfunding
As another way to raise money for your music career, you can quickly create a crowdfunding campaign with our page template, created this year. You can take album pre-orders, bundle digital music with CDs or vinyl, and create custom merch bundles and experiences for your fans.
Single feature
A much-requested update, we added the option to sell a single from your website directly. Adding a track in a player with artwork attached makes your single easy to upload and ready to promote on its own.
Sitewide features
Update your website seamlessly across all pages by using a sitewide footer, or a sitewide text feature. Changes you make in one place will apply to the same sitewide feature on any other page, and is handy for a mailing list sign up form, site map links, sponsor logos, and more!
Maintenance mode
Want to set your website under construction quickly while you make updates? A toggle to set your entire site to maintenance mode was added this year. Switch it on, then reveal your website in full when it's complete.
Multiple calendars
Another nice update added this year was the ability to add multiple calendars to your website. This is handy if you want to add a local show list and touring show list. Or, as a record label, you could build out a page for each artist on your record label, including tour dates.
New help section
It's always been our goal to offer musicians the best customer support on the internet. In 2019 we introduced a brand new, completely rewritten help section with articles on every feature we offer. You can see it in action at: https://bandzoogle.com/help
New website templates
Each year, we add new templates to increase the flexibility of the way your website can look, while keeping in mind the current design trends. 2019 was no exception, with these modern website templates offering creative options for your content.
Ghost Note: This template is felt rather than heard, with a simple backdrop that's perfect for either a clean white canvas, or sections within your content area.
Filter: Featuring a stylish square image and a customizable call-to-action, Filter is a simple yet elegant template for any genre of musician.
Frontier: Put your band imagery front and center with this stylish template, complete with full-width features.
Tonic: Super modern and clean, the Tonic template has different sizing options in the title and menu. No main image needed for this one!
Marquee: Featuring a clear call-to-action and customizable menu options, Marquee also shows off sections well.
Pulse: The beauty of this stunning template lies in the full-width header area plus stylish loading animations.
Limelight: A creative option for any band or musician, Limelight offers different shapes in the header area, showcasing your main image in a fun way.
Each theme comes with 4 variations and a default color palette selected by our designers, making it easy to grab a template and go.
Finally, a few miscellaneous feature updates rounded out the year here at Bandzoogle:
Mailing list sign up in the call-to-action header: Build up that mailing list through your website by adding a signup form directly on your Home page, in the call-to-action header area.
Fonts and more fonts: We added tons of new fonts in 2019, giving you loads of choices to customize your content text, or sections titles.
Additional My Sites icons: We updated the My Sites images, and added quite a few services (suggested by you!) to the list. Plus, we added several generic icons, from a podcasting icon to a shopping cart, to keep all bases covered.
Blog image ratios: Make your blog look beautiful with images in circles, squares, or rectangles, inviting your readers to dive into the full post.
Redesigned image picker: We redesigned our image picker to be faster, sleeker, and easier to use. Choose from small, medium, or large thumbnails to view and add images. Plus, we added a bunch of new stock images.
Additional 301 redirect options: Rather than wait until Google reindexes your site, adding a 301 redirect will make sure that your links keep working in search results. Now you can redirect your old site link to any url, a page on your website, or a file.
CEO recognition
Also of note, our amazing CEO, Stacey Bedford, was named to Billboard Magazine's 2019 Digital Power Players list. This is a well-deserved accolade for a dedicated leader who truly cares about her team.
As always, we hope you can make good use of the new features and templates released this year. From diversifying revenue streams to releasing singles and more, we truly hope that 2020 is an amazing year for all of you musicians out there!