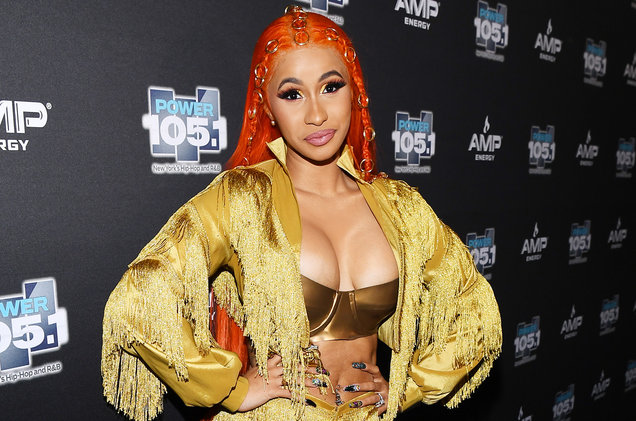 Almost everyone loves a good party, and Cardi B is no exception. The hip-hop rapper posted a video on Instagram showing her on a yacht twerking in a bikini to her latest release called 'Money.' In the video her husband, Offset was spanking his wife playfully as she was rapping to the track.
Her caption of the clip read, 'Peace, love and family that's the real MONEY.' The video did not show their daughter, Kulture so it is unclear if she was on the yacht with them.
The two rappers have been married for over a year, and they still continue to play with each other and have fun like newlyweds. The 26-year-old rapper and her 26-year-old rapper were scantily dressed in the video.
Offset wore a singlet and boxer shorts with his blings on display while Cardi B wore a bikini. Offset enjoyed the view of her twerking so much that he spanked her playfully on her buttocks twice. Their location was not revealed in the short video.
In October, Offset gifted Cardi B grey Lamborghini Urus for her 26th birthday in October and threw her a surprise party. But the rapper later swapped the Lamborghini for another one with a red interior. The couple is fond of gifting each other cars as she surprised him with a Rolls Royce Wraith for his 26th birthday in back in December 2017. In July, both of them purchased matching Lamborghini Aventadors. The power music couple have a good car collection that makes them the envy of other couples.
It seems Cardi B is going for peace and love these days. The rapper recently ended her feud with fellow female rapper Nicki Minaj. Cardi B had to be escorted out of a fashion show after she attacked Nicki Minaj and threw a shoe which hit someone. She later took to social media to talk about how Nicki Minaj had been attacking her and her daughter. She said she could take anything, but she could never take an attack on her daughter.
Nicki Minaj made a post on Twitter where she said that everyone should focus on positive things alone. In the post, she said that everyone was blessed, and the beef might be funny and entertaining to a lot of people, but she won't be discussing the issue with anyone again. She ended the tweet by thanking her fans for the love and encouragement over the years. She ended it with a love emoji.
Cardi B screen grabbed the tweet and posted it on her Instagram page. She captioned the picture with 'Alright then! Let's keep it positive and keep it pushing!'
In October, Cardi B told W Magazine that the couple had a lot of doubts when they got married. She said that their schedules were both tight as both of them were always traveling. She said that they were seeing each other only twice a week and Offset was always known for seeing various women and she as known for not taking any nonsense from any guy that she was dating. She said their love came through for them as they were scared to lose each other.