Crimson Apple have released their new hit single and official video "Somebody" and it has caught the attention of Music Industry Weekly. It was co-written and produced with the esteemed Japanese producer, Satoru Hiraide. The track can be purchased here. It will also be featured on Crimson Apple's upcoming EP to be released later this year! For more information on this sister group, visit their website: https://crimsonappleband.com/.
Stream the song on Spotify and watch the official video below:
Hailing from Hawaii, Crimson Apple is Colby Benson (lead vocals/keyboards), Shelby Benson (guitar/vocals), Carthi Benson (bass/vocals) and Faith Benson (drums). Since the band's inception in 2012, the four sisters have shared stages with such venerated artists as All Time Low, Plain White T's, One Republic, Switchfoot, and Hawaiian music legends, HAPA. The group's 2015 self-released debut album, Hello, garnered commercial success in Hawaii and across the internet, earning spins on iHeartMedia and Star 101.9, as well as nominations for Alternative Album of the Year, Most Promising Artist of the Year, and Group of the Year at the Na Hoku Hanohano Awards–Hawaii's equivalent of the Grammy Awards.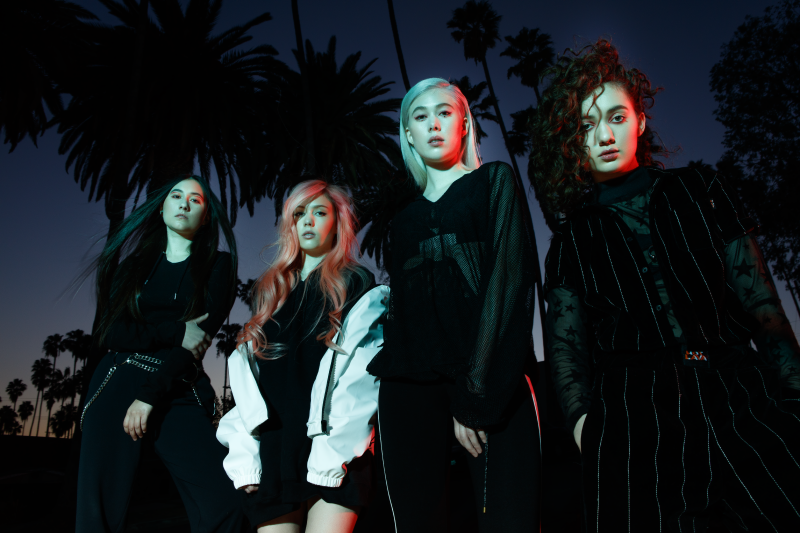 Since relocating to Los Angeles, Crimson Apple have performed in numerous venues across America, signed a management and recording deal with Amuse Group (Perfume, BABYMETAL, ONE OK ROCK) and landed spots on the High School Nation Tour. For their upcoming EP, the Benson sisters are collaborating with producers from the US, Japan and UK. Prior to "Somebody," Crimson Apple released their single "Can't Get Out of Bed," which was written in collaboration with female writer/production team LYRE (Alina Smith & Elli Moore) and praised by Refinery 29, who noted, "The four sisters [of Crimson Apple] are seemingly inseparable, and their vision for the band is strikingly clear." With undeniable chemistry on and off stage, and a musical bond only sisters could share, Crimson Apple seem to have all the makings to be pop music's next big thing.
Visit Crimson Apple:
https://www.facebook.com/crimsonappleband
https://www.instagram.com/crimsonapple/
http://www.crimsonappleband.com https://www.facebook.com/crimsonappleband Tweets by CrimsonAppleXO https://www.instagram.com/crimsonapple/ https://www.youtube.com/user/CrimsonAppleBand