Musicians Dave Grohl associated with Foo Fighters and Steven Tyler attend CIROC Vodka at 20th Annual Elton John AIDS Foundation School Awards Viewing Party on the City of West Hollywood Recreation area on Feb. twenty six, 2012 in Beverly Hillsides, California.
Aerosmith delivered an electric performance at the Bud Light Super Bowl Music Fest Fri night (Feb. 1).
As Dave Grohl gears up for a large Super Bowl weekend overall performance of his own with the Foo Fighters , he got in the zone after some bit of Aerosmith … correct in his face.
The frontman attended Aerosmith's show at the Bud Light Super Bowl Music Fest Friday night (Feb. 1), getting up close and personal with all the legendary rockstars simply by sitting side stage. He was discreet until Aerosmith singer Steven Tyler noticed him during "Living Around the Edge." Tyler after that walked Grohl's way and also dropping the mic lower for Grohl to perform. And then, all fan lady broke loose.
Grohl, who attended the particular show with Foo Fighters drummer Taylor Hawkins, didn't want to help freaking out that will Tyler was right close to him, smiling and performing along. He continued bobbing his head throughout the remaining song, clearly loving every single second of his other rock star's performance.
Though Grohl never ever joined Aerosmith for a music, the "Dude" rockers definitely gave the amped-up group a performance to remember, along with Tyler and Co. making use of every inch of the phase as they sang classics such as "Janie's Got a Gun," "Cryin'" and "I No longer Want to Miss a Thing." The Bad Boys through Boston made sure to show their particular Patriots pride in their encore, with bassist Tom Hamilton throwing on a Rob Gronkowski jersey and Tyler sports an AFC Champions head wear as he connected out to "Dream On."
Check out the pic of Dave Grohl's fangirling below: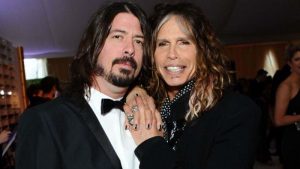 ---