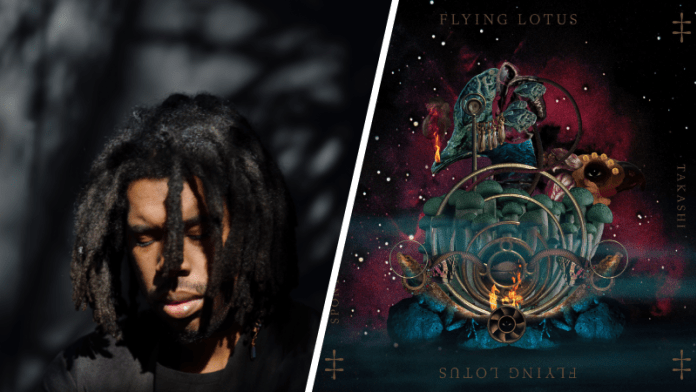 Flying Lotus has released two new tracks off his recently announced next album, Flamagra.
Read descriptions below:
"Spontaneous" is a flirtatious ballad with Yukimi Nagano of Little Dragon singing atop a funky template. It blends perfectly with "Takashi", a piano driven instrumental that swirls itself into a soulful cosmic jam. The track is aptly named after Takashi Yudo, an artist from the creative project teamLab. Lotus visited this visual experience in 2018, re-inspiring a creative spirit inside.
You can stream the two new jams below.
This follows up the initial announcement of the album and the release of "Fire is Coming" with David Lynch.
Here's the cover and tracklist for the new album:
Flying Lotus Flamagra (WARP)
1. Heroes
2. Post Requisite
3. Heroes In A Half Shell
4. More feat. Anderson .Paak
5. Capillaries
6. Burning Down The House feat. George Clinton
7. Spontaneous feat. Little Dragon
8. Takashi
9. Pilgrim Side Eye
10. All Spies
11. Yellow Belly feat. Tierra Whack
12. Black Balloons Reprise feat. Denzel Curry
13. Fire Is Coming feat. David Lynch
14. Inside Your Home
15. Actually Virtual feat. Shabazz Palaces
16. Andromeda
17. Remind U
18. Say Something
19. Debbie Is Depressed
20. Find Your Own Way Home
21. The Climb feat. Thundercat
22. Pygmy
23. 9 Carrots feat. Toro y Moi
24. FF4
25. Land Of Honey feat. Solange
26. Thank U Malcolm
27. Hot Oct.