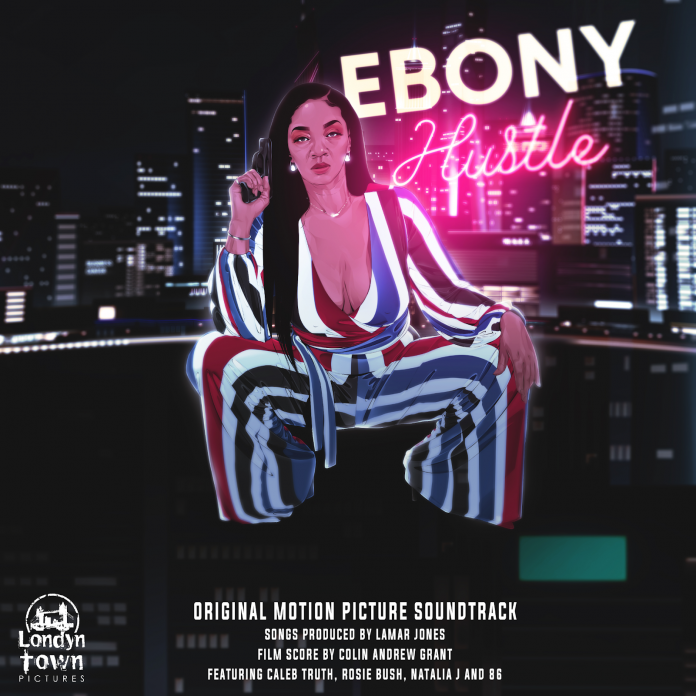 Music plays an integral role in filmmaking as it ties together the entire movie experience. As such, it is crucial to create stellar scoring that evokes the right emotions and captivates the audience. Cognizant of this, the makers of this year's highly anticipated film Ebony Hustle have created a one-of-a-kind soundtrack and score that complements its remarkable storytelling. 
The movie has an excellent soundtrack that features four highly talented indie artists—Rosie Bush, Andrew Chandler aka Caleb Truth, Natalia J, and 86.
Rosie Bush performs the title track of the upcoming film, a song called "Hustle." She is a soulful hip-hop and R&B singer with a gift for poetry. Her lyricism transcends beyond the physical and touches the hearts and souls of its listeners. 
She shares profound and inspirational stories through the music she writes. As someone who loves to speak to the youth, she creates songs with powerful statements such as "Fxck Love" and "Natural."
On the other hand, Andrew Chandler, known for his artist name, Kslay, is featured on the soundtrack for performing "Chuch." However, this is not his only role in the production. The professional actor also portrays Caleb Truth, one of the lead characters in the film Ebony Hustle. You can also catch his performance in the music video for "Chuch" on YouTube and other video streaming platforms. 
Another budding artist that showcases her musical prowess on the film's soundtrack is Natalia J. The singer-songwriter born in Baltimore and raised in Houston started her musical journey as a member of a Baptist church choir.
Because of her powerful vocal register, she acquired lead roles in performances such as Phantom of the Opera, Annie, and Sister Act. Her single on the Ebony Hustle is called "Chasin Cake," which expertly shows off her range and talent. 
Finally, skilled rapper Marvin Watts, better known by his stage name Eighty-Six, performs the single "Keep Grindin." The promising performer was once part of the group 10.40 Boyz. His history consists of several notable solo mixtapes. Over the past few years, he had taken a hiatus to focus on his family and children. But, his participation in the film's soundtrack signals his return to the music scene. 
The soundtrack is produced by Lamar Jones, also known as Marz, who hails from Houston, Texas. Employing his unrivaled understanding of music, he has curated an impeccable record. Talking about his creative process, the sound engineer shared, "I love when you hear a song, and it instantly transports you to a memory no one could ever take from you. So I create music to uplift people and to provide an escape to a personal place, even if it's just for a moment."
Aside from its stellar soundtrack that highlights up-and-coming musicians, Ebony Hustle has an incredible music score that contains 13 tracks. It was created by expert composer and sound designer Colin Andrew Grant, who has diverse experience as a dialogue coordinator, sound designer, and music editor.
Undoubtedly, the fantastic team behind Ebony Hustle has done an exceptional job at creating a brilliant soundtrack and score fitting for an equally spectacular movie. The executive producer and the film and soundtrack,  John Wayne S. III, looks at this entire project as what an indie film is capable of being. "This is an opportunity to showcase stellar talent on the screen and in the airwaves."
Catch the premiere of the crime thriller Ebony Hustle December 1st on FOX TV's streaming channel Tubi TV. The film's soundtrack and score was released through Londyn Town and available on your favorite streaming platform. You can also watch the Ebony Hustle trailer on YouTube.