In July, Kanye West announced his next album "Donda" (which is named in honor of his mother) was about to come out. No one expected that the release was going to be smooth and simple, as it usually is with other artists, and no one was wrong about that.
First, Kanye stated that his fans will be able to hear it on July 23, then August 6, then August 13, and then August 20. Now, it is being pushed to August 26. In the meantime, Apple Music promoted an exclusive live stream event from Mercedes-Benz Stadium in Atlanta earlier this month that showed the creative phenom finishing the album.
No one can deny that Kanye's album rollout is unique, though. Not only because of the constant rescheduling of the release, but the way he lets his fans taste this upcoming era. The rapper moved to the Mercedes-Benz Arena in Atlanta with the purpose to focus and finish the album there. While having residency in the arena, he already had a livestream for everyone who would love to see how he lives there and what he does during the process of working on Donda (half of the livestream included him sleeping). Moreover, he organized two listening/release parties (on the nights when the album was supposed to come out) in the Mercedes-Benz Arena, which last time was attended by 40,000 people and watched by 5 millions via livestream. Hundreds of videos spreaded on social media from the event, showing how Kanye was floating in the end of the show. And even though Kanye didn't perform any of the songs, the visuals were truly beautiful and people spent money ($20/$50 per ticket) to have an exclusive opportunity to hear the new album first.
Although Kanye keeps rescheduling the release of his album, it is done due to his desire to make this album perfect, especially when it is called in the name of his mother. And while all we have are videos from the listening parties with some parts of new songs, there is one thing for sure – DONDA will have a lot of features and collaborations.
For those who didn't have time to dive into the details of the album, here is the list of the artists to expect there (if Kanye doesn't change his mind) when DONDA comes out: Lil Baby, The Weeknd, Playboi Carti, Baby Keem, Don Toliver, Pusha T, Jay-Z, Travis Scott, Roddy Rich, Lil Durk, Kid Cudi, 070 Shake, Pop Smoke, Lil Durk, Young Thug, Lil Yachty, Donda and more.
Also, as it is known at the moment, the lead-single for the album is called "Hurricane" (feat. The Weeknd and Lil Baby) and it does sound angelic. It seemed to be well received according to the likes on a recent IG post by Complex Music.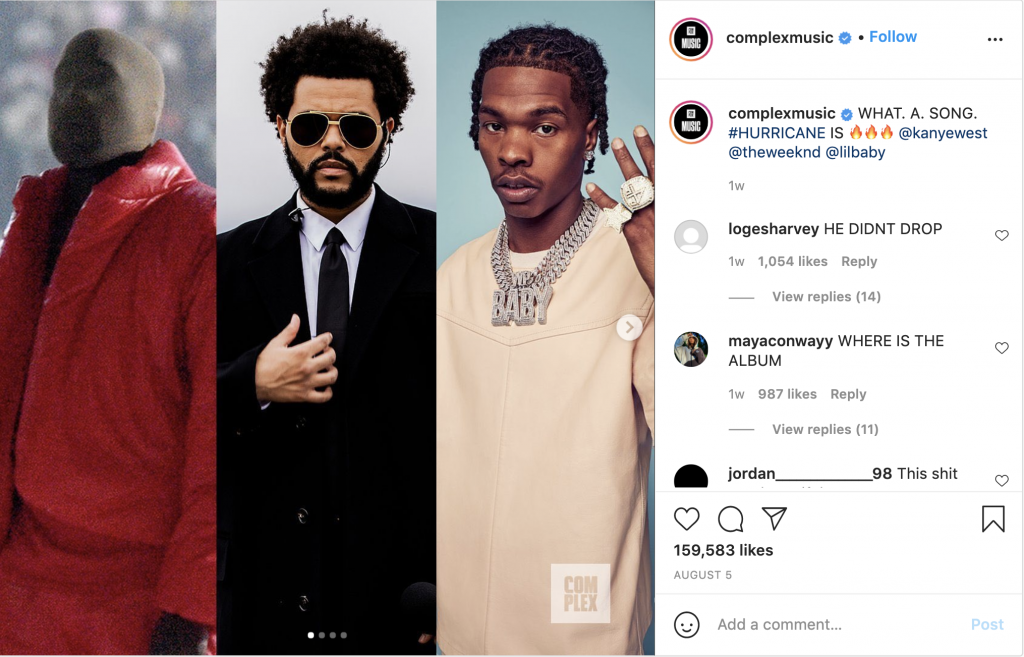 As more news about Kanye and his album DONDA keep coming, it is already stated that the last listening party at the Mercedes-Benz Arena on August 5 broke the record as the highest-grossing US tour solely on its merchandise – just in one night, attendees bought tees, designed by Balenciaga, on $7,000,000 (previous record was made by Taylor Swift and sales were under $7 million).
It's obvious that DONDA hasn't dropped quite yet, but fans keep waiting and hoping that "next week" it will finally be released successfully. But for now… It is Kanye's world and we are just living in it.