For those who missed the news about DaBaby's rant at a recent live event that caused a stir within the LGBTQ+ community and the Music Industry generally, you will need to first brush up on the headlines that hit the digital airwaves over the past several weeks. You can quickly catch up by reading the following news article published on MIW last week: DaBaby's Controversy Keeps Going: What's Coming Next?
The situation got much worse when DaBaby tried to apologize and made his first statement on Twitter after the show on July 27, "I tell fans to put a cellphone light in the air y'all start a million-man March. I told y'all digested that wrong. But I ain't gonna lie I'm impressed. Now show this same amount of support when a racist cop kill one of our black ass… YA NOT," continuing in another tweet, "Anybody who done ever affected by AIDS/HIV y'all got the right to be upset, what I said was insensitive even though I have no intentions on offending anybody. But the LGBT community… I ain't trippin on y'all, do you. y'all business is y'all business."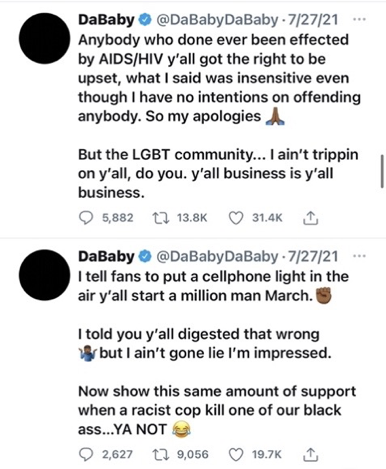 Despite his attempt at damage control, the negative wave of comments kept spreading across the Internet, highlighting that it was not a genuine apology. According to the timeline of the next events, DaBaby and his team had five days to correct the situation, which didn't happen. Therefore, different companies and celebrities stepped in, deciding to not ignore it.
First, the brand BoohooMAN that partnered with the rapper made an announcement on its Twitter on July 28, saying that they had cut ties and will no longer work with him due to his speech at Rolling Loud, "…We stand by and support the LGBTQ+ community, and do not tolerate hate speech or discrimination in any form."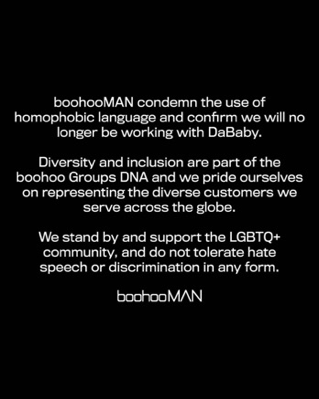 Later, Elton John published post on Instagram, with a goal to educate people about AIDS/HIV, adding "We've been shocked to read about the HIV misinformation and homophobic statements made at the recent DaBaby show…".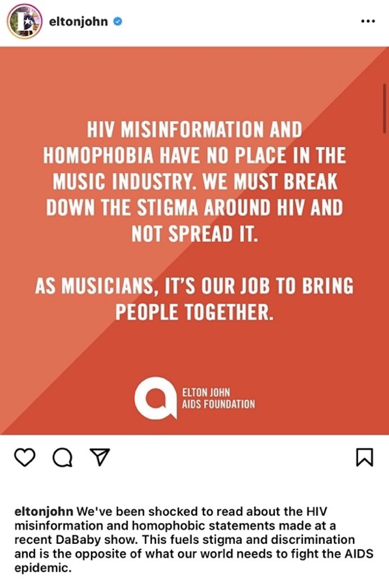 On the same day, "the hero of the occasion" released a music video "Giving What It's Supposed to Give," including such lyrics as "B****, we like AIDS, I'm on your a**, we on your a**, b****, we won't go away." The music video has finished with a message, colored as a rainbow, "Don't Fight Hate With Hate. My apologies for being the same way you want the freedom to be you." 
The story could be finished here, but it was only the beginning of the end. Even though DaBaby got a strong backlash generally, there were a handful of heavy hitters such as as Boosie Badazz and T.I. who supported him, but it wasn't really noticed.
The next day on July 29, Madonna added her few words to everything already said by other people, "…I want to put cell phone lighter up and pray for your ignorance… And your sexist remarks about Ladies who's p***** need to smell like water only encourage more discrimination against women… People like you are the reason we are still living in a world divided by fear."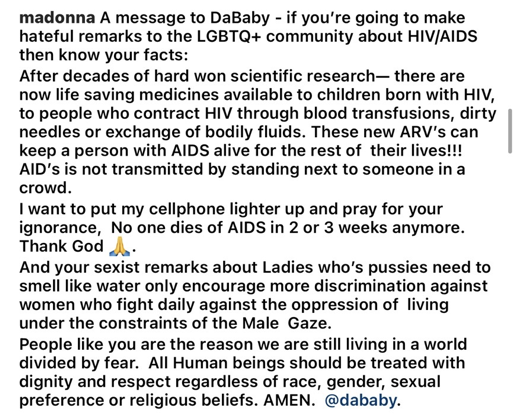 As it will be announced later, DaBaby has contacted the organizers of Lollapalooza a week prior his performance at the festival, asking to allow him to show a special video apology at the stage during his show, which the organizers agreed to but… never got the file. Therefore, on August 1, hours before the scheduled DaBaby's show, the festival announced that Billion Dollar Baby will not perform. "Lollapalooza was founded on diversity, inclusivity, respect, and love. With that in mind, DaBaby will no longer be performing at Grant Park tonight.", says the post on Instagram.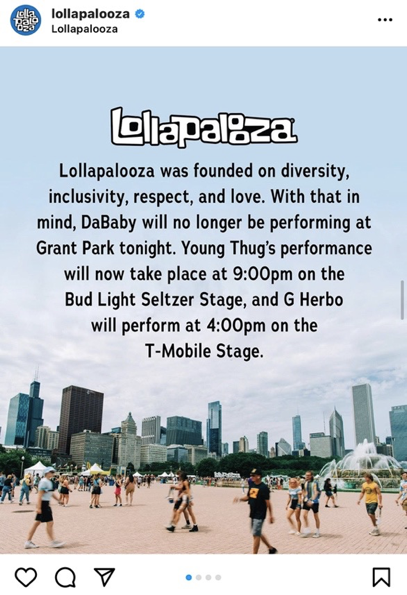 And just like that, as Lollapalooza dropped DaBaby, others followed, including Governors Ball, KS 107.5 Summer Jam, Parklife, iHeart Radio, Music Midtown, Austin City Limits and Day N Vegas. It wasn't even helpful that the performer of the hit "Rockstar" issued an apology (again) in the middle of the cancellations on August 2, in which he points out that "Social media moves so fast that people want to demolish you before you even have the opportunity to grow, educate, and learn from your mistakes." And since it wasn't helpful, he quietly deleted the post with the apology from his Instagram on August 7, and moved on – just like Kanye West on August 9, who removed his "Nah Nah Nah" Remix with DaBaby and 2 Chainz from all DSPs, which was released in October 2020.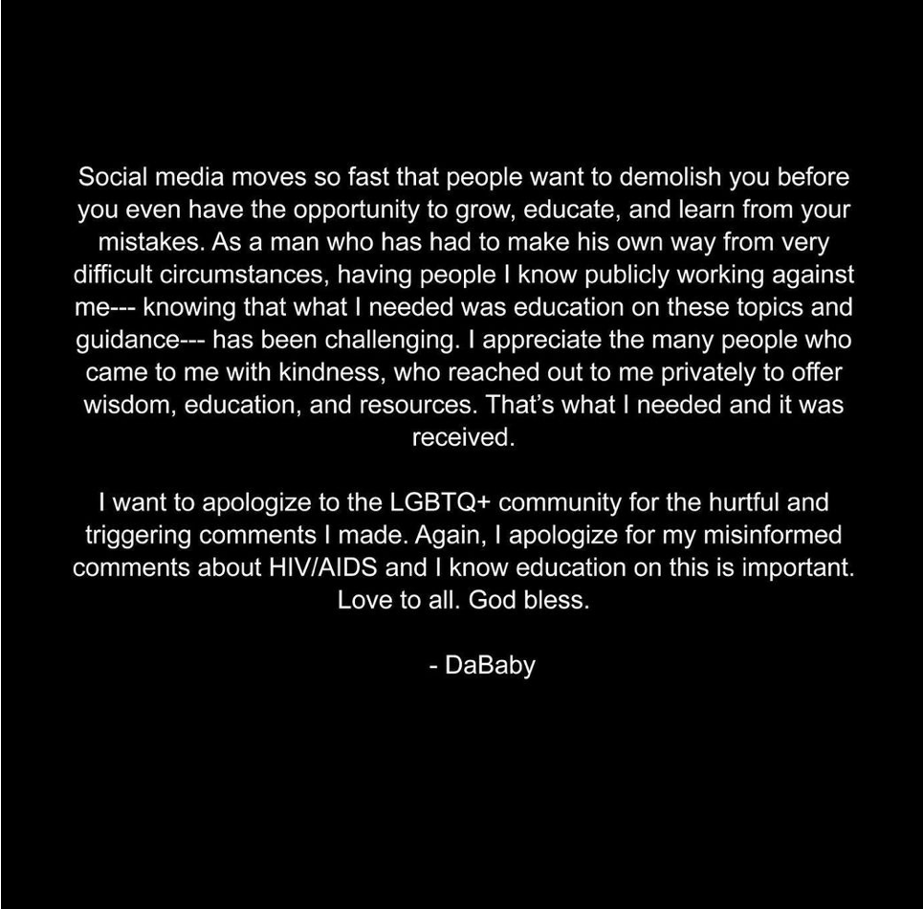 It is hard to say if the story will be continued, but we will keep MIW readers posted on the subsequent fallout. We will also be sure to report as other artists continue to speak up and support (as 50 Cent, who believes that DaBaby will overcome the controversy), or not support DaBaby (as radio stations, that removed "Levitating" Remix with DaBaby from rotation) and try to help him to understand his mistake (as Miley Cyrus, who stated on her Instagram that she is ready to educate the rapper).