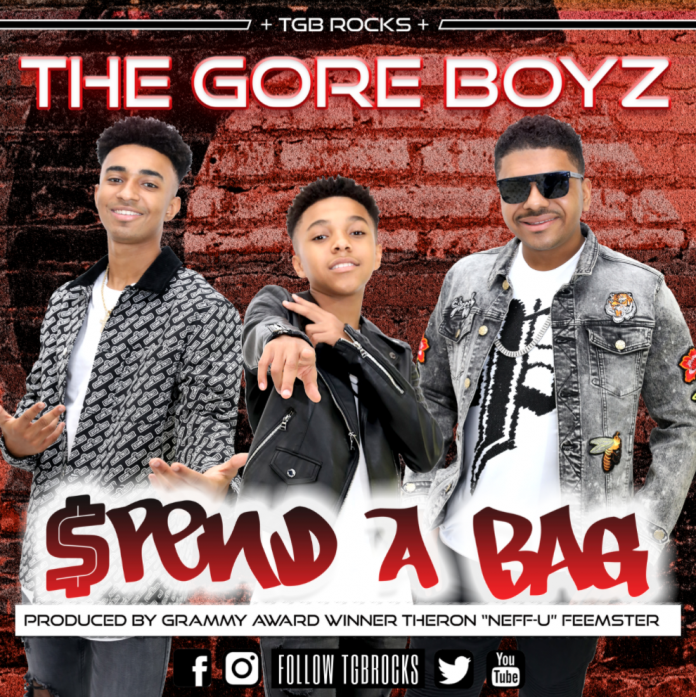 All-male singing trio The Gore Boyz (TGB)—composed of Herman III, Edwin, and Sean Michael—are rising to stardom and are ready to take on the spotlight after releasing their latest single, "Spend A Bag." Barely a month after the release, their new music is being streamed across different platforms, including Spotify and YouTube. At this moment, it has already garnered 700,000 streams and continues to rise by the minute. 
This pivotal point of the boy band's imminent fame is all thanks to Theron 'Neff-U' Feemster, a Grammy Award-winning artist who produced their song. He is the guy behind Men in Black's theme song. Of course, the undeniable talents of the boys cannot be discredited. Ever since they were young, their musical inclinations have been honed in the Motown genre. The boy band is a total package, with Sean Michael as the lead singer and drummer, Edwin as the guitarist, while Herman singlehandedly maneuvers the supporting instruments. Their raw and pure musical abilities have given them the upper hand and landed them into great opportunities. As a matter of fact, in the past, they were able to work and perform with the pop singer Justin Beiber.
Their stardom is also a consequence of hardwork and guidance from the team behind The Gore Boyz. Over the course of their journey, they have been mentored by legendary artists such as Usher and the Jackson Five. Trained by well-known artists in the music industry definitely kickstarted their careers as they draw inspiration from them. Moreover, they have worked with award-winning artistic director/choreographer and owner of Fuzion Force LA Dance Studio Chuck Maldonado for the music video of "Spend A Bag." Given his expertise as a Hollywood choreographer and dancer and extensive experience in working with Chris Brown and the Victorious set, which included Ariana Grande, he officially choreographed the boy band's latest single.  As for their performances and vocals, they are currently managed by Big Mike of Day 26. Fans can see that The Gore Boyz is being overseen and led by the best of the entertainment industry. 
Having achieved popularity at such a young age, the boys never neglected their education. In reality, they are as focused on their studies. Edwin and Sean are both Nation Honor students and very active in student activities in their school. As for Herman, he got a full academic scholarship to Morehouse College in Atlanta, Georgia, to pursue his pre-med course.
With "Spend A Bag" continuing to generate attention, the band wants to make use of this opportunity to blaze a trail. "We want our music to help people enjoy themselves and have a great time," Herman says. Edwin fully agrees and chimes in, "We just want to create music that's for everybody. We make great music you can listen to, dance to, vibe to, and enjoy anywhere you want."
Although in the spotlight barely for months, they have shown they have the passion, talent, and work ethic to be the biggest boy band in the world. Check out The Gore Boyz (TGB) out on Spotify and Apple Music. Make sure to follow the band on Instagram, Twitter, and Facebook, or visit their official website.