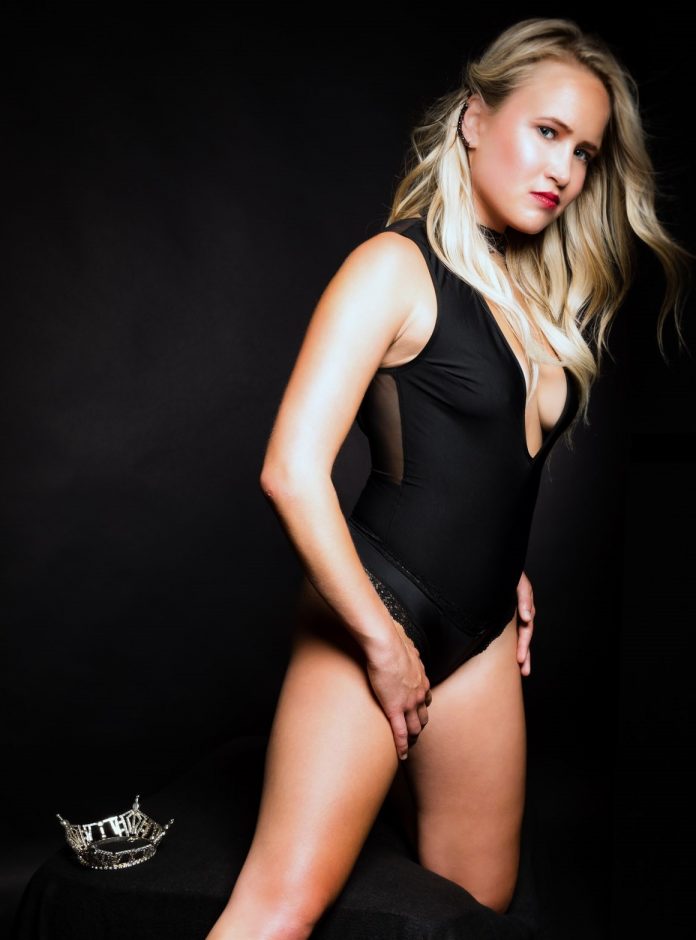 For an artist, sharing their music and sound is an extremely personal moment. The ways in which an artist can separate their identity from their brand can be challenging at times, especially in today's digital age.
This year, I attended Music Biz 2019 in Nashville, meeting two extremely talented artists by the names of Shelita and Pagentri.
I remember walking by the Jammber music booth and formally being introduced to Rachel Tripp.
Jammber is a music technology company that creates workflow tools and mobile apps that help creatives receive accurate credit and payment for their music.
Little did I know that Tripp had an entirely different alias and a sound that would very quickly resonate with me whereby I would begin playing her music at my pool and events down in Ohio.
Tripp's alias, Pagentri, is a spectacle of mystique that I wanted more of. I sat down with Tripp to learn more about her alias and music.
Balancing the Chords
Tripp, having grown up in a very musical family, started her musical journey at three-years old down in Charlotte, North Carolina. Her dad is a musician and a producer, opening her up to the world of music.
"My family had a recording studio down in Charlotte, so when kids would have their after-school sports, I was either performing, practicing, or going to the studio and recording background vocals one of my dad's projects," Tripp shared with me.
Tripp told me that she always tells people she could sing before she could speak, because "when I was 3, I ran up at our daycare Christmas program and stole the microphone."
Working heavily in the entertainment industry myself, I've noticed, at least with younger talent, the immense pressure their families place on them to penetrate the industry, which tends to have damaging effects on the child or musician.
For Tripp, her dad never wanted to push her in that direction.
"I just gravitate in that way and was lucky to have a family who could help support and coach me through these things," she said.
"I believe I was meant to be on stage singing and communicating with people through my songs."
Time Management

Whether you're a musician or pursuing any career, time management is essential and is a skill many people still struggle with harnessing.
"With any artist, you must be conscious of your time and energy," Tripp emphasized.

"People don't think that they need to conserve their energy and have me time—but it's a thing you need to prioritize because you will get burned out quickly without knowing it."
Andrew Rossow: Do you find it challenging to balance your job with Jammber and your career as a musician?
Rachel Tripp: I think the challenge for anyone is always time-management. You must learn to be very particular with your time and make smart decisions. I've learned that more because I am involved with many different ventures. So, I'm very conscious of my time, but I also believe that if you are passionate about something and put your mind to it, you can make time for it. I'm very lucky that my job is in an industry that I love and I get to serve creative people. 
AR: How has your time with Jammber helped you as an artist?
RT: l'm very fortunate that my career with Jammber is in the music industry, because it has allowed me to learn more about how to make music a prolific career. It's taught me how to run my music as a business and brand successfully, so I'm lucky the two go together. I find that a lot of creatives don't know the basics of how to monetize their music or increase awareness of their brand, and I'm lucky to have learned the power of technology when combined with your craft. It's game changing for your career.
[…]
The Birth of 'Pagentri'
Now our interview takes a turn, as Tripp transformed into 'Pagentri,' her musical alias.
Pagentri was born out of a collaborative effort between Tripp and Jammber CEO and Co-Founder, Marcus Cobb.
"I've been singing since I was three years old, and just like every artist you go through different iterations. I grew up in the South really influenced by Motown and country music."
For Pagentri, she has definitely gone through different iterations to find her sound.
"At one point, I was in a girl pop group, dabbling into genres and not  knowing what my sound was," she shared. "I had a lot of people who thought they knew my sound and tried to pinpoint me. Once I moved to Nashville, and became more focused, I set out to release my own EP, my project, that was going to be mine that nobody else was funding or had creative control over. This is where I could figure out what my sound was and what I wanted to say as an artist."
And at this moment, Pagentri was born.
"I had all this music that was out there on Google under Rachel Tripp, but this new sound I didn't want to be associated with my past projects, so this alias was a good route to pursue."
Andrew Rossow: You mentioned that 'Pagentri' was a collaboration. Can you talk more about that?
Pagentri: I went to my boss and mentor at work for advice when I was working on the EP.  He has been very successful as an entrepreneur, with a lot of experience in the musical world. He helped me create the 'Pagentri' alias.
AR: But why 'Pagentri?'
Pagentri: The reason I went with 'Pagentri' was because I had a short run in the pageant world, and was a pageant queen. It was more on something I did on a whim, but it was through the Miss America Organization, where talent is heavily weighted. People suggested I try it and I'd do well, so always, when you see my name out there, you'll see it associated with pageants and Miss South Carolina. I went with the 'Pagentri' alias because it also means being a spectacle, or an elaborate show. I wanted my music to almost be a spectacle in a way that was mysterious—where you don't really know who the musical creature is. This really pulled back all those layers, and the spectacle image through the lyrics, music, and emotions. You do know me, but there's always this mystique where you don't really know what's going to come next.
You Can't "Own Me" 
Pagentri's upcoming song, "Own Me" will be available on all streaming platforms on October 18th. 
Pushing boundaries, Pagentri wants the world to know this is nothing like she's done before.
"I want everyone to know Rachel Tripp is very different than Pagentri," Pagentri declared.
"I grew up in the south in a somewhat conservative household but was always rebellious. Being an only child  that rebelliousness came out a lot as I was growing up. I really find my music as a way to break out of that Rachel Tripp 'shell'—from the south, and pushing the boundaries with this new music."
AR: What can you tell us about 'Own Me'?
Pagentri: This new music is more of the artist sound I resonate with and want to show the world. The sound is more Urban  beats-driven, and the lyrics are more sensual and pushing boundaries. The song is about being in a submissive relationship, and it definitely goes there. It's things that my mom and dad are probably not going to be happy with, (chuckling) but hey, I have this artist alias, it's not Rachel Tripp—it's Pagentri.
AR: In our conversation, you mention another artist being featured on the track. Spill.
Pagentri: You're correct, Khori⁴, a rapper from St. Louis is featured on the new song. I wrote the song in Chicago with Blaze Da Champ and Marcus Cobb and finished up the track in Nashville with producer Zak Fox Jablow. The people I collaborated with helped bring the urban influence and it's an extremely hot track. I'm excited and can't wait to release it and show the world this side of me they've never seen. It's time to really showcase the Pagentri brand.
AR: What do you want listeners and fans to know about you?
Pagentri:  I've always been one to want to push the boundaries and not be the perfect pageant girl smiling. I want to show the realest parts of me because I believe people resonate with authenticity—this is taking it to the next level for fans.