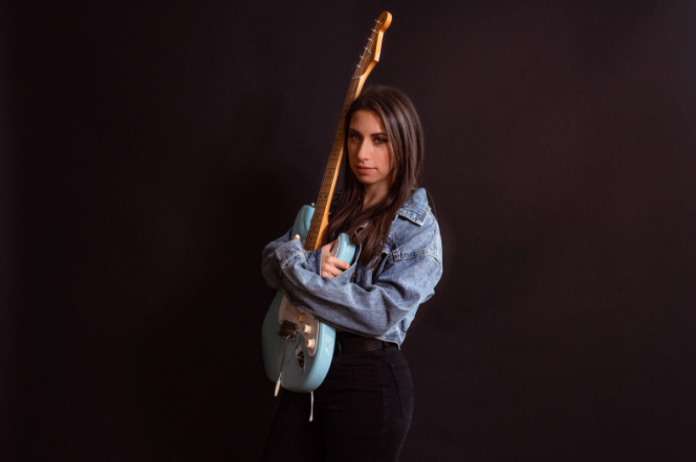 New York-based singer-songwriter, Brianna Musco will be releasing her much-awaited new single, "Never Stay" on September 18th, 2020. Just a few nights of sleep away, and fans will finally get a hold of the rising artist's new hit. 
After the success of her debut EP, "Forever," which garnered an outstanding 200,000 views worldwide, Brianna has been hard at work touring the United States, United Kingdom, and Europe. Together with her band, which is composed of some of the best musicians in the Tri-State area, the singer-songwriter is spreading positive energy during this pandemic.
Brianna Musco's new single, "Never Stay" will be one of the top songs for this fall 2020 season. It is also no secret that her live performances will only make this single that much bigger. You can expect to see Brianna on stage with her all-star band: Owen Flanagan at the drums, Nick Piescor and Bryan Rojas playing guitars, and Luigi Sardi at Bass. Pending all safety protocols, there is no show they can't liven up and no audience they do not leave awestruck.
"The members of my band are some of the best people I have ever met. They have the ability to fill an entire venue with tasty riffs, driving solos, and an energy that feeds the audience. I can't wait to be able to play together again once it is safe for live music to return," Musco proudly states.
Taking the experience that she had on tour with her band, and from her music influences (Stevie Nicks, Prince, Bruce Springsteen, Taylor Swift, Harry Styles, and Ed Sheeran), the young artist is readying for the release of her upcoming single this September 18, 2020.
A bit different from debut EP "Forever," which carries pop/rock influences, the singer-songwriter's new single takes influence from pop and hip-hop elements. "Never Stay" will showcase the growth Brianna Musco has had as both an artist and person.
"I enjoy growing as a musician. I love that I was able to create the pop rock feel for Forever and now I am able to explore new sounds and new ways of creating the instrumentals for songs that have a bit more modern influence in them, like my upcoming single 'Never Stay,'" she shares. "I want to give a huge thank you to Nick Mavromatis, my producer and engineer for this single. He is one of the best in the industry."
Rising star Brianna Musco's debut EP is available on music streaming sites and platforms. To stay updated on the upcoming release of "Never Stay," follow the artist on her Instagram account and pre-save the single through this link.