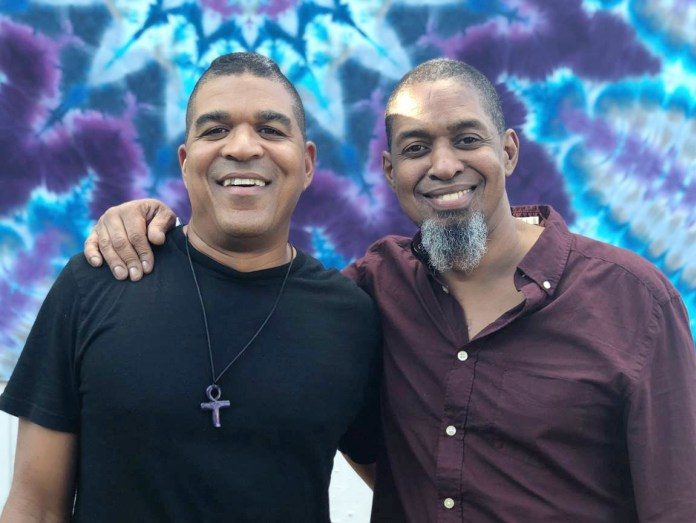 Oteil Burbridge has posted a letter on his website called IN MEMORY OF MY BIG BROTHER following the passing of his brother Kofi Burbridge this past weekend.
---
Kofi was my first and biggest hero. He still is. Even though I know all of his human frailties, and even things that used to frustrate me, I will never be any less in awe of his superpowers. They were discovered at a very early age. I thought he was normal as a kid. I didn't realize how advanced he was until I started playing in high school bands and saw the difference. Trying to keep up with him made me a better player more quickly than most kids my age. I never did catch up to him. There are so many things that I still wanted to learn from him. He was my teacher.
I so wanted Kofi to be the one to teach Nigel how to play keyboards. But just as much, I wanted to watch Nigel crawl in his lap as he watched his cartoons like he does with me. I wanted him to see Nigel ride his big boy bike without his training wheels. I wanted Nigel to grow up just knowing and be influenced by the sweetness of his Uncle Kofi.
My mom told Jess, "Kofi lived a full and rich life from a very early age." He started sitting in with jazz legends by age nine. He was making the newspapers in Washington D.C. by that same time. He traveled to Russia with a Washington D.C. theatre company at age 14. He was composing amazing jazz, jazz-rock fusion and classical music by high school. Later on he recorded many records with Derek Trucks Band, Tedeschi Trucks Band and so many others. He got to play and record with his biggest hero, Herbie Hancock. He got to play one of the inaugural balls for the first black president ever elected. He won two Grammys. He traveled the world many times over. He played all the jazz festivals that we dreamed of playing as teenagers. He made almost all of his dreams come true and some we didn't even know we had. His cup certainly ran over. His death has revealed to me what an indelible mark Kofi made on the music world. The outpouring of love and support from the community has meant so much to me and my family.
In the last couple of weeks we had made so many plans about things that we were finally going to get to. His solo record, things that we were going to do under the banner of the Burbridge Brothers, things that we wanted to do with our nephews Kamau and Khalil, and whatever other flights of fancy flew through our heads. Lucky for me, he did get to play his first full set of Jerry Garcia Band and Grateful Dead music with Oteil & Friends in Santa Cruz and Buffalo last year. I was looking forward to watching him discover the great beauty of the rest of that catalogue as he learned more and more songs. He really loved it as you can hear on those shows and his flute playing was particularly inspired those nights. You could hear the reaction from the crowd that they felt it too. Those were my last two shows with him where we played together all night.
I have to accept that he is gone. It gets a little harder each day but there are some things that give me comfort. Kofi loved to fly and he often talked about getting his pilot's license. I picture him in my head giggling to himself that now that he is unencumbered by a body, he can fly so fast and to so many places. Maybe all at once. He's got to be digging that. People are posting all of these jams that they caught of us together. I can't even remember them all but that telltale hand-in-glove fit that we had together makes itself evident so quickly that I can't help but laugh out loud. I laugh through tears mostly of course. But it does make me feel better. It truly does. Because most musicians will probably never know what that's like. Even if you grow up playing together, unless you're sharing that much DNA it's just not the same. I'll never forget when jazz drummer Billy Drummond said to Kofi and I "I think it's time that the Burbridge Brothers met the Wooten Brothers!" We said, "Who are the Wooten Brothers?" Haha!
I had an idea one day that I talked to Kofi about. I wanted to do a stage at a festival that was dedicated to brothers. The Wooten brothers, the Wood brothers, the Evans brothers, the Dickinson brothers, the Trucks brothers… you get the idea. And we weren't going to leave out our sisters either. I hope somebody out there will do this in memory of Kofi and I hope that they call it the Kofi Burbridge Memorial Brothers and Sisters Stage. And I hope they will let me get up there even though my brother is gone. All of you musician brothers and sisters out there please play as many shows together as you can. You just never know how much time you have left together.
One beautiful thing that has come out of this horrible nightmare is that we now have a new family member to whom we are so greatly indebted that there couldn't be any way to repay her. Her name is Laura Holl and she was by Kofi's side through his aneurysm, surgery and recovery in 2017 and again this second time. She spent every day in the hospital with him for two months straight. She never left his side. She gave him strength and love and hope for a new future. And I am so heartbroken for her because Kofi was finally going to settle down with her, and know for the first time in his life what it was like to build, cultivate and enjoy a happy home. She was not only there for Kofi but also for me and my entire family. She is our sister now and forever more. I'm so sorry Laura. You did the hardest things any wife could ever be asked to do without any of the credit or privileges. I am so sad that you never got to experience a new beginning with him.
I have Kofi's laptop and three external hard drives with who knows how much music that he composed on them. Anyone that knows Kofi knows what a computer geek he was. I am going to try my best to record all of the tunes he wrote. I hope I can find the ones that he wrote in high school. They are still some of my favorites and in my opinion some of his best ever. I guarantee that you have only heard the tip of the iceberg of what was floating around in his head. If I am lucky enough to find them I will record as many of them as I can. He has jazz, latin, fusion, funk, heavy metal (for video games), classical, and hybrids blending all of these and more together all at once. He had such a beautiful mind.
You couldn't help but love Kofi if you got to spend any time with him. From just meeting him casually you could hardly realize what a genius he was. He was so laid back and humble. I wish he knew how much he was really appreciated and loved and respected in our community. The tributes on the marquees of the Beacon Theatre, The Capitol Theatre and the Warner Theatre in our hometown of Washington D.C. made me cry so hard. I'm sure that he knows now but that is small consolation for me still on this side of the veil. I know that he knows how much we're hurting down here. But it also makes me smile when I think about how much he loved planets, solar systems, constellations, galaxies, universes, extra terrestrials and aliens because I know he is flying, and exploring, and seeing all of it for himself. Fly free, Kofi. Fly free my sweet brother.
I love you so much man.