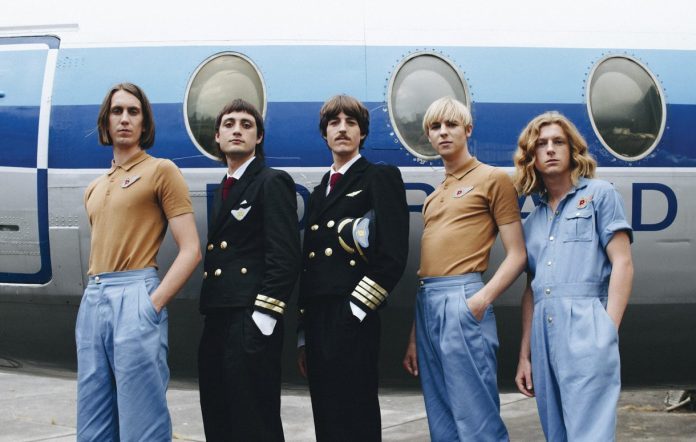 One of our favorite new bands to emerge in 2018, Belgian-based (by way of Australia's Byron Bay) electro-funk Parcels are setting out on a huge world tour this week, kicking off at Washington, DC's U Street Music Hall (we'll have coverage).
Many of the US dates are already sold out, but we'd recommend you find your way into a show if they're coming to your town, since the smart money is on them playing much larger venues upon future returns to the states. The buzz is spreading quickly on these guys across the globe – several of their top tracks have already amassed north of 5 million streams (their 2017 collaboration with none other than Daft Punk "Overnight" has already hit 28,000,000 and counting) and we expect them to be a big staple on the US festival circuit as they're booked for this year's Coachella and Governors Ball.
As NME put it best in their glowing review of Parcels s/t debut:
"they're cheeky, timeless and devilishly fun."
Don't miss this tour, if you can help it. Dates below. See you on Wednesday in D.C.
Packages Tour Dates:
Feb. 20 – Washington, DC – Oughout Street Music Hall
Feb. 21 – Philadelphia, PA – Shoe & Saddle
Feb. 22 – Ny, NY – Irving Plaza
Feb. twenty three – Cambridge, MA – The Sinclair
Feb. 25 – Montreal, Canada – Theatre Fairmount
Feb. twenty six – Toronto, Canada – Lee' s Palace
Feb. 28 – Detroit, MI – Este Club
03 1 – Chicago, ARIANNE – Lincoln Hall
March 2 – Minneapolis, MN – seventh St . Entry
March 5 – Vancouver, Canada – Fortune Audio Club
03 6 – Seattle, CALIFORNIA – The Crocodile
March 7 – Portland, OR – Doug Fir Lounge
March 29 – Buenos Aires, Argentina – Lollapalooza Argentina
03 31 – Santiago, Chile – Lollapalooza Chile
April 8 – Austin, TX – Mohawk
April nine – Dallas, TX – Trees
Apr 11 – Phoenix, ARIZONA – Crescent Ballroom
April 13 – Indio, CA – Coachella
April sixteen – San Francisco, CA – The Regency Ballroom
April 17 – Santa Cruz, CA – The Catalyst
April 20 – Indio, CA – Coachella
June 2 – New York, NY – Governors Ball
06 14 – Manheim, Indonesia – Maifield Derby
July 6 – Chemnitz, Germany – Kosmonaut Festival
August. 11 – Budapest, Hungary – Sziget Festival