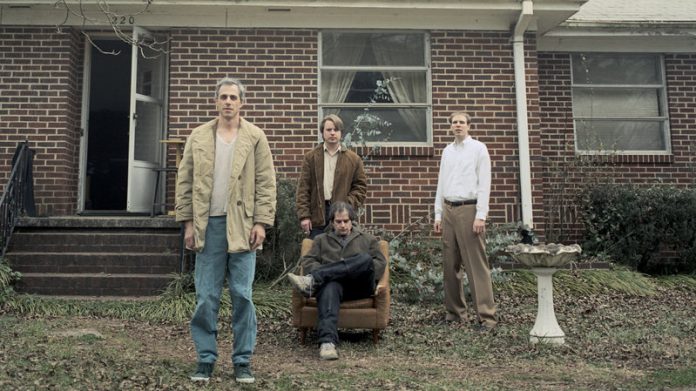 Whether hearing The Glands for the first time or singing along again to tunes that soundtracked turn-of-the-millennium summers in the band's Athens, Ga., hometown, there's one question that everyone within earshot seems to echo: Why wasn't this band famous?
For about five years beginning around 1997, it seemed they might be. Emerging from one of the United States' hotbeds for eccentric and seeking rock, the Glands felt like a potential boon for the state of indie rock, which had started to sprout from small-town hobby to bustling little industry during the previous two decades. The Glands gave the slackness of Pavement new power, the looseness of bandleader and mastermind Ross Shapiro's heroes, the Grateful Dead, consistent melodic gravity. You could hear their songs once and swear your parents had cooed them to you in utero.
The band's debut, reissued in 1998 by the stalwart Bar/None after a small private pressing, tried to match its audacious title of Double Thriller with a bevy of variegated wonder — the scuzzy psych of "No. Zero," the country organ drift of "Pretty Merrina," the madhouse jangle of "Welcome to New Jersey." Shapiro had recorded it largely by himself late at night, in a slapdash downtown studio after the bars closed. For its follow-up, though, he focused, pulling the live band he'd built into a studio and aiming to get to the essence of these ideas. He did: The band's self-titled second album, issued in 2000 by a reborn-to-die Capricorn Records, is one of the best indie-rock records ever made, bar none. Its irrepressible lead sequence, "Livin' Was Easy" and "When I Laugh," is a peerless gambit. In a slight, imperfect, enthusiastic falsetto, Shapiro built hooks that betrayed both sardonic armor and a soft heart. Lively but nonchalant, the band stood on the accelerator, even as the frame rattled to pieces.
But, of course, it never happened: The Glands stalled after that second album, with its follow-up lost to nearly two decades of hesitation and perfectionism, compounded by sporadic reunions that mostly went nowhere and Shapiro's stint as a record-store owner. He died of lung cancer in 2016 at the age of 53. In his absence, the label New West is trying again to give these songs the wider audience they have long deserved. With his deathbed blessing, Shapiro's friends cobbled together his third and final album, Double Coda, from not-always-finished recordings dating back to 1996. It is a standalone LP, but it's also bound with its out-of-print predecessors in a glorious box set named for another Glands treasure, I Can See My House From Here. As Glands zealot, Athens expatriate and Drive-By Truckers cofounder Patterson Hood writes in the extensive liner notes, Double Coda and the attendant collection offer "long-awaited closure to one of Athens, Georgia's longest-running unfinished chapters."
Much like Double Thriller, the Glands' debut two decades ago, Double Coda feels more like a vivid mixtape or a sketchbook teeming with ideas than a proper album that's been sequenced to tell some definitive story or unfurl through some dramatic arc. A late-night instrumental shuffle, cheekily titled "Piano Jazz," sits between a harmony-lifted rock rumble about promiscuous sex (or lack thereof?) that could belong to Fountains of Wayne and a hypnotic take on mid-'70s Dylan pastiche. Nearby, there is a grunge piss-take, a haunted chanson, and a three-minute slice of piano pop (backed by scratching records, no less) so punchy and triumphant that you'll never need to hear Ben Folds again.
The uneven sequencing results, in part, from Double Coda's very origin story, or that a dying Shapiro had never gotten around to finishing that third album he had teased for so long. He entrusted the duty to Joe Rowe — the only other permanent Glands member and a dazzling drummer whose near-anonymity is another minor Glands tragedy — bassist Derek Almstead and David Barbe, a veteran Athens instrumentalist and producer who went from Shapiro skeptic to unabashed champion. What stands out anew from this odds-and-ends approach, though, is Shapiro's total command over melody, no matter the shape the song took. If bands had batting averages, the number of hits among these 23 tracks would humble even the mighty Ted Williams.
Back to that question, then: If these songs are so wondrous, why did the Glands never become famous, "the Cars of our generation," as Elephant 6 anchor Laura Carter poses it in the liner notes? There are a half-dozen different theories, and they may all be correct to some degree. They signed to the wrong labels. They didn't love to tour. They were too slow and particular. They came from the wrong indie-rock cradle at the wrong time. Many, including some who knew Shapiro best, wonder if there was even a sense of self-sabotage, so that he participated in the music industry only enough to get his records released but little more. He was an obsessive student of rock and roll, an itinerant Deadhead who had seen firsthand the toil that the obligations of careerism could have on creativity.
Listening to Double Coda, that latter hypothesis doesn't seem so far-fetched — or unfortunate at all, really. This collection suggests that, for Shapiro, making music remained a lifelong playground, a way for him to indulge himself and openly explore ideas with the freedom of being almost almost-famous. There are no boundaries here, nothing off limits. His stony mumble backed by mocking high harmonies, "So High" nearly matches "Livin' Was Easy" as a masterclass in starting an album. He is as magnetic during the broken-hearted, keyboard-and-percussion lament "Sadie Song" as he is during the open-road, Petty-forever rock of "Pleaser." A love song that sharply renders the confusion of trying to articulate new feelings, "Possibilities" is immersive and elliptical in the way The War on Drugs used to be, while "Sofa" actually calls for more cowbell in the bridge. You get the sense that Shapiro simply loved the definite form that songs afforded his most personal thoughts — that these tunes were a lifeline, not an income source.
During closer "Save a Place for You," Shapiro sits at the piano by himself, trying to map his troubled emotional terrain in a voice that conjures a schoolboy singing at his first elementary school recital. He wants to be vulnerable, he implies, but he doesn't want to be hurt again, either. It is a devastating song, and, considering the path of the his own life, a little hard to hear. But that's the thing: If you hear Shapiro sing the chorus — "Hearts may be broken / But only if you'll give it away / In yours, could you save a place for me?" — only once, his voice curling as sweetly as a puppy's whimper, then you'll hear it in your head for the rest of your life. At his best, that's how good Shapiro was — and, as Double Coda proves, how good he remained.