"Blinding Lights" by The Weeknd will be remembered by everyone as the biggest song of 2020. Released on December 2019, the track became an absolute success for the artist, spending 4 weeks as #1, 43 weeks in Top-5, 57 weeks in Top-10, 79 weeks in Top-20  on the Billboard Hot 100. It also didn't go unnoticed on TikTok and became one of the first songs of the pandemic which was used in a viral dance challenge and other videos on the platform almost 2,5 million times.
The fame of the song is undeniable –  it was streamed almost 2,5 billion times on Spotify and Aug 16, spent 88 weeks on the Billboard Hot 100, which makes it the longest charting song of all time.
The Weeknd shared his thoughts about such an amazing achievement on Instagram, "…For the last decade every song has been a journey and to be able to continue this journey has been nothing short of a blessing, it's the only gift I could ever ask for. I'll be doing it for as long as I can breathe. I love my fans and wouldn't be here without you. Big day for Blinding Lights. Multiple songs in the top 20. Thursday turns 10. Caesar turned 4 and the f*****g dawn is coming. LET'S GO"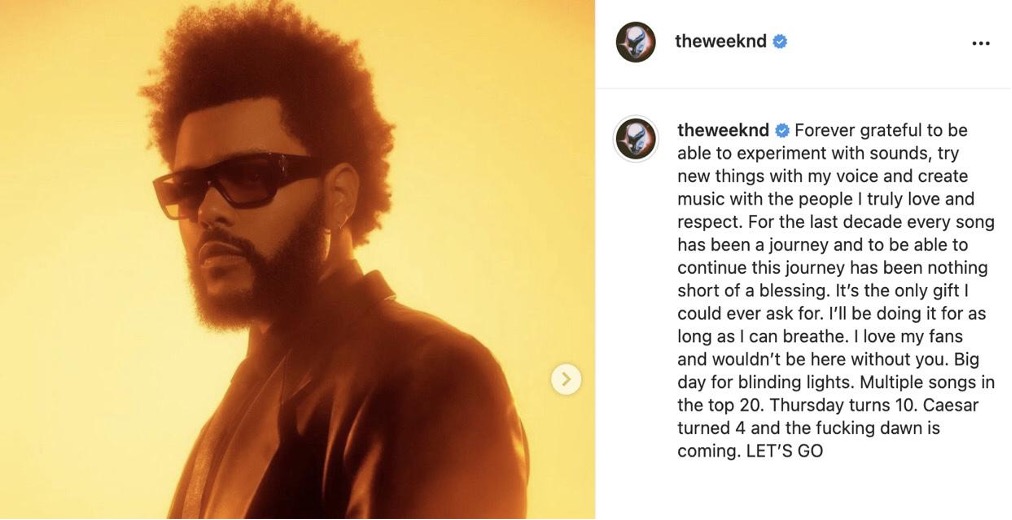 As it was mentioned in the post, Blinding Lights isn't the only reason for him to be proud. In the same week, the singer had a 10-years anniversary of his mixtape "Thursday" (which eventually became a part of "Trilogy" that made him famous), the next album is on the way (he refers to it as a dawn) and the lead-single "Take My Breath" just came out, while previous works are still trending and his dog Caesar became a little older.
            Needless to say – this is the energy fans are happy to see, especially when the artist promised to go on air with his radio "Memento Mori" every week until the upcoming album will be finally released. In the last episode, Abel said, "Next decade is gonna be nuts. I promise I am not stopping, I'm just getting started," sharing his favorite songs which included Britney Spears's 'Toxic' and 'Every Time' that inspired him for the next album.
            As The Weeknd said, while the "After Hours" album still builds its legacy, we keep listening to it and waiting for "the dawn."