By: Polina Bogomolova
As with every successfully progressing field, once in a while, the music industry evolves and produces new trends, influenced by the audience's or artist's changing preferences. A few years ago, Hip-Hop and Rap surpassed POP music, becoming the most popular genre in the world. Moreover, before that, in the 2000's, Hip-Hop and Rock music with its subgenres (EMO-Rock, Alternative Rock, New Metal, Rap-Rock and etc.) had a massive influence, being the most mainstreamed genres of the first part of the decade.
In 2020, new trends have arisen, smoothly flowing over into 2021. Currently, the most promising trends based on numbers, charts and statistics are:
Latin Music.
Latin Music had huge growth last year and was supported by a lot of international artists in different ways – Selena Gomez released a whole EP album "Revelacion" in Spanish; The Weeknd sang a part in Spanish for Maluma's "Hawai Remix," after that inviting Rosalía to create the remix for his song "Blinding Lights" as well. Billie Eilish also jumped in and dropped a song "Lo Vas A Olvidar" featuring Rosalía, while Dua Lipa collaborated with J. Balvin, Bad Bunny & Tainy for "Un Dia." A massive interest from such big artists wasn't the main reason for Latin music to rise though; fair to say it was a consequence.
The first significant sign of a development of the genre started with Bad Bunny and his album "YHLQMDLG," which became the highest-charting Spanish language album ever and debuted at No. 2 on the Billboard 200 on March 9, 2020, according to the Grammys. Moreover, later in the year, releasing his third album "El Ultimo Tour del Mundo" on November 27, 2020, it debuted as No. 1 on the Billboard in America and became the first ever album in full Spanish to achieve it (for comparison, it beat Miley Cyrus's "Plastic Hearts" which was released on the same week). Concluding the year with Spotify's reports about most-streamed artists and songs of 2020, it was revealed that Bad Bunny was the most-streamed artist worldwide with his album "YHLQMDLG."
At the same time with Bad Bunny's historical records, artists such as Maluma also achieved big things for Latin music and earned No.1 on the Billboard Global (excl. the U.S.) with his song "Hawái," which stayed for 40 weeks in the chart.
Looking at the attention Spanish-speaking artists were receiving, different Music Awards also supported them by inviting to perform at the events – Maluma at MTV VMAs (2020), Karol G at MTV EMA (2020) and Billboard Music Awards (2021), and Bad Bunny at Grammy Awards and Billboard Music Awards (2021).
Currently, 2021 brought to our attention one more Spanish-speaking artist to spotlight – becoming viral on TikTok with her song "Telepatia," singer Kali Uchis jumped into Billboard Global 200 at No. 29 and attracted almost 23 million monthly listeners and at least 933 million streams on Spotify.
In addition to everything mentioned above, the chart below shows the growth in interest to Latin music (including such subgenres as latin, reggaeton, reggaeton colombiano and trap latino) in 2020: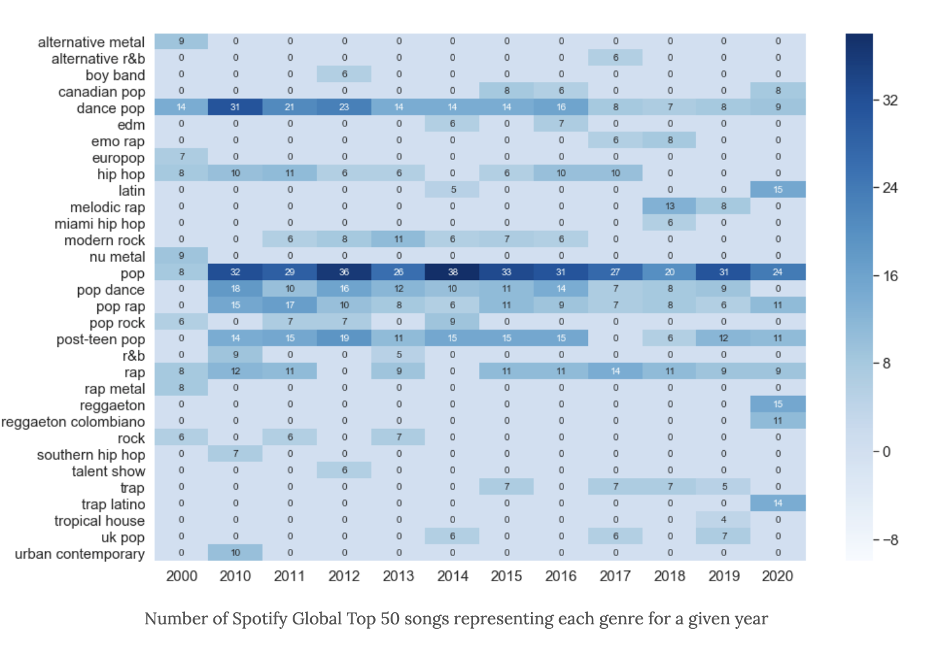 Even though Pop music stays as the most popular genre in the world, a more important indicator here are the numbers representing latin, reggaeton, reggaeton colombiano and trap latino music. Considering that all of them mostly were at the bottom since the 2000's, it proves that Latin music is emerging and is on its way to prospering. Latin music received much more attention and consequently more platforms to be shown than ever before. The time for latin music is now.
Lo-Fi & Chill Music
These genres of music or so-called "background for studying" were not visible and involved in any music discussion before the pandemic, TikTok and Generation Z have arrived all together at the same time.
Indeed, the significant increase in an interest for Lo-Fi and Chill music appeared in 2020, during quarantine, when TikTok was one of the most popular platforms (citation). Watching videos on the platform, it can be noticed that a lot of educational or aesthetic content is recorded along with Lo-Fi & Chill Music in the background, which brings awareness about such genres and entice listeners to explore them. Since Generation Z is the main audience of TikTok, it eventually became the main audience for Lofi & Chill music.
Moreover, in one of those "pandemic" nights in 2020, Youtube's most popular livestream was "lofi hip hop radio – beats to relax / study to" by Chilled Cow, viewed by 40,000 people. In addition, Spotify stated that during 2020, playlists such as "Chill Vibes" grew by more than 7%.
Last but not least, such artist as Powfu and his lofi song "Death Bed (Coffee for Your Head)" became an absolute hit on TikTok in 2020 and still trends today in 2021 – it was featured 5.1 million times on the platform and streamed more than 1 billion times on Spotify (June 12, 2021).

There is no doubt that Lofi & Chill Music will continue to rise in 2021 since this discussion. For example, indie record label Amuse hired professionals to build a Lofi department to explore and develop the genres, believing it is going to keep growing. As it can be seen above that Lofi music starts prospering, industry professionals can come to an agreement that music shouldn't be necessarily dynamic or mood-boosting – it can also be something that doesn't grab a listener's attention but rather helps them focus on an agenda for the day.
Rock / Glock Rock / Alternative
This does not have to come as a surprise: Rock and its subgenres were a major trend in the 2000's, implemented in Pop and Rap songs, which were admired by millions of young teenagers and adults. Now, when the 2000's fashion trends are back, it might be the reason for the 2000's music trends to arise as well. However, it started before 2021.
In 2019, the first album to receive the biggest attention due to sound production and artist fame was "Hollywood's Bleeding" by Post Malone, which peaked on the US Billboard 200 at No.1, considered as one of the best albums in 2019 and 2020 and nominated for "Album of the Year" by The Recording Academy. Post Malone's image always portrayed a rockstar, however, only the third album showcased his musical influences – having rock arrangements and featuring rock legends such as Ozzy Osbourne.
It is hard to say if Post Malone actually started the trend, but later in 2020 and 2021 other rap artists began releasing music, which gave a feeling that they were heavily influenced by Rock, Punk and Alternative music: Machine Gun Kelly (completely changed his style and became a rock star in his album "Tickets to my downfall" (2020)), The Kid LAROI's "F*CK LOVE (SAVAGE)" (2020), Trippie Redd's "PEGASUS" with Travis Barker (2021). In the 2000's, when Rap and Rock artists used to collaborate with each other or when a rap artist went from rap beats to a rock sound was originally called Nu-Metal, later on named as Glock Rock. And it seems that Glock Rock is actually coming back.
All of the (originally) Rap artists mentioned above changed their style with the named albums and it was widely supported by the audience.
Machine Gun Kelly's Rock album got No.1 on the Billboard 200 and became the first rock album to achieve this result in 2020. The protégé of Juice WRLD (whose posthumous album with Pop-Rock songs "Legends Never Die" received No. 1 on Billboard 200 in 2020 as well), The Kid LAROI, released his debut Glock Rock album "F*CK LOVE (SAVAGE)" under the same Rock affection and became the youngest Australian Solo Artist to achieve No.1 on the local ARIA albums chart and No.3 on the Billboard 200!
Another artist who completely changed her sound and was supported by fans, debuting at No. 2 on the Billboard 200 is Miley Cyrus with her Glam Rock album "Plastic Hearts".
From 2020 to 2021, Rock influence keeps going – Rap artist Trippie Redd collaborated with Travis Barker (drummer from the band "Blink-182") and released a rock album "PEGASUS"; Olivia Rodrigo and her album "SOUR", which includes such songs as "brutal" and "good 4 u", brought an absolute feeling of "déjà vu" and reminded the audience of the teen rock in the 2000's (seems like it was something that everyone needed, therefore the album debuted as No.1 on the Billboard 200).
What is interesting about this trend is that it wasn't demanded by the audience (as it can be noticed in Latin and Lofi & Chill Music), in this case it is completely opposite – artists, who grew up listening to rock / punk / alternative demanded a change for themselves and wanted to try something they were inspired by. In this case, artists brought a new, old trend to their audiences and the results show that people love it.
As the Music Industry keeps progressing and growing, music trends keep changing as people explore new music, finding new favorite genres or reminiscing about the old ones. While there is nothing surprising about the process though, it is entirely positive – the industry is developing, growing, prospering and getting more creative! Once there is a trend in genres which weren't popular before or were popular a long ago, we can soon expect extraordinary collaborations and an unexpected mixing of sounds, with endless potential to create something absolutely new and out of our minds.
---
References
Guan, F. (2017, July 20). Rap Dominated Pop in 2017, and It's Not Going Anywhere Anytime Soon. In Vulture. Retrieved from https://www.vulture.com/2017/12/the-year-rap-overtook-pop.html
Hochberg, B. (2020, September 8). Chill Hop, Jazz Hop, LoFi, Whatever You Call It, It's Catching On With Gen-Z. In Forbes. Retrieved from https://www.forbes.com/sites/williamhochberg/2020/09/08/chill-hop-jazz-hop-lofi-whatever-you-call-it-its-driving-gen-z-mild/
Interiano, M., Kazemi, K., Wang, L., Yang, J., Yu, Z., & Komarova, N. L. (n.d.). Musical trends and predictability of success in contemporary songs in and out of the top charts. In The Royal Society Publishing. Retrieved from https://royalsocietypublishing.org/doi/10.1098/rsos.171274
Kelly, A. (2020, December 29). Y2K Fashion to Inspire Your 2021 Wardrobe. In L'Officiel . Retrieved from https://www.lofficielusa.com/fashion/y2k-fashion-inspiration-2021-instagram-celebrity-style
Ruiz, M. I. (2020, December 6). Bad Bunny Makes History With First Spanish-Language No. 1 Album. In Pitchfork. Retrieved from https://pitchfork.com/news/bad-bunny-makes-history-with-first-spanish-language-no-1-album/
Savage, M. (2020, December 1). Spotify reveals 2020's most-streamed songs. In BBC. Retrieved from https://www.bbc.com/news/entertainment-arts-55143113
Spotify says Chill Vibes playlist growth is boost for new artists. (2020, May 28). In MusicAlly. Retrieved from https://musically.com/2020/05/28/spotify-says-chill-vibes-playlist-growth-is-boost-for-new-artists/
TikTok's Massive Growth Among Gen Z & Millennials in 3 Charts. (2020, February 19). In YPULSE. Retrieved from https://www.ypulse.com/article/2020/02/19/tiktoks-massive-growth-among-gen-z-millennials-in-3-charts/
Unterberger, A. (2020, December 17). How Machine Gun Kelly Found His Inner Rock Star. In Billboard. Retrieved from https://www.billboard.com/articles/columns/rock/9500837/machine-gun-kelly-tickets-to-my-downfall-interscope-strategy/
Yglesias, A. M. (2020, March 9). Bad Bunny's 'YHLQMDLG' Breaks Records, Is The Highest-Charting Spanish Language Album Ever. In Recording Academy Grammy Awards. Retrieved from https://www.grammy.com/grammys/news/bad-bunnys-yhlqmdlg-breaks-records-highest-charting-spanish-language-album-ever
Zarczynski, A. (2020, December 23). How Lofi Hip-Hop Will Inspire New Music In 2021. In Forbes. Retrieved from https://www.forbes.com/sites/andreazarczynski/2020/12/23/how-lofi-hip-hop-will-inspire-new-music-in-2021/