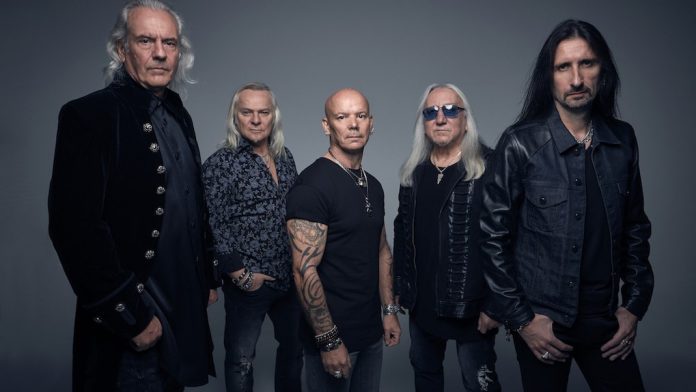 It is a common believe that masterpiece album such as this would knock off one star. After all, we are no longer in 1973. However, Uriah Heep's 'Living the Dream' defies all odds. The album delivers an almost evangelical show of classic prog metal with no weak links at any of the corners. In fact, the bass and drums (the youth contingent), killer Hammond-mad keys, smiling Buddha guitar or, hardest to maintain, vocals and front duties, were classic performances against the rules of physics. This might sound unbelievable, but I had to resist the one-star docking due to the fact that the band's go beyond live shows to indicate that the electric chemistry that's all over Living the Dream is real.
Thus, Living the Dream, the band's 25th album in 49 years of existence, exhibits a collective demonstrations on fire and in tune with their base as showcased in the band's over 125 shows a year, thereby providing global inspiration. There are numerous comparisons. Foremost, producer Jay Ruston (Black Star Riders, Stone Sour, Winery Dogs, Europe) was able to capture the band lively, high-fidelity and old school within that fidelity. Yet, without any distractions from the purity of the instrumentation, which was the only output with the use of a half dozen keyboard directives from Phil Lanzon, including a similar mélange from guitarist Mick Box, who is an original member and anchor of the band.
Meanwhile, there are certain spirited jams, which may exist for back half of the eight minute-long "Rocks in the Road" — which mirrors the live events by Heep dubbed "The Magician's Birthday," as well as the most pertinent, raucous, and relentless drums from Russell Gilbrook.
Today, I can boldly say, Gilbrook is the modern-day Heep. He's the force driving his cohorts to excel. He regularly whacks double bass with a constant shower of crash cymbals which functions as rides. Classically, he tears off a "Hot for Teacher" shuffled deep in the sequence to deliver "Goodbye to Innocence," a fast-pacing Purple party blues that injects a new dimension into a record known to be stuffed with the band's soul-replenishing Yes-like positivity and choruses filled with sublime hooks for miles.
All these pointed to the fact that all those Purple comparisons will linger on. Though, that's no slag. The two bands are still waxing strong with more great records, even in recent times. It's all about one guitar battling with a grinding Hammond, progressively, with note-density as well as circular logic and resolution. If you add a little Kansas, with Led Zeppelin, Rainbow as well as massive reverence to classic, Heep moments such as "Easy Livin'" and "July Morning," inclusive of what we get with "Living the Dream" will pass as an album that can be considered the strongest of the fine spread starting with the 1995's Sea of Light return. This comes after a couple wobblers in Raging Silence and Different World, which are Bernie's first two with the band. Sure, it was a sweet suite, but there's a uniqueness about Living the Dream that makes the band to keep putting aside any of their recent technological or stylistic nods into it to make it timeless.