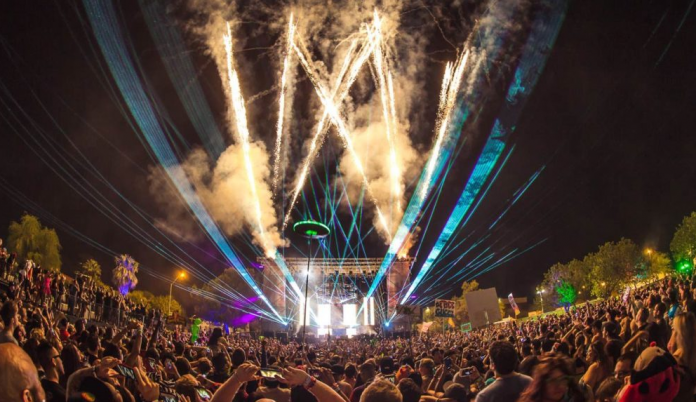 youbloom Announces 2017 LA Music Festival
Ireland-based music festival expands youbloomLA 2017, presenting keynote speaker Andy Gould and new partnerships with The Hi-Hat, Highland Park Bowl and LACM
Tickets to youbloomLA Music Summit & Festival, happening Sept. 22-23 in Los Angeles, are now available here. Use the the eventbrite code YBLA17MD, which grants 20% off on tickets.
Now in its fourth year, youbloomLA returns to Los Angeles on September 22-24, 2017 with a 2-day summit for independent musicians and 3-day music festival. Andy Gould, legendary music veteran, will be the keynote speaker at the summit, and Malak, Blaxmyth, Mike Schiavo, Shae Altered, Leather Tramp will be headlining the music festival.
Targeted to music executives, musicians, and students, the youbloomLA summit features an intense two days of music industry networking, panels, and masterclasses on September 22-23. Some standout sessions include "Live Production and Touring," a "Sync or Swim" masterclass on placing music into tv and film, and a "Follow the Money" panel on how to track money from Spotify, YouTube, iTunes, etc. This year, the music summit will be held at the prestigious Los Angeles College of Music (LACM).
In addition to the summit, youbloomLA also includes a 3-day music festival on September 22-24 where there will be nightly showcases from 90 of the best music acts from Los Angeles and around the world. From the black heavy metal band Balxmyth to "The Voice" finalist Mike Schiavo, youbloomLA will present dynamic and diverse talent. Performances will be held at 6 venues in the Highland Park area, including the three new headlining venues The Hi-Hat, Highland Park Bowl and Offbeat Bar.
Related News from Mi2N:
» Youbloom Announces 2017 LA Music Festival
---
Music Spotlight
» Hollywood Heavyweights Launch New Christian Music Label
» Round Hill Music And Zync Sign Madge To Joint Venture
» YG PLUS and Gracenote to Bring K-POP to Fans around the World
» Lithuanian Band Grabs Bronze at the Silk Road Indie Music Festival 2017
» HBC Fall Festival Celebrates 12 years of HBC Fest
---
» [2018-09-16] Live Nation Electronic Asia Inks Deal With Budweiser For Creamfields Festivals; Together, Creamfields And Budweiser Will Focus On Building Entirely New Content For Dedicated Electronic Music Fans Throughout Asia
» [2018-08-23] Andy Ma Appointed Warner Music China CEO; Andy Ma Has Also Been Appointed EVP, Commercial And Business Development For Greater China
» [2018-08-23] IndieOn Connects Music To The Blockchain; IndieOn Is Confident Of Creating A "music Miner" Who Listens More And Grow Their Token Value
» [2018-06-23] The 2018 MIDEM Silk Road International Music Alliance Signing; International Music Industries Signing Of A Mutual Resource Sharing Agreement With Shanghai Conservatory Of Music & The China Records Group
» [2018-06-06] Screen Music Connect To Explore The Music Of Film, Television And Interactive Media; Created By James Hannigan, Award-winning Composer And Game Music Connect Co-founder, Screen Music Connect Builds On The Success Of The Sold-out Game Music Conferences
» [2018-06-05] Fred Casimir To Develop BMG's Global Recordings Business; As Well As Building BMG's European Infrastructure, Casimir Was Instrumental In Developing BMG's Recordings Business
» [2018-06-03] 13 Music Label Sold To MTN; DSN Music Spins Off Record Label To Albuquerque Music Entrepreneur's New Group
» [2018-06-02] CISAC 2018 Annual Report; A Comprehensive Overview Of The Confederation's Work To Serve 4 Million Creators And 239 Authors Societies Across The World
» [2018-06-02] MusicDish Announces A Love Electric 2018 China Tour; The Tour Will Crisscross Through China With 12 Shows In 8 Cities, Including Guangzhou, Dongguan, Zhuhai, Shenzhen, Kunming, Jiaxin, Wuhan And Beijing
» [2018-06-02] Darcus Beese Named President Of Island Records; Renowned U.K. Music Executive To Join Universal Music Group's U.S. Label Leadership
» [2018-05-17] Avant-Garde Label Maybe Noise Launches In Beijing; The Official Launch Will Be On May 26 At Magnet Theater With A Performance Supporting Its First Vinyl Release: Píng Zè
» [2018-05-04] Award-Winning Lithuanian Rock Band Colours Of Bubbles "She Is The Darkness" 2018 China Tour; The Tour Will Kickoff In Shanghai Where The Band Will Represent Lithuania During The Country's Signing To The Silk Road Music Alliance